WD Blue SN550 1TB NVMe SDD Review
By
Final Thoughts & Conclusions
The WD Blue SN500 NVMe SSD series showed that Western Digital was ready to compete in the entry-level NVMe SSD market. It appears that WD is committed to the entry-level market as less than a year later they have introduced the WD Blue SN550 NVMe SSD series. The SN550 NVMe SSD series starts at the same exact price point, but delivers more performance with up to 2.4GB/s speeds. The SN500 series was only capable of up to 1.7 GB/s speeds, so WD is delivering over 40% more performance and hardware encryption without increasing prices. That in itself is amazing and the only people that might get upset by that is those that bought one of the original SN500 series drives.
Our performance tests had the WD Blue SN550 1TB NVMe drive reaching speeds of 2453 MB/s sequential read and sequential 2023 MB/s write on CrystalDiskMark at QD8. The Random 4K read performance numbers on this capacity are rated at up to 410,000 IOPS and on our test system with the SN550 as the boot drive we managed to hit 409,000 IOPS. We were a bit low on the 4K Random write side, but all of our SSD results are with an OS and data on the drive and not as an empty secondary as other sites.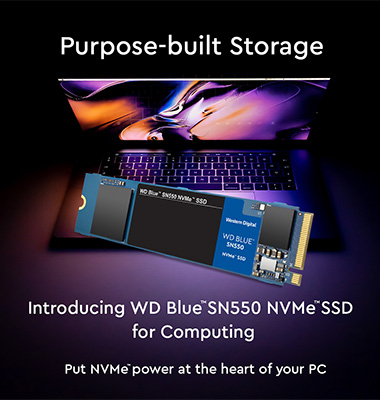 The SN550 1TB drive that we reviewed had a 600 TBW endurance rating on this drive and a 5-year warranty. That means you can write ~328.8GB of data to the drive daily over the course of warranty period and still be covered. This is not the highest endurance rating that we have seen on an entry-level drive, but it is very competitive and more than enough for the audience that this drive is aimed at.
When it comes to pricing the WD Blue SN550 NVMe SSD series is not yet available at online reatilers like Amazon and Newegg. You can purchase the 250GB, 500GB or 1TB SN550 drives direct from Western Digitial for $54.99, $64.99 or $99.99, respectively. Respectable pricing for an entry-level drive that has solid performance. We highly recommend picking up the SN550 over its predecessor, the SN500.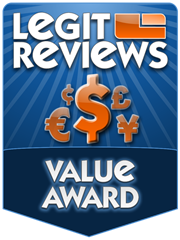 Legit Bottom Line: The WD Blue SN550 comes out less than a year after the SN500 was released and offers more performance and features at the same price.