WD Blue SN550 1TB NVMe SDD Review
By
The SSD Benchmark Test System
Before we look at the numbers, lets take a brief look at the test system that was used!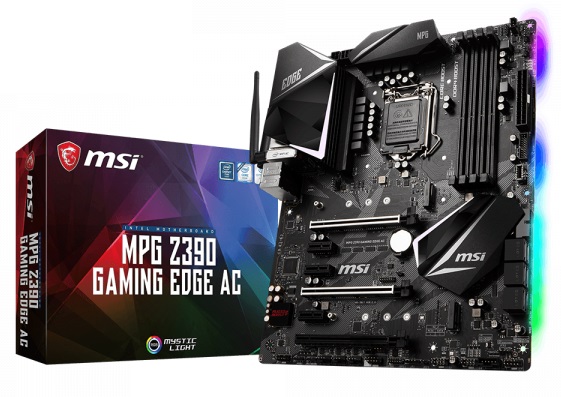 We went with an Intel Z390 platform to test storage drives and used the MSI MPG Z390 Gaming Edge AC (MS-7B17) motherboard. The board was tested with BIOS 7B17vA6 installed, which came out in August 2019. An Intel Core i5-9600K 6-core processor was run in the board along with an NVIDIA GeForce RTX 2070 SUPER graphics card.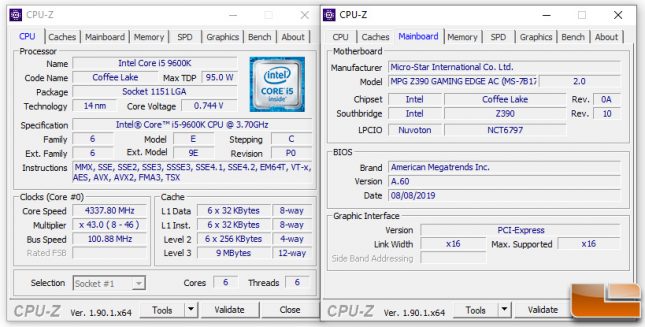 During setup we enabled Intel XMP on the Corsair Dominator Platinum RGB DDR4 16GB 3600MHz memory kit and disabled the Intel C-State option in the BIOS. We made the decision to turn off the processor C-States as many synthetic storage drive tests don't put enough load on the processor to properly show the max IOPS of the storage drive. This is the only reason we disabled C-States. We did leave the Windows 10 power option set to balanced, the recommended setting, during performance testing. Configured like this we should be able to reach the drives peak speed ratings, but our low queue depth testing numbers will be lower as a result.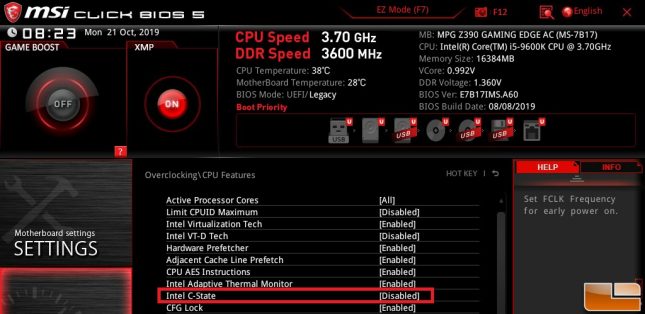 Once Windows 10 Pro v1903 (build 118362.418) was installed from the latest ISO we applied all Microsoft Windows updates and drivers (Intel Chipset Driver v10.1.17968.8131 and Intel Management Engine Interface v1912.12.0.1246). We did this on October 15th, 2019, so it has all the latest patches up to that point. After setting up the primary disk the way we wanted it (we disabled things like windows defender, windows update, disk fragmentation, super fetch) and then used Acronis True Image 2020 ($45) to clone the drive. Using the Clone Disk function we made an image that is used on all of the drives in our test suite. This ensures that the operating system is setup exactly the same on every drive. We are reviewing the SSD as the primary drive with data on it versus as a secondary drive without data on it. Most sites benchmark SSDs as an empty secondary drive and that is something we are not doing.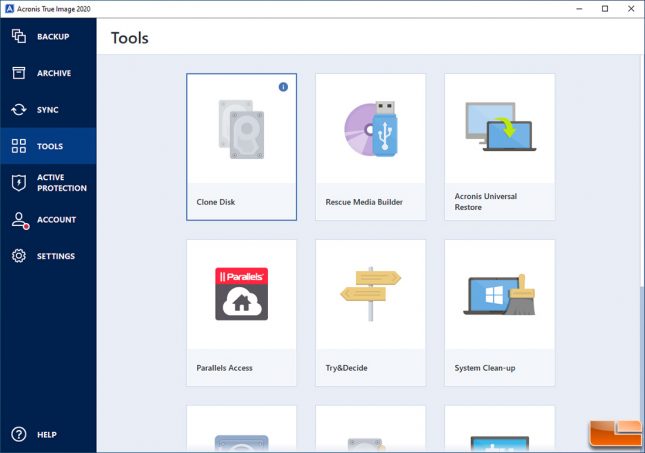 The end result is a test image of Windows 10 Pro that is 107GB in size. This number is again important because many drives now have dynamic SLC cache and the used space on the drive will impact how much SLC cache is available. All testing was done on the desktop with no active internet connection.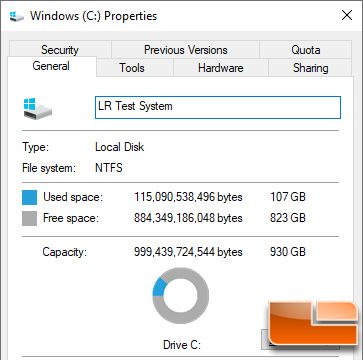 Intel Z390 Test Bench
Intel LGA 1151 Test Platform
Component
Brand/Model
Live Pricing

Processor

Intel Core i5-9600K

Motherboard

MSI MPG Z390 Gaming Edge AC

Video Card

NVIDIA GeForce RTX 2070 Super

Memory

Corsair Dominator RGB 3600MHz 16GB

OS Drive

Drive Being Reviewed

Power Supply

Corsair RM850x

Operating System

Windows 10 Pro 64-Bit
CrystalDiskInfo 8.3.2 Readout:
The readout on CrystalDiskInfo 8.3.2 shows that the WD Blue SN550 drive series supports S.M.A.R.T. and the NVM Express 1.4 feature set. Our drive had firmware version 211050WD installed from the factory and that is what was used for testing. In Windows 10 version 1903 the SBXe 1TB drive showed up at 930.8 GB in size. Please remember that 1GB = 1,000,000,000 bytes. A certain portion of capacity may be used for system file and maintenance use, thus the actual available capacity may differ from the labeled total capacity.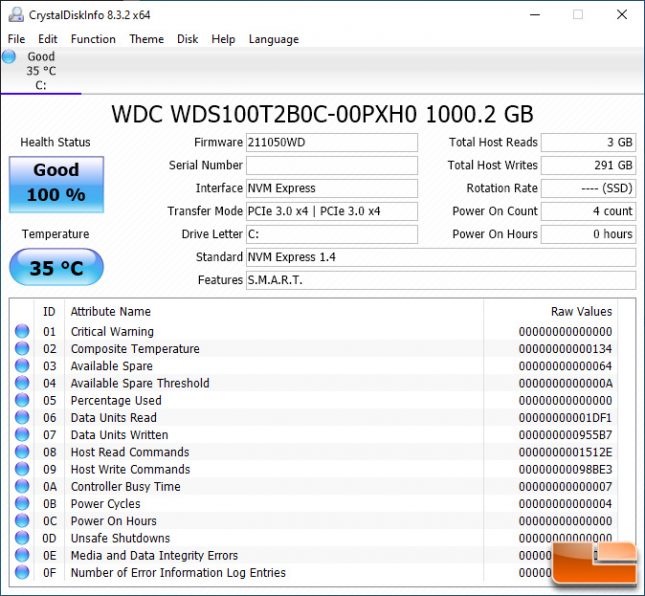 Let's have a look at the performance!