WD Blue 3D NAND and SanDisk Ultra 3D 1TB SSD Reviews
By
Final Thoughts & Conclusions
The WD Blue 3D NAND 1TB and SanDisk Ultra 3D SSD 1TB drives really shocked us with how well they handled heavy workloads and sustained writes. There was virtually no slow down with sustained write activity! The BiCS3 64-layer TLC (triple level cell) 3D NAND appears to offer good performance and endurance at excellent price points, so they have a winner here. Here we have a value or budget oriented SATA drive and our tests found it performing alongside the best mainstream and performance SATA drives on the market today. The one and only area that needs improvement would be QD1 performance, but that is it.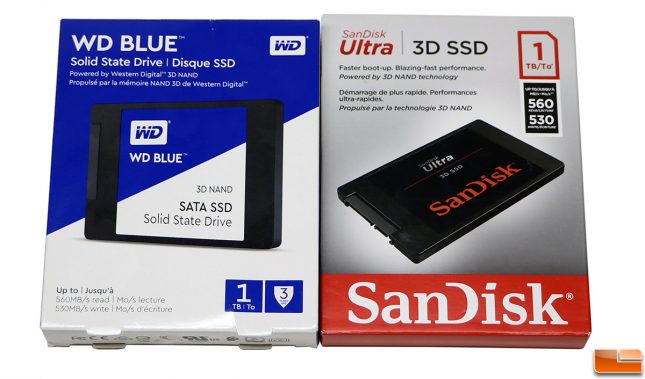 When it comes to pricing we did find that the WD Blue 3D NAND and SanDisk Ultra 3D NAND drives differ in price by up to $20. Since both drives are identical internally we highly suggest comparing prices between both series to find the capacity with the lowest price.
WD Blue 3D NAND SATA SSD Pricing
SanDisk Ultra 3D NAND SATA SSD Pricing
The 1TB model that we tested today actually has the lowest price per GB of the four capacities available and feels like a pretty good drive to go with for a new system build that needs budget friendly mass storage. At $259.99 shipped, the WD Blue 3D NAND 1TB SSD beats the Samsung 850 EVO 1TB ($283.44 shipped) and even the new Samsung 860 EVO ($329.99 shipped) when it comes to pricing.
Samsung once dominated the entry level SATA market with the EVO series, but the latest 3D NAND drives from WD and SanDisk show that they have what it takes to be competitive. We are also seeing that the performance gap between TLC and MLC drives is going away and that is a very good thing. If you are looking for a new SATA III SSD we can easily recommend the WD Blue 3D NAND and SanDisk Ultra 3D SSD to our followers that are looking for a budget friendly drive that offers solid performance that should last for years to come.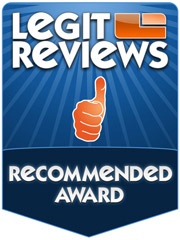 Legit Bottom Line: The WD Blue 3D NAND and SanDisk Ultra 3D SSD don't suffer performance degradation with long file writes and are priced right!