WD Blue 3D NAND and SanDisk Ultra 3D 1TB SSD Reviews
By
Two Different Brands With Same Internals Featuring BiCS 3D NAND
Are you wanting to purchase a brand new SATA SSD with the latest in 3D NAND technology, capacities up to 2TB and sequential speeds up to 560MB/s? Look no further than the WD Blue 3D NAND and Sandisk Ultra 3D SSD series. These two series obviously have different brand names on them, but internally they are identical. How can this be? Western Digital completed the acquisition of SanDisk in 2016 and now we are starting to see some products come to market that are identical internally and being sold by both of these widely known brands. WD believes that the WD Blue will do better with new system builders and DIY enthusiasts whereas the SanDisk Ultra will be more appealing for buyers at brick and mortar stores along with upgrade users.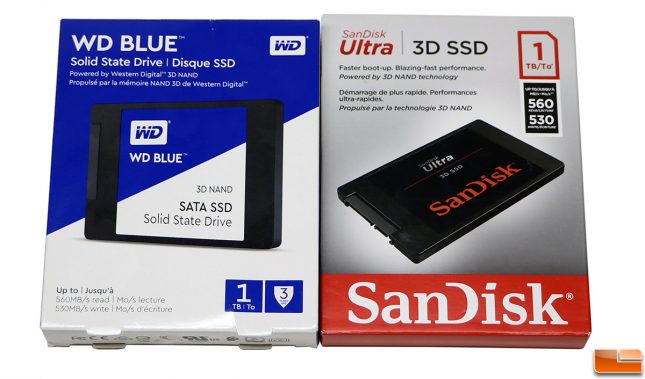 Both of these drives are built using 64-layer 3D BiCS NAND, which is looking to offer much better performance than 'old' 2D planar TLC NAND Flash memory that was used on prior generations. This new NAND technology makes TLC NAND based products act more like MLC NAND in period of long sustained writes. The WD Blue 3D NAND and Sandisk Ultra 3D SSD series drives are available in the popular 2.5-inch form factor with 250GB, 500GB, 1TB and 2TB capacities. If you are needing a M.2 2280 single-sided form factor drive, you'll only be able to find that under the WD Blue 3D NAND series as they are not offered under SanDisk.
Sequential performance is rated at up to 560MB/s read and 530MB/s write on on the 500GB, 1TB and 2TB drives, while the 250GB model gets rated slower at up to 550 MB/s read and 525 MB/s write.When it comes to 4K Random IOPS performance the 500GB, 1TB and 2TB drives capacities are rated at 95K read and 84K write and once again the 250GB model is rated lower at 95K write and 81K read. Both brands are backed by a 3-year limited warranty and have access to Acronis True Image HD software for easy data migration if you might need to clone a drive.
WD Blue 3D NAND and SanDisk Ultra 3D SSD Series Specifications:
Controller: Marvell 88SS1074
3D NAND: SanDisk 3D NAND 64-layer 3-bit TLC
Interface: SATA III 6Gbps
Form Factors: 2.5-inch internal 7mm SSD
Capacities: 250GB, 500GB, 1TB, 2TB
Data Protection: None
Sequential R/W (MB/s):

250GB – 550/525
500GB/1TB/2TB – 560/530

Random R/W (IOPS):

250GB – 95K / 81K
500GB/1TB/2TB – 95K / 84K

DevSleep Power: 5-7 mW (250GB/500GB), 5-12 mW (1TB/2TB)
Idle/Slumber Power: 56 mW (all capacities)
Max Read Power: 2.20 W (250GB), 2.05 W (500GB), 2.55 W (1TB), 3.00 W (2TB)
Max Write Power: 2.25 W (250GB), 3.35 W (500GB), 3.75 W (1TB), 3.80 W (2TB)
Life Expectancy: 1.75 million hours MTTF
Endurance:

250GB – 100 TBW
500GB – 200 TBW
1TB – 400 TBW
2TB – 600 TBW

Warranty: 3-year, limited
We did extensive testing on both models and found no significant difference between the two. That said, the performance numbers were still off by less than 5% and due to that we won't be including both drives in our testing to keep things simple. So, from this point on we'll be taking a look at today is the WD Blue 3D NAND 1TB SSD that is sold under part number WDS100T2B0A for $259.99 shipped ($0.26 per GB). This particular model has an endurance rating of 400 TBW. That means the drive should be good for 365GB of drive writes per day over the 3-year warranty period. The drive will likely last much longer than that as 400 TBW is a fair bit of data being written to the NAND!
The WD Blue 1TB 3D NAND SSD is your typical run of the mill 2.5″ drive if you just look at it. You have a black metal enclosure that is 7mm thick and a simple label on the front. If you want to open this drive there are four screws under the label on the back that need to be removed.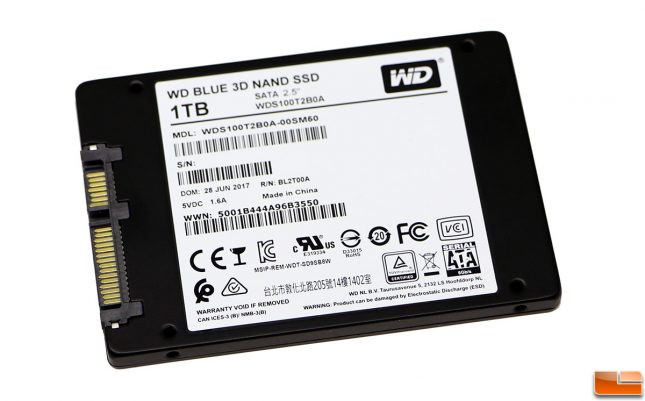 The label on the back of the drive has the model, serial and WWN (world wide name) numbers along with the build date and other information that might be needed if an RMA were ever needed.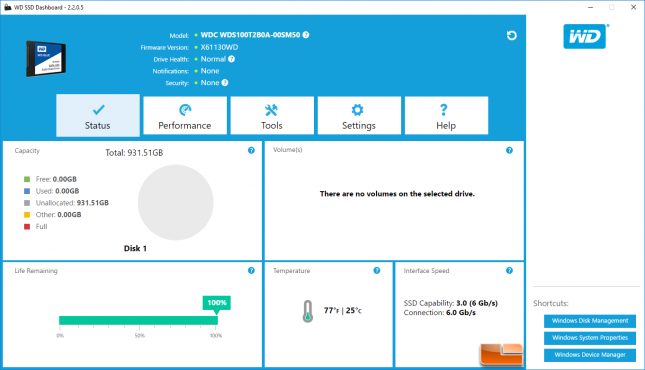 The WD Blue 3D NAND and SanDisk Ultra 3D series both have robust SSD toolboxes that will allow you to monitor the drive, check the S.M.A.R.T. attributes, secure erase the drive, update the firmware and more. You must use WD SSD Dashboard for WD branded drives and SanDisk SSD Dashboard for SanDisk branded drives as they aren't interchangeable.
Let's take a look at some benchmarks of this drive!