WD Blue 2TB Hard Drive WD20EZRZ Review
By
Final Thoughts & Conclusions
The WD Blue line of hard drives are widely considered the best bang for the buck when it comes to desktop hard drives. If you are looking for a storage drive that is has tons of capacity and a low price tag these 5400 RPM drives are hard to beat. Not everyone wants to pay for a large SSD for storing all their game titles and other files that are seldom used. We have a number of gamer friends that have secondary drives just to hold all their Steam game titles. That way if a friend randomly wants to play a game title they don't have to make everyone wait to re-download it to fit on their primary drive. Not everyone has screaming fast internet, so if you want to play on the PUBG Test Server and your friend deleted it, you might have to wait an hour for him to re-download it. If your friend had a large secondary drive he could have dumped that game directory there for later use. It depends on how large the games are, but you should be able to fit around 50-100 game titles on a 2TB hard drive. The WD Blue WD20EZRZ hard drive that we tested today is $59.99 shipped or just three cents per GB. That means storing a 30GB game title on this drive would run you about $0.90 to have it readily available. The nice thing about game titles is you really don't have to back them up on another drive as in a worst case scenario they can all be re-downloaded. So, we still suggest keeping all your most valuable irreplaceable data on a NAS with redundancy. We don't suggest using the WD Blue series as a hard drive in NAS devices though as the WD Red series is designed for use in that environment and will last much longer.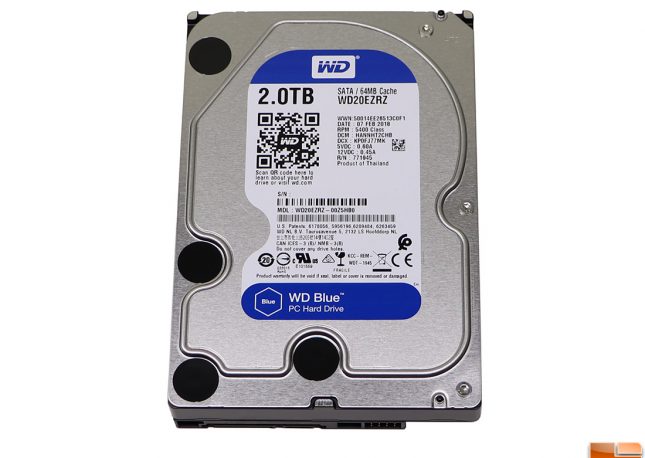 When it comes to performance the WD Blue 2TB 5400 RPM isn't going to win any awards, but sometimes slow and steady is all you need. We were seeing transfer speeds of around 151 MB/s Read and 124 MB/s write in HD Tunes 500MB file benchmark test. When we moved a 30.6GB folder of movies to the drive it took just under 4 minutes and we averaged 135 MB/s write speeds.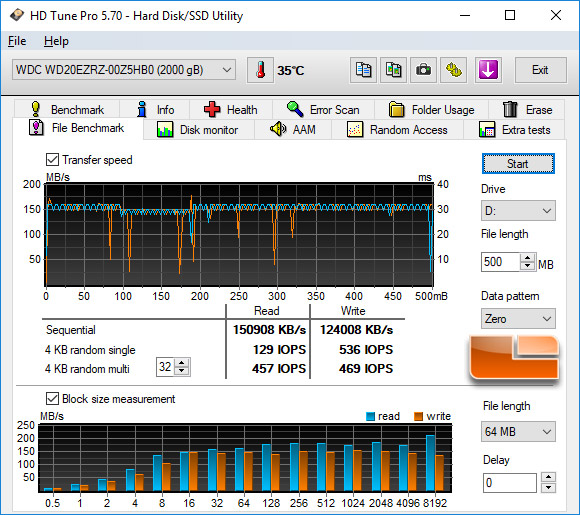 The WD Blue 5400RPM Class hard drives are available in a wide variety of sizes and you really can't go wrong with any of them. The work great to replace the failed hard drive in older systems and are solid secondary drives for mass storage. Heck, console gamers are also using them to increase storage space. They are also surprisingly quiet as these drives don't make as much noise and clicking sounds like hard drives of 10 years ago.
WD Blue 5400 RPM Class Drives
At the end of the day its hard to find anything to complain about the WD Blue 2TB 5400 RPM drive. It holds data and does what it is supposed to do all while being backed by a 2-year warranty.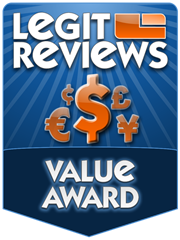 Legit Bottom Line: WD Blue 5400 class hard drives still have a place in PCs since they allow you to store gobs of data for just pennies on the dollar!