VisionTek 120GB mSATA SSD Review
By
Final Thoughts & Conclusions
As with all SSDs now, there's some over-provisioning used to help maintain drive health and overall endurance. Usually in the case of SandForce, this is about 7% which is also the case here. For the VisionTek 120GB (1GB byte = 1,000,000,000 bytes) mSATA drive, the user ends up with 111GB (1GiB = 1,073,741,824 bytes) to use as they see fit which takes the OP into account along with the bit that Windows takes when formatted.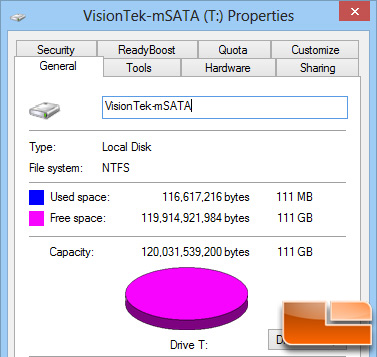 There's nothing groundbreaking with the VisionTek 120GB mSATA drives. Weve seen the processor in a similar drive and mSATA drives are pretty commonplace now although not every manufacture has one available yet. VisionTek took the more conservative road when listing their specifications of 540MB/s reads and 425MB/s writes as we saw each exceeded in the sequential performance on the ATTO benchmark but that was offset with lower numbers on the tests that used less compressible data. Performance is hampered a bit by the four channel SF-2241 controller but those with mobile devices will appreciate the extra power savings likely more than any noticeable performance difference. Really, no complaints with performance overall given that this is not intended to be a screaming high-end enthusiast part so for the intended use model, its certainly more than up to the task.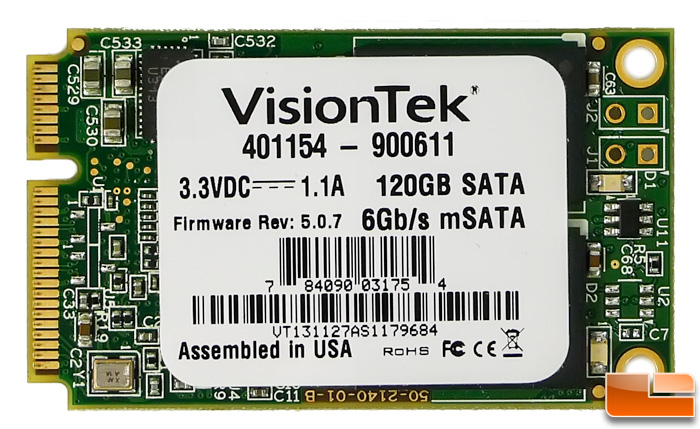 VisionTek has four different capacities available in this mSATA form factor 60GB, 120GB, 240GB and 480GB. Currently this 120GB version is available for $124.42 shipped. There actually arent a ton of options for 480GB mSATA drives on the market right now as just Crucial, Mushkin and VisionTek offer 480GB capacity drives, so its nice to see VisionTek filling a bit of a void there. It wont be long until we see 1TB mSATA drives but it will be awhile before those become affordable for the average consumer. All of the mSATA drives offered by VisionTek are covered by a two year warranty which is a year shorter than what we see on average and many manufacturers are rolling out the four and five warranties and we hope that is where the trend lies.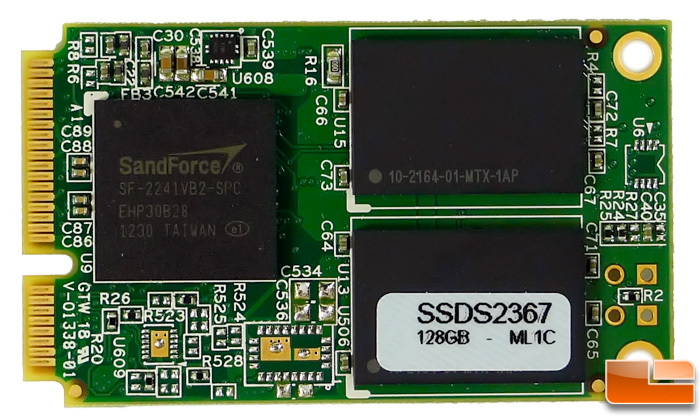 All in all, VisionTek is doing a nice job with their foray into the SSD realm with products covering the SATA III, PCIe and mSATA models available. It remains to be seen how long it will be viable for them to remain in this space given the hardships others have encountered when not have an in-house fabrication for NAND and controllers which makes them dependent on third parties. This keeps margins thin and harder to justify the continuation of products that aren't their bread and butter.
Legit Bottom Line: If you are looking for an mSATA SSD solution, VisionTek has a variety of capacities with solid performance to meet the needs of most any user.