Vantec 3-Port USB 3.0 Hub with Gigabit Ethernet Review
By
USB 3.0 Hub Performance Testing
To test out the USB 3.0 hub performance we used a Patriot SuperSonic Magnum 256GB USB 3.0 Flash drive. We reviewed this drive back in March 2013 and it is still the fastest thumb drive that we have ever used. We use it daily and figured it would be the ideal USB 3.0 Flash drive to test out the performance of the USB 3.0 hub.
Directly Connected to the USB 3.0 Port: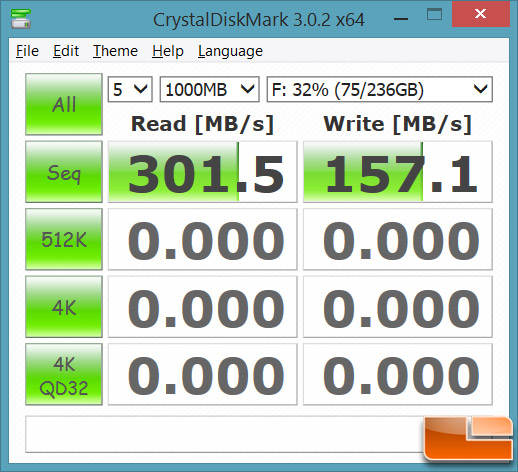 Connected to the Vantec UGT-MH330GNA USB 3.0 Hub: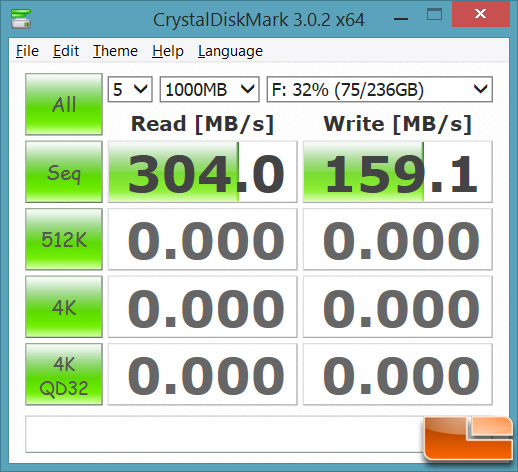 Benchmark Results: Oddly enough, the sequential read/write performance of the Flash drive actually went up slightly when connected to the hub. The difference was nominal though and we were really just making sure there wasn't a major performance hit with the hub.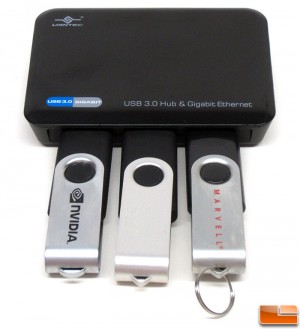 The one thing that we noticed with the Vantec USB 3.0 hub is that the ports are very close together. Most USB 3.0 flash drives are fairly wide, so you might only be able to use the two outside ports if you have say three Patriot SuperSonic Magnum Flash drives. Normal USB 2.0/3.0 cables will fit fine three across as will many standard sized USB driver like the three in the image above. All three drives are recognized at the same time and we had no issues with three drives installed and the Gigabit Ethernet running.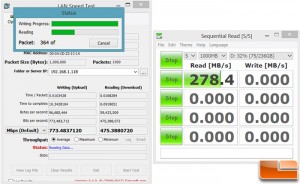 The last thing we did was fully load the Gigabit Ethernet and USB 3.0 channels to see what happened if you had both active at the same time. We noticed that the USB 3.0 performance would dip down to around 280MB/s and 140MB/s read on average from a maximum score of 304MB/s read and 159MB/s write with no Ethernet traffic at all. We expected to see a small decrease in performance and that is exactly what we saw. To be honest, we expected the performance to fall greater than this, so this is good. It should also be noted that we were able to do this test with no external power source, so this was just the Vantec adapter being powered by the single USB 3.0 port!