Vantec 3-Port USB 3.0 Hub with Gigabit Ethernet Review
By
A USB 3.0 Hub and Gigabit Ethernet Adapter!
Last month we took a look at the Diamond Multimedia UE3000 USB 3.0 Gigabit Ethernet Adapter and found it to be a simple way to add a Gigabit Ethernet port to a desktop or laptop PC. The one problem with this adapter is that it used up one of your computers USB 3.0 ports! We recently ran across another Gigabit Ethernet adapter, the Vantec 3-Port USB 3.0 Hub with Gigabit Ethernet Adapter, that looks very promising. This device plugs into a USB 3.0 port, but has three SuperSpeed USB 3.0 ports and a single Gigabit Ethernet port built-in. It also comes with a wall power adapter, which means you can use to to charge USB devices without being hooked up to a PC.
The Vantec 3-Port USB 3.0 Hub with Gigabit Ethernet Adapter (part number UGT-MH330GNA) costs $40.47 shipped. This is about $10 more than Diamond UE3000 Gigabit Ethernet adapter, but you get the USB 3.0 hub and power adapter with this model. The device will work with Windows 8.1, Windows 8, Windows 7, Windows 64, Windows XP, Windows XP Media Center Edition and Mac OS X 10.6 and later. Additionally it is compliant with both USB 2.0 and USB 3.0 specifications.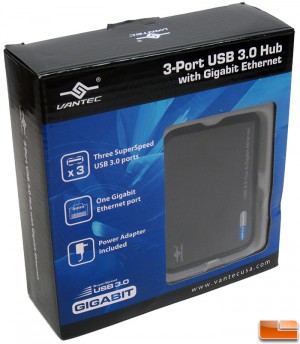 Vantec UGT-MH330GNA Product Description:
The Vantec 3-Port USB 3.0 Hub with Gigabit Ethernet once again revolutionizes the way data are move between our computers to our devices. The integrated Gigabit Ethernet port with the latest SuperSpeed USB 3.0 standard, easily add three USB ports to any computer ensuring that all your USB needs are met. With the transfer rates of up to 5Gbps for USB 3.0 and 1000Mbps for Gigabit Ethernet, it allows you to copy videos, music, photos, data files between USB devices and at the same time connects to your network at blazing speed. The Vantec 3 Port USB 3.0 Hub with Gigabit Ethernet is an ideal solution for anyone seeking a well-designed hub which fuses a sleek and compact design without sacrificing any of its functionality.
Vantec UGT-MH330GNA USB 3.0 Hub Features:
Provides three USB 3.0 ports and one RJ-45 Gigabit Ethernet networking port
Supports simultaneous operation of multiple USB 3.0, USB 2.0 and USB 1.1 devices
Transfer Rates Of Up To 5Gbps
Hot-swapping feature allows you to connect / disconnect devices without powering down the system
Apple USB 3.0 / Gigabit Ethernet support
Power Adapter included providing extra power to all USB devices
Vantec UGT-MH330GNA Gigabit Ethernet Features:
Supports full duplex operation with IEEE 802.3x flow control and half duplex operation with back-pressure flow control
Compatible with IEEE 802.3, IEEE 802.3u, IEEE 802.3ab
Supports IEEE 802.3az (Energy Efficient Ethernet)
10/100/1000M data auto-negotiation Supports crossover detection and auto-correction
LEDs indicate the status of Power status and Ethernet connection
Supports advanced link down power saving when Ethernet cable is unplugged
Supports Wake-on-LAN
Supports jumbo frame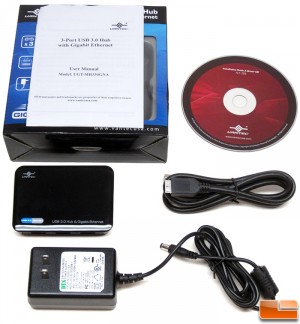 Inside the Vantec 3-Port USB 3.0 Hub with Gigabit Ethernet retail box you'll find the a USB 3.0 Micro-B cable, user's manual, driver CD, power adapter and the USB 3.0 Hub with Gigabit Ethernet itself. We plugged in the Vantec hub into a free SuperSpeed USB 3.0 port on our ASUS Zenbook Prime UX31A Ultrabook that was running Windows 8.1 and the latest driver was automatically installed.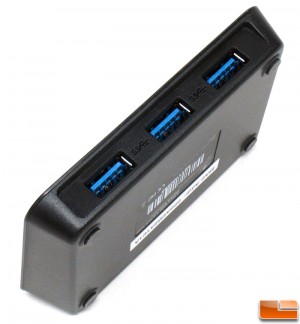 The Vantec Gigabit Ethernet Adapter uses the ASIX AX88179 Chipset and supports all USB 3.0 power saving modes (U0, U1, U2, and U3) as well as IEEE 802.3az (Energy Efficient Ethernet). The adapter measures 99 x 66 x 18mm. The adapter itself without cords weighs 58 grams due to the all light-weight plastic enclosure.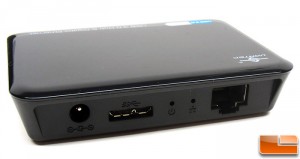 On the back side, the Vantec UGT-MH330GNA has a power port, USB 3.0 Micro-B port, two LED indications and the ethernet port. The first LED indicator shows that the Power On Indicator that turns on when the Docking Stations is powered up. The other is the Ethernet Link/Activity Indicator and it turns on steadily when network link is established and flashes when network activity takes place.
Here is a quick shot the the supplied power and USB 3.0 cables installed. Now that we know more about the device, let's cut straight to benchmarking on a Gigabit network and trying out the SuperSpeed USB 3.0 ports!