Patriot Supersonic Magnum 256GB USB 3.0 Flash Drive Review
By
The SuperSonic Magnum Flash Drive
Over the years we have amassed a ton of digital data and it can be a frustrating and time consuming task to move around all that data. Over the past 12 months SuperSpeed USB 3.0 Flash Drives have really grown in capacity with massive 256GB, 512GB and 1TB capacities now available. As USB 3.0 controllers, NAND Flash controllers and NAND Flash matures they are also getting faster and smaller, which means these high capacity drives have become practical.
Patriot Memory released a line premium USB 3.0 Flash drives called Supersonic Magnum in March 2011 that combine lightning-fast performance with massive storage capacities. At the time the drives were available in capacities of up to 128GB, but just recently Patriot Memory announced a larger 256GB capacity drive for the series.
| | | | |
| --- | --- | --- | --- |
| Patriot Supersonic Magnum | Capacity | Read/Write Speeds | Street Price |
| PEF64GSMNUSB | 64GB | 200 / 120 MB/s | $74.99 |
| PEF128GSMNUSB | 128GB | 200 / 120 MB/s | $134.62 |
| PEF256GSMNUSB | 256GB | 250 / 160 MB/s | $284.56 |
The Patriot SuperSonic Magnum uses a single-chip USB 3.0 flash memory controller with 8-Channel technology in order to have some insane performance ratings. The Patriot Supersonic Magnum delivers sequential read/write performance at speeds up to 250MB/s and 160MB/s respectively for the 256GB drive and 200MB/s and 120MB/s for the smaller 64GB and128GB drives. These are very fast ratings for any USB 3.0 Flash Drive, but you'll be paying for that performance. The 64GB Supersonic Magnum runs $74.99 shipped and the new 256GB Supersonic Magnum runs $284.56 shipped. That puts you at $1.17 per GB for the 64GB and $1.11 per GB for the 256GB drive.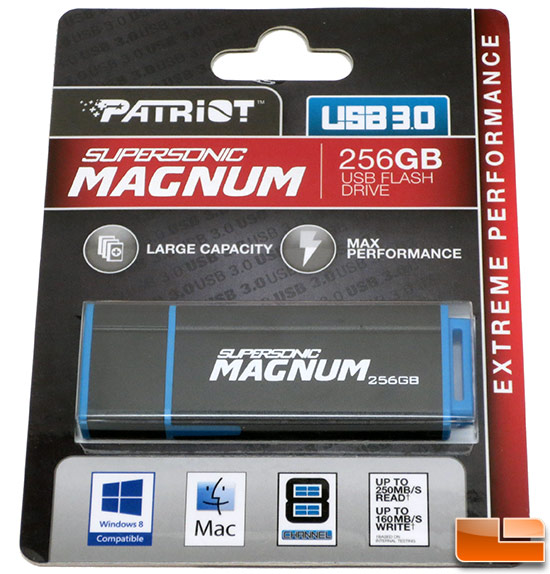 The Patriot Supersonic Magnum 256GB drive comes in nice retail packaging that is colorful and have all the pertinent information on the front and back. It should be noted that all Patriot Supersonic Magnum USB 3.0 Flash Drives are backed by a 5-year warranty and have full plug and play support for Windows 8.
Patriot Supersonic Magnum Features:
USB 3.0 compliant
8-Channel technology for fast read/write performance

64GB and 128GB – Up to 200MB/s read
256GB – Up to 250MB/s read
64GB and 128GB – Up to 120MB/s write
256GB – Up to 160MB/s write

Backwards compatible with USB 2.0
Aluminum housing for shock resistance up to 15G
Compatible with Windows 8, Windows 7, Windows Vista, Windows XP, Windows 2000, Windows ME, Linux 2.4 and later, Mac OS9, X
5-year warranty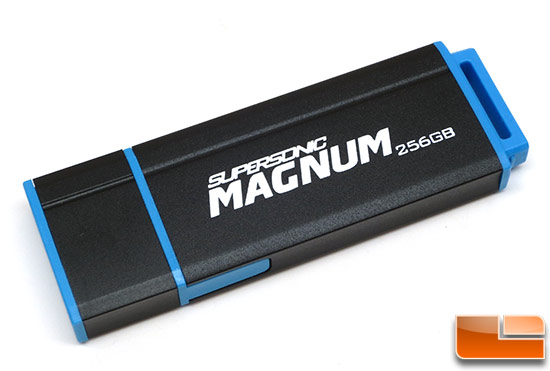 The Patriot Superonic Magnum 256GB USB 3.0 Flash drive isn't exactly small, but it still easily fits in your pocket and can be easily transported. The exact measurements of the drive are .36" (D) x 1.06" (W) x 2.83" (H) or .91cm (D) x 2.69cm (W) x 7.18cm (H). The black finish with blue accents really look appealing and it is slightly textured, so it isn't too slick. The black housing is made from aluminum and the blue end pieces are all plastic. The build quality feels good and it doesn't feel like a cheap thumb drive.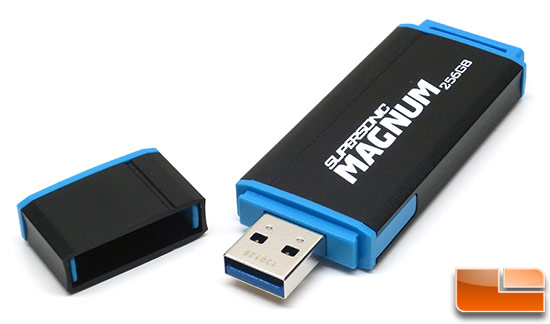 With the cap removed you can see the standard blue SuperSpeed USB 3.0 connector that has been around for many years. This drive is backwards compatible with USB 2.0 ports, but you'll be very performance limited on that older data interface. Inside the Patriot Supersonic Magnum 256GB drive you'll find a Phison PS2251-01-L controller and four 64GB Toshiba NAND Flash memory chips.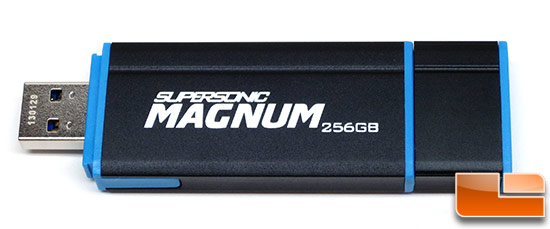 The cap snaps on the back of the Patroit Supersonic Magnum for safe storage, but that is where we found a minor design flaw on the USB 3.0 Flash Drive. When you are using a lanyard or key chain loop on this drive you can't secure the cap to the end of the drive as Patriot didn't leave a spot for the cord or ring to go when the cap is on. This shouldn't be a deal breaker for many, but if you use a lanyard and loose caps all the time then it might be.
The Patriot Supersonic Magnum 256GB USB 3.0 Flash drive doesn't come with any accessories or software utilities on the drive, so let's get to speed testing this product!