Vantec 3-Port USB 3.0 Hub with Gigabit Ethernet Review
By
Final Thoughts and Conclusions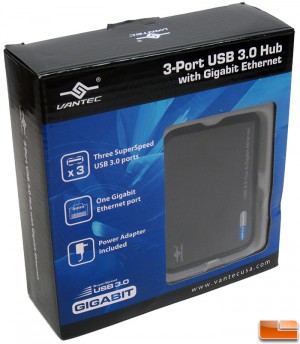 The Vantec 3-Port USB 3.0 Hub with Gigabit Ethernet is a product that many mobile users will like. Most Intel Ultrabooks only have one or two USB 3.0 ports and if you need a USB 3.0 Gigabit Ethernet adapter it means that you'll possibly be down to one open USB 3.0 port or worse yet, none. This hub takes up one USB 3.0 port, but in return gives you a three USB 3.0 port hub and Gigabit Ethernet!
Our performance testing showed that USB 3.0 performance was just as good as being directly connected to a native port and the Gigabit Ethernet port was hands down faster than the 10/100 USB 2.0 Ethernet adapter that is included with most Intel Ultrabooks. This could also easily add Gigabit Ethernet capabilities to a Desktop PC that had a LAN controller fail, sparing you from replacing the board or adding an internal card.
We found that on our particular test system that the power adapter was not needed, but we did find a use for it at home. We were able to use the Vantec adapter as a USB charger for our smartphones and other devices when not being used on our PCs. Some notebooks can't charge your mobile devices when they are powered down, so you can use the power adapter to make this a stand-alone USB charging station. Clearly, this is not the intended function of this product, but a real-world use that we found.
The Vantec 3-Port USB 3.0 Hub with Gigabit Ethernet Adapter (part number UGT-MH330GNA) costs $40.47 shipped. It is also backed by a 1-year limited warranty should anything go wrong. The price is competitive and most USB hubs have a 1-year warranty, so everything here is within reason.
At the end of the day the Vantec USB 3.0 Hub w/ Gigabit Ethernet is something that we recommend to those that need a wired Gigabit connection without losing any USB 3.0 ports on their system. If that sounds like something you are looking for, you have finally run across the solution to your problem.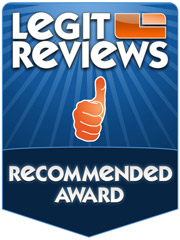 Legit Bottom Line: The Vantec USB 3.0 Hub w/ Gigabit Ethernet adapter transforms a single USB 3.0 port into a Gigabit Ethernet connection with three useable USB 3.0 ports in mere seconds!