Tt eSPORTS POSEIDON Z Illuminated Mechanical Gaming Keyboard Review
By
Tt eSPORTS POSEIDON Z Illuminated Mechanical Gaming Keyboard
Thermaltakes long running Tt eSPORTS keyboards have been characteristically flashy, aggressive, and occasionally silly such as the older Challenger keyboards which had fans for blowing air over the keys and keeping a gamers hands dry. What we have here in this review stands away from those principles. The Poseidon keyboards go for a much more minimalist looking design while leaving individually backlit keys and mechanical switches as showcase features.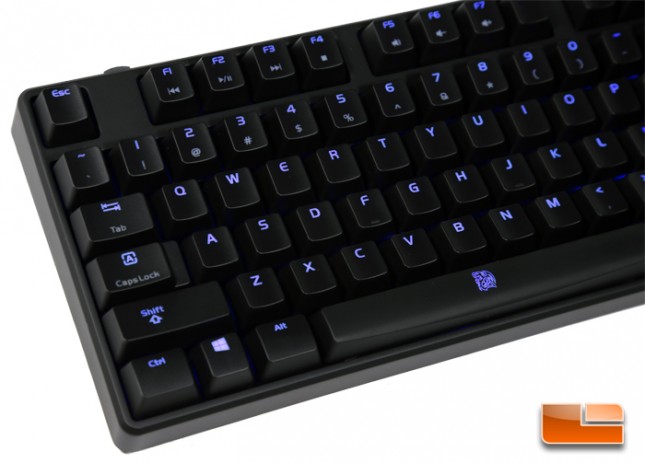 The Poseidon Z Illuminated is the Kailh mechanical switch update to the original Poseidon Illuminated which used Cherry MX mechanical switches. Kailh switches are copycats of the more familiar Cherry MX switches which saw its patent expire earlier this year. Unsurprisingly, buyers are suspicious, even distrustful of these copy switches and Thermaltake has been tight-lipped in its formal marketing regarding the usage of Kailh switches. Weve already reviewed a keyboard with Kailh switches which we noted arent cheap and awful knockoffs, but virtual clones of the Cherry MX design. Thermaltake knows this too and are confident that the Poseidon Z with Kailh switches is at least still as good as the original Poseidon. Instead of their standard keyboard warranty period of 2 years, the Poseidon Z is backed by a lengthy 5 year warranty.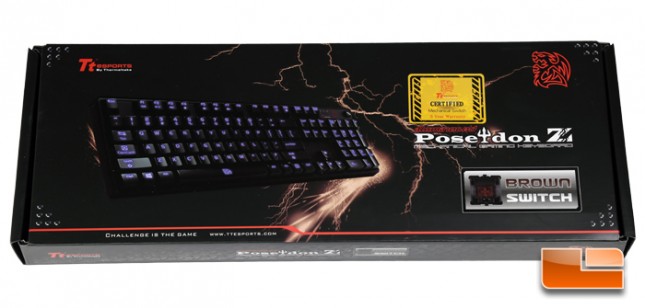 The Poseidon Z Illuminated comes in two mechanical switch varieties either the clicky-tactile Blue switches or the quieter-tactile Brown switches, the latter of which is being reviewed. This keyboard features individually backlit keys with blue LEDs, key rollover, multimedia keys, and a Windows key lock. The Poseidon Z Illuminated is available on Amazon shipped for $69.99 with Blue switches.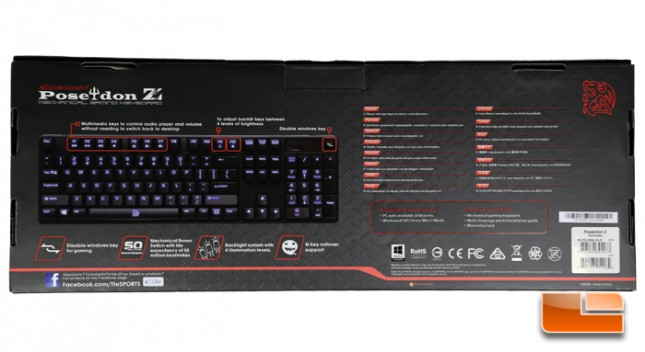 Tt eSPORTS POSEIDON Z Illuminated Mechanical Gaming Keyboard Features:
Professional gaming keyboard specifically designed with precise tactile feedback
Disable windows key for gaming
Mechanical switches with life expectancy of 50 million keystrokes
Backlight system with 4 illumination levels
N-key rollover support
Multimedia keys to control audio player and volume without needing to switch back to desktop
Tt eSPORTS POSEIDON Z Illuminated Mechanical Gaming Keyboard Specifications:
Interface: USB
Operating system: Windows 8/Windows 7/Vista/XP
Polling rate: 1000 Hz
Cable length: 1.8m cable with USB connector
Back-light: Full Blue LED
Body dimensions (LxWxH): 440*133*37mm
Weight: 995 grams
5-year warranty
Part Number: KB-PIZ-KLBLUS-01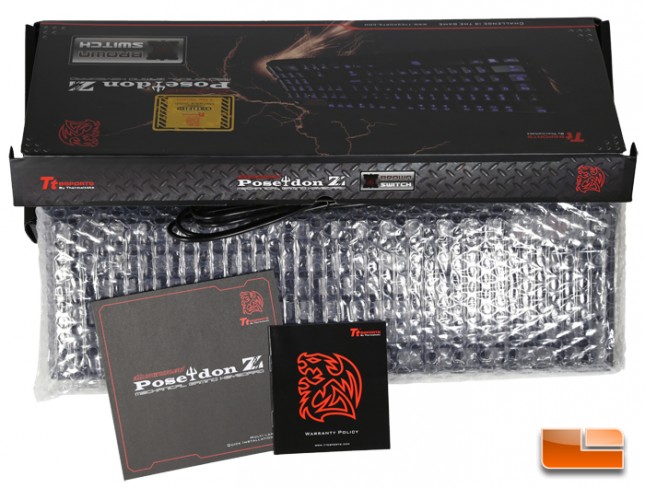 The Poseidon Z keyboard is placed in a bubblewrap pouch in the box for protection during shipping and handling. With it in the package is Thermaltakes warranty booklet which is most important for technical support information and a user guide that outlines the one step installation procedure and the keyboards features and specifications. Were ready now to take a look at the keyboard itself!