Nixeus MODA Mechanical Keyboard Review
By
Nixeus MODA Mechanical Keyboard
Founded in California of 2009, Nixeus is still a bit of a newcomer to the PC hardware industry looking to build up a bigger name in the world of monitors and peripherals. Their aggressively priced 1440p monitors which carry the same LG panels found in the iMac displays have been their mainstay for much of that time, but recently Nixeus is expanding to the PC gaming market including the Moda mechanical keyboard being reviewed here on Legit Reviews.
Nixeus is very honest specifying the switch used on the Moda which are brown Kailh mechanical switches, comparable to Cherry MX brown switches. However, the Nixeus certification statements dont actually mean much to the end user. These types of switches are labeled as silent tactile switches compared to blue switches have a clicker that adds audible feedback on actuation and red or black switches which have no clicker or tactile bump at the actuation point. However, brown switches in reality are far from silent if the typist bottoms out the keys on every stroke. Since the Cherry MX patent has now expired, more of these copycat switches are expected to appear and those used on the Moda keyboard will mark our first experience with such. So far, other companies using mechanical switches that arent Cherry licensed are labeling the product with ambiguous or misleading statements. Its a bit of a shame really because as will be clarified in the review, these clone switches arent knockoff switches.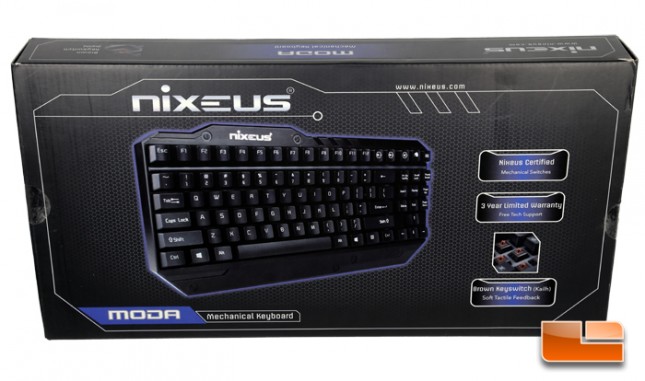 The Nixeus Moda keyboard comes with eight blue keycaps, a keycap puller, a user guide that pretty much informs the user that the Moda is plug-and-play, and a card providing warranty and product registration information.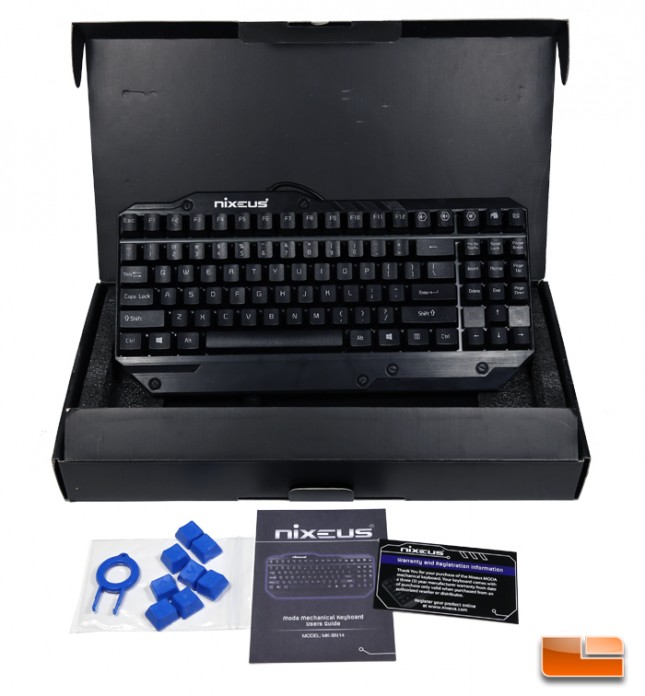 The rest of the Nixeus Moda features are a ten keyless design and layout, dedicated media keys, 1000 Hz polling rate, laser engraved keycaps, some extra blue keycaps, and a 3-year warranty. This keyboard can be purchased at Amazon for around $79.99 though supply stock can be spotty at times.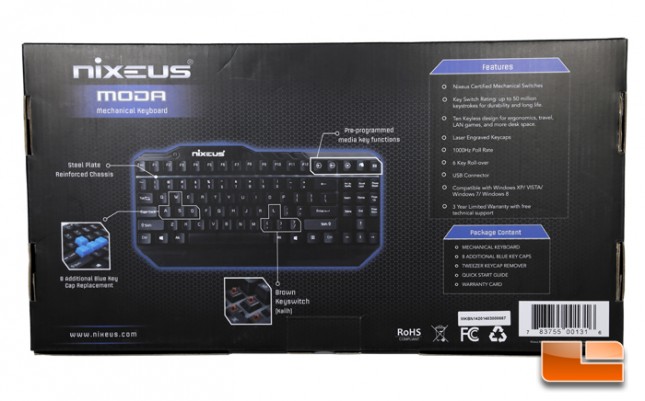 Nixeus MODA Mechanical Keyboard Features:
Nixeus Certified Mechanical Switches
Brown Keyswitches made by Kailh
Key Switch Rating: up to 50 million keystrokes for durability and long life
Steel Plate Reinforced Chassis
1000Hz Poll Rate
6 Key Roll-over
USB Connector
Laser Engraved keycaps
Ten Keyless design for ergonomics, travel, LAN games, and more desk space
Pre-programmed media key functions
8 Additional Blue Key Cap Replacement
Compatible with Windows XP/VISTA/Windows 7/Windows 8
3 Year Limited Warranty with free technical support
Nixeus MODA Mechanical Keyboard Specifications:
Key Actuation Force: 45g
Key Actuation Distance: 2.0 +/- 0.4 mm
50 Million Keystroke Life Span per Switch
1000Hz Poll Rate
~1ms Response Time
6 Key Roll-over and Anti-Ghosting
Keyboard Size: 15.75 (width) x 8.07 (height) x 1.97 (depth)
Keyboard Weight: 2 lbs
Connection Type: USB
Does Nixeus make a convincing keyboard? How different are these Cherry MX clones to the original? We answer those questions in this review so be sure to take a look!