Trying Out Steam In-Home Streaming With Hamachi For Remote Play
By
Steam In-Home Streaming Testing
This is the setup that I used to try out Steam In-Home Streaming:
Streaming Desktop Computer:
Custom built gaming PC running Windows 7
Intel Core i7 2600k Processor
NVIDIA GeForce GTX 670 SLI
Dual-band Wireless N
Gigabit LAN
Client Computer:
HP Chromebook 14 running Kubuntu 14.04
Intel Celeron 2955U
Intel HD Graphics
Dual-band Wireless N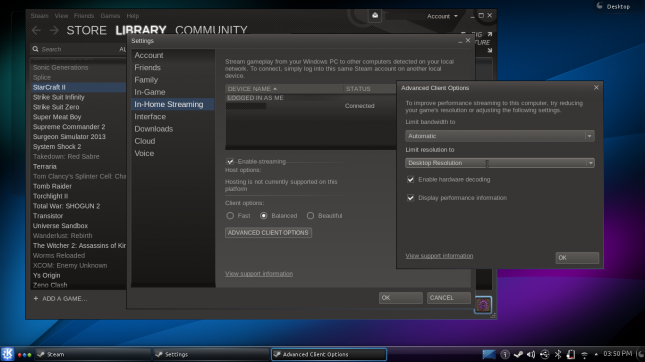 Both machines were updated to Steam's latest beta client and the client machine instantly recognized the host machine. All settings were left at default with the exception of enabling the hardware decoding to take advantage of Kepler's GPU encoding.
With the host and client machines set up, let's see how in-house streaming performs in practical application.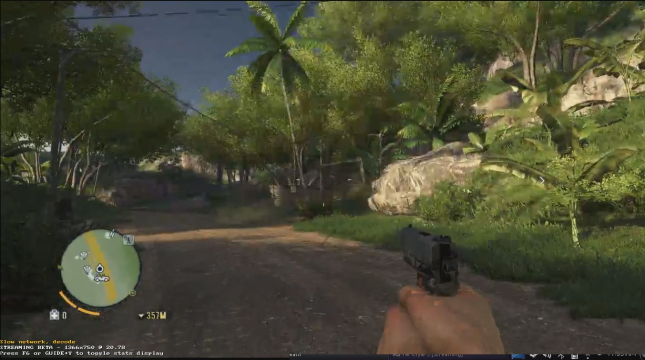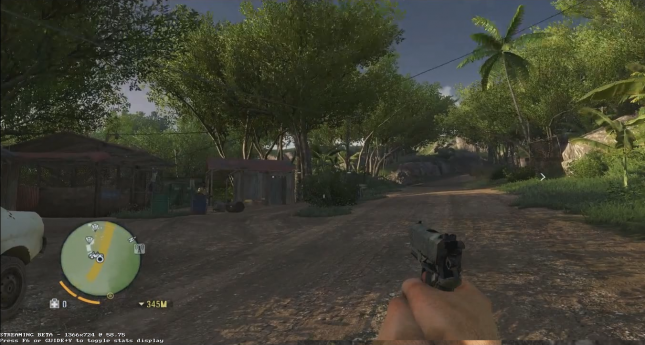 In Steam's streaming settings, users can enable an option to show streaming performance. In the top image, there's quite a bit of compression artifacts, screen tearing and latency made the game unplayable, and the game was maxing out at around 25fps at the Chromebook's native resolution of 1366×768. However, once switching the host machine to a wired connection, image quality was near perfect and latency was low enough for Steam to throttle the framerate up into the 50-60 range. Aside from the actual performance, there was a slight issue with Ubisoft's Uplay DRM. The login screen was up on the host machine without showing on the streaming computer, once returning to the host machine and logging in, the game picked up on the streaming machine as it should.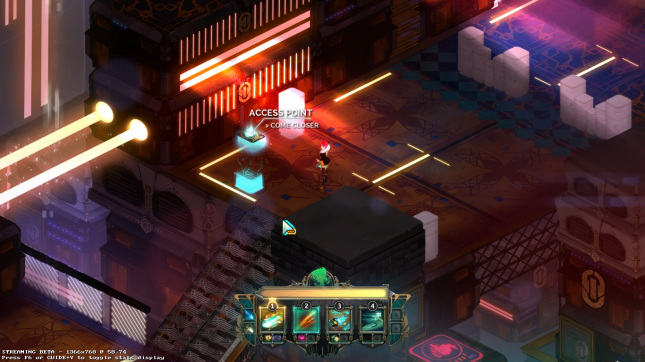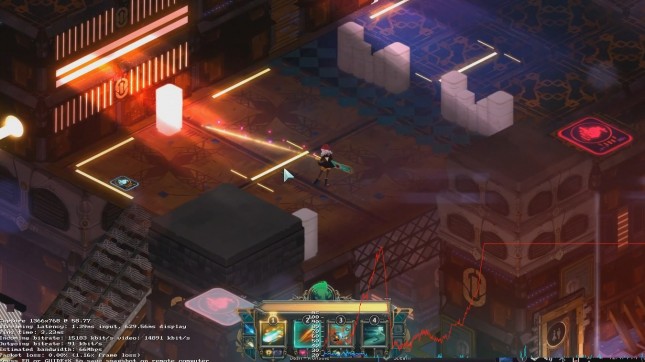 Transistor ran particularly well with only the occasional lag spike due to the use of a wireless connection and would most likely function perfectly with a wired host and client machine.
Testing then went in an interesting direction. Steam allows users to add other applications to their library. After adding Battlefield 4, launching through Steam on the host machine loads the Battlelog page for finding a match, but on the client machine, nothing happens. The client just launches Battlelog pages in the host machine's default web browser. Starcraft 2 similarly had issues launching. Blizzards game launchers are typically a patch window that starts the game. On the client machine the entire Windows 7 desktop of the host machine was visible, Starcraft 2 started on the host machine but only a black screen and a cursor was visible on the client. A few other more simple games and applications launched properly though, the original release of Cave Story, a few emulators, and even Notepad++(so even desktop applications are fair game for streaming).
Sidenote: There's supposed to be controller support for in-home streaming, but I had no response from mine. Perhaps using a Linux client is the cause of this, though my operating system was definitely showing that it recognized the controllers. Several games were tested with both an Xbox 360 controller and a generic USB controller, with neither being recognized by the host machine. Though it's likely to be added soon as the difference between transmitting keystrokes on a keyboard and button presses on a controller is not too drastically different.
Ultimately, in-home streaming is great if you have a network backbone that can support a reliable 10-20Mbit/s stream. Wired is absolutely preferable, but with the dual-band 802.11n wireless cards in our test systems the gaming experience was near-unplayable. Steam recommends using a wired network for the best gaming experience and we'd have to agree with that. If you wnated to try this on a wireless network we highly suggest using an 802.11 AC router that has a strong signal. (our recommended router)