TP-Link TL-WDR4300 N750 Dual-Band Wireless Router Review
By
TP-Link TL-WDR4300 Dual-Band Router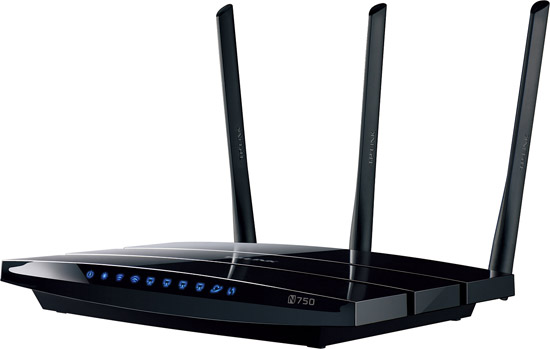 Today we take a look at the new flagship router from TP-Link, a networking company that is trying to make a name for itself by offering quality – but inexpensive – network products. When looking at their catalog you will see they have a full suite of networking equipment for your home or small business. The thing that sets TP-Link apart from the rest is that their price point for their equipment is significantly lower than their competitors. For example, you can find the TP-Link TL-SG1005D 5-Port Gigabit Desktop Switch for $19.98 from pretty reputable vendors on the internet while searching for a similar Netgear 5-Port Gigabit switch like the GS105 costs $39.99. With this in mind we were very interested in getting our hands-on their newly introduced TP-Link TL-WDR4300 Dual-Band Wireless Router.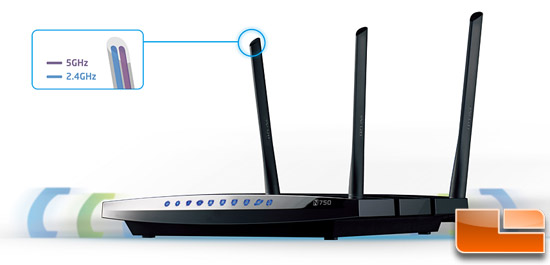 TP-LINK's TL-WDR4300 is a performance optimized dual band wireless router which combines the blazing fast speeds of 450Mbps using the next generation Wi-Fi standard 5GHz bandwidth and 300Mbps using the traditional Wi-Fi standard 2.4GHz bandwidth. Users will have a total bandwidth of 750Mbps (thus the "N750" tag) to use for many different applications at the same time. Simple applications such as web browsing and emails can easily be handle by the 2.4GHz bandwidth at 300Mbps, whereas tasks like online gaming or HD video streaming can be process with the 5GHz bandwidth at 450Mbps all at the same time. This can all be done with the simultaneous dual band which is like running two wireless routers in one giving users lighting speed.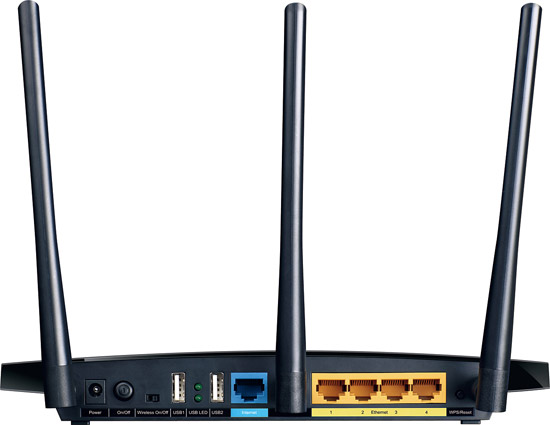 Because the TP-Link TL-WDR4300 has five Gigabit ports and 800Mbps+ hardware NAT, wired devices should have lag-free connections and will perform well. Based on these specifications, users should be able to power a fairly robust home media network. As with many new routers and gateways that have recently be released, this router is versatile enough for you to turn it into a media and print server. You can also use the TL-WDR4300's two multi-functional USB 2.0 ports to provide media and document sharing, ftp servers, printers, and flash storage by simply plugging in the device. For $90, this router has all the bells-and-whistles that the 'big boys' have. We are very interested in seeing if the router's performance lives up to the hype.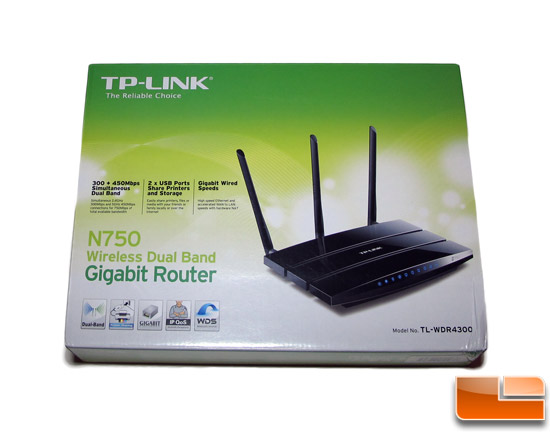 TP-Link TL-WDR4300 Features:
Simultaneous 2.4GHz 300Mbps and 5GHz 450Mbps connections for 750Mbps of total available bandwidth
2*USB 2.0 port convenient for network-connected users to share files through the device's FTP server
Built-in media server allows users to share music, video and photos with Windows Media Player, PS3 or X-BOX 360
The device's built-in print server supports wireless printing from different computers by connecting a USB printer to the router
Full gigabit ports ensure ultimate transfer speeds
Achieves blazing WAN to LAN throughput of over 800Mbps with hardware NAT
Simple wireless security encryption at a push of the WPS button
WDS wireless bridge provides seamless bridging to expand the wireless network
IP-based bandwidth control allows administrators to determine how much bandwidth is allotted to each PC
Live Parental Controls allow parents or administrators to establish restricted access policies for children or staff
External detachable antennas allow for better alignment and stronger antenna upgrades
Here is a quick video overview of TP-LINK's TL-WDR4300 wireless router that was done by TP-Link.

When we open up the TP-Link N750 Box we find a slimmer-than-normal router measuring about 9.6″ x 6.4″ x 1.3″ weighing 2.1 pounds. The router definitely has a unique look finished in glossy piano black with fairly large lights on the front. The TL-WDR4300 actually has 10 different indicator lights on the front and uses 3 external detachable dual band antennas to function. The box also includes the power supply unit, a resource CD and a quick installation guide.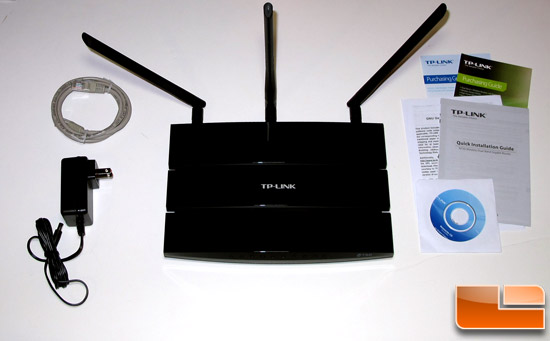 On the back you will find five gigabit ports along with the two multifunctional USB 2.0 ports. The three external detachable antennas screw on to the back of the router and allow you to align each independently. Having a detachable antenna gives you the option of attaching an 'after-market' antenna like the $23.99 TP-Link TL-ANT2409A that extends the 2.4GHz range. Finally, we see a physical button that can turn the TP-Link wireless transmitter on and off.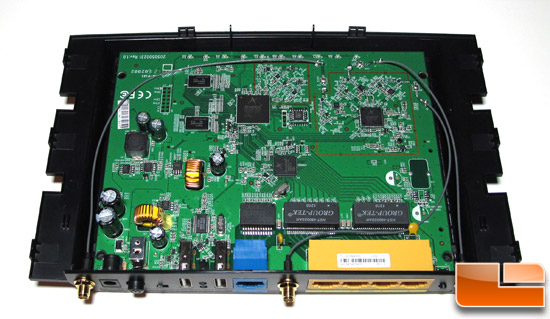 After opening the TP-Link WDR4300, we see that it is powered by a Qualcomm/Atheros "Hy-Fi" reference design
AR9344 system-on-a-chip
. This chip is the processing power that allows for the integrated dual-band 802.11n and all of its interfaces. The AR9344 chip supports a second 802.11n radio as well that TP-Link has taken advantage of.
You can also easily see the Group-Tek HST-48002SAR 1000BASE-T Transceivers that power the 4 LAN and 1 WAN Gigabit Ethernet ports. The rest of the PCB is very clean with a neat and uncluttered design. There are no active cooling elements or heatsinks located inside the TP-Link N750 so we really don't expect it the router to run that hot – or use that much power. We'll actually look at the router's power consumption a bit later on.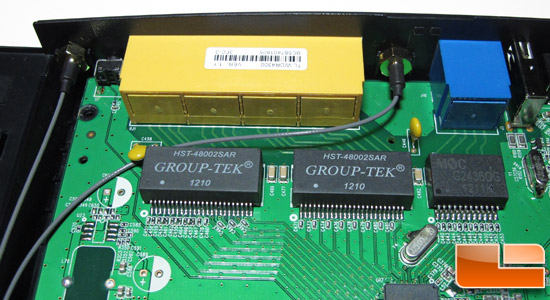 The TP-Link TL-WDR4300 also features one button security setup located on the back of the router and by pressing the Wi-Fi protected setup button, the router will automatically establish a WPA2 secure connection. The TL-WDR4300 supports IP QoS (Quality of Service), allowing optimum utilization of bandwidth and offering bandwidth control over congestion, preventing bandwidth abuse. This feature allows users who have small networks to receive committed and specific bandwidth which will prevent non-critical applications from degrading network performance.
Now let's fire up the unit and take a look at how the user interface looks.