Thermaltake Frio Extreme CPU Cooler Review
By
Thermaltake Frio Extreme
Thermaltake has been around for many years making a range of CPU coolers, cases, fans, and power supplies. Their current line of CPU coolers is the Frio series. We first looked at the first Frio back in 2010 and then the updated Frio OCK here in the last week. Now we are taking a look at the largest cooler in the Frio series and the biggest I have ever seen from Thermaltake, the Frio Extreme.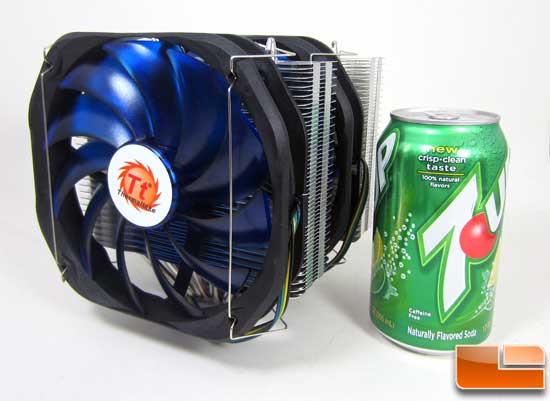 The Frio Extreme is a massive cooler. It has the twin tower design and comes with two 140mm fans. The Frio Extreme stands 160mm tall, 148.2mm deep, and 151mm wide, weighing in at a hefty 1230g or 2.7 pounds. Next to the Frio Extreme in the above image is a standard 12oz soda can.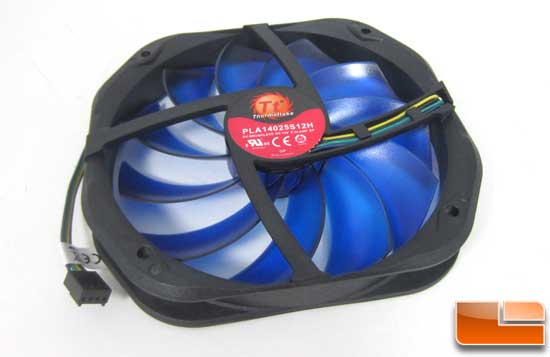 The 140mm fans included with the Frio Extreme run 1,200 to 1,800 RPM at 19 to 39dBA, pushing a max air flow of 106.2 CFM. To help control the fans Thermaltake has included a fan controller pod. The pod will allow either PWM control of both fans or user set VR control. Switching between modes can be done without any disassembly, just a flick of a switch and turn of a knob.
What is also new to the Frio Extreme is the industry first 10 year warranty that covers the entire unit. This may sound insane for a CPU cooler, but I have been running the Noctua NH-U12P HSF for over 4 years now on 5 different systems. People are keeping their CPU coolers longer these days, so it is nice to see companies offer longer warranties. Thermaltake appears to be hoping for the same kind of mileage with the Frio Extreme, as one would hope/expect from a CPU air cooler that has an MSRP of $95.
Features of the Thermaltake Frio Extreme
Ultimate Over-clocking Design Structure, supports up to 250W
Dual tower heat-sink with 0.4mm aluminum fins provide large surface for heat dissipation.
6 x 6 mm-U-shape copper heat pipes accelerate heat conductivity.
Mirror-finished copper base, provide perfect contact with CPU.
Premium thermal grease maximizes heat transfer from the CPU onto the copper base for faster dissipation.
The Combination of VR and PWM Fan Control
Dual 14cm high performance blue blade designed fans, spins from 1,200 to 1,800RPM.
Combination of VR and PWM functions, switchable upon users preferences.
Tool-less and Easy installation design for quicker disassemble and assemble the fan module.
Universal Socket Compatibility & Accessory Package
All-in-one back-plate design, support all Intel and AMD platform
Universal socket support: Intel: LGA 2011, 1366, 1155, 1156, 775. AMD: FM1, AM3+, AM3, AM2+, AM2
Specifications of the Thermaltake Frio Extreme
Intel: LGA 2011, 1366, 1155, 1156, 775
AMD: FM1, AM3+, AM3, AM2+, AM2
Supports All CPUs up to 250W TDP
Heatsink Dimension 148.2(D) x 151(W) x 160(H) mm
Heatsink Material Aluminum Fins
Aluminum & Copper Base
Heatpipe 6mm (x6)
Fan Dimension 140(L) x 140(H) x 25(W) mm
Fan Speed 1,200 ~ 1,800 RPM
Noise Level 19 ~ 39 dBA
Max. Air Flow 106.2 CFM
Max. Air Pressure 2.34 mmH2O
Power Connector 4 Pin
Rated Voltage 12 V
Started Voltage 6 V
Rated Current 0.5 A
Power Input 7.2 W
MTBF 50,000 Hrs @ 40*c
Weight 1230 g