Thermaltake Core X5 Cube Chassis Review
By
Thermaltake Core X5 Cube Chassis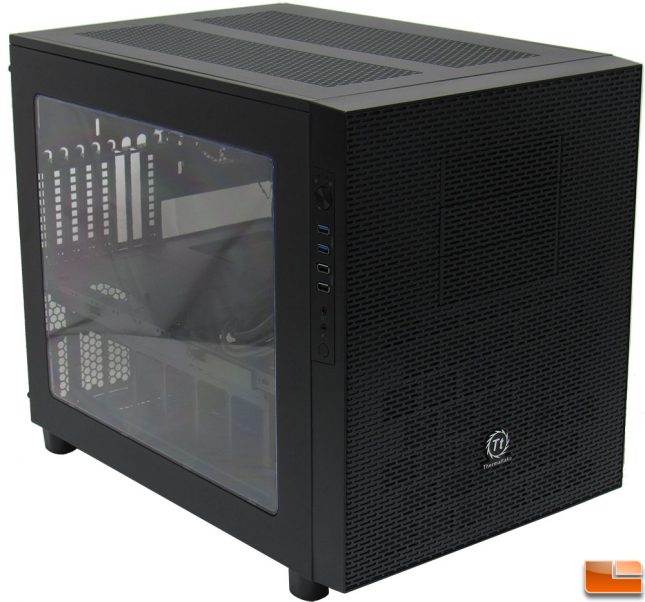 At CES 2015, Thermaltake introduced us to their Core X line which included three models, X1, X2 and X9. Each of them was designed for different size of motherboards but maintained the ability for the end user to customize the chassis to fit their specific need. The Thermaltake Core X5 is their their latest cube chassis that debuted at CES 2016 and is designed to support up to an E-ATX motherboard along with a wide range of cooling options. The Thermaltake Core X5 is currently available in Black and Green both of which can be easily found online starting at $147.40 with free shipping for the Black version, while the Green one includes Riing fans, making it slightly more expensive at $169.99 with free shipping.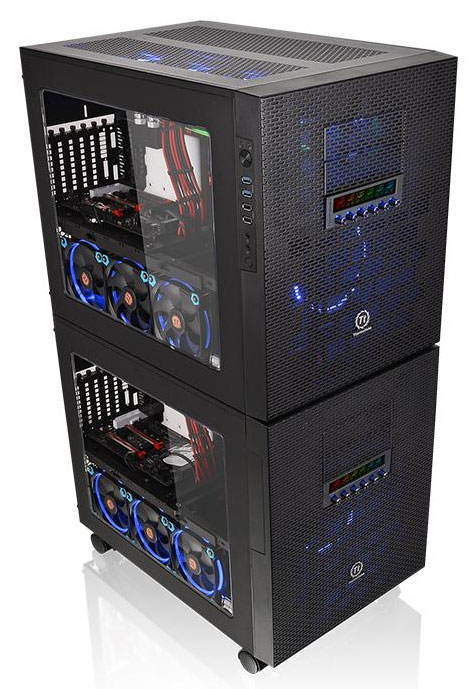 The Core X5 is similar to the Core X9, but is slightly smaller coming in at 18.2″ x 14.6″ x 21.3″ versus the X9 which is 19.8″ x 15″ x 25.2″. Both cases will support the same size of motherboard, but being slightly smaller the Core X5 has some differences between the two cases. However, the key features remain the same. Like the other cases in the Core line-up, the Core X5 is extemely modular, easy to customize and stackable.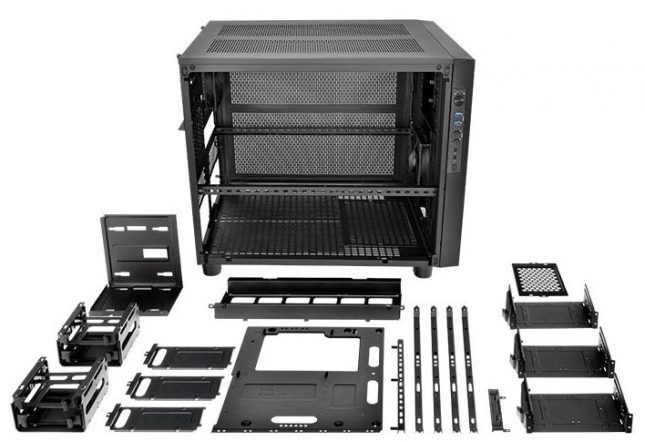 Before we get to taking a closer look at the Core X5, if you are unfamilar with the customization that is possible with the Core X line, this should give you an idea. Nearly every piece of the Core X5 can be removed with thumbscrews, all the way down to the frame. In addition to removing the interior components, you can also swap side panels and even change the location of the front I/O cluster.
Features and Specifications
Stackable and Expandable
Outstanding Ventilation
Chamber Concept
Fully Modular Design
Interchangeable Window and I/O Panel
Core X5 Specifications
Model
Core X5
Part Number
CA-1E8-00M1WN-00
Case Type
E-ATX Cube Case
Dimension (HxWxD)
463 x 371 x 540mm (18.2 x 14.6 x 21.3 inch)
Net Weight
12kg / 26.5lbs
Side Panel
Transparent Window
Color
Exterior & Interior: Black
Material
SGCC
Cooling System

Front (Intake): 120 x 120 x 25mm Turbo Fan (1000RPM, 16dBA)

Rear (Exhaust): 120 x 120 x 25mm Turbo Fan (1000RPM, 16dBA)

Drive Bays

3 x 5.25″

Accessible: 4 x 3.5″ or 2.5″ (HDD Cage)

Hidden: 3 x 2.5″ (HDD Tray)

Expansion Slots
8
Motherboards
Mini-ITX; Micro-ATX; ATX; E-ATX
PSU
Standard PS2 PSU (Optional)
I/O Ports
USB 3.0 x 2; USB 2.0 x 2; HD Audio x 1
LCS Upgradable
Supports 1/2″, 3/8″, 1/4″ water tube
Fan Support
Front: 3 x 120mm; 2 x 140mm; 1 x 200mm

Top: 6 x 120mm; 4 x 140mm; 2 x 200mm

Rear: 1 x 120mm; 1 x 140mm

Bottom: 6 x 120mm

Left / Right Side: 3 x 120mm

Radiator Support
Front: 1 x 360mm; 1 x 280mm; 1 x 200mm

Top: 2 x 360mm; 1 x 280mm; 1 x 400mm

Rear: 1 x 120mm; 1 x 140mm

Bottom: 2 x 360mm

Left / Right Side: 1 x 360mm

Clearance
CPU Cooler height limitation: 230mm

VGA length limitation: 330mm (with ODD Cage); 480mm (without ODD Cage)

PSU length limitation: 220mm (with Bottom Fan)
Let's take a closer look at the Thermaltake Core X5 before building a system into the chassis.