The XFX 6600GT…..Performance on a budget
By
Testing
For testing purposes I used the following test system:
3.6GHz P4 socket LGA 775
ABIT AG8 motherboard featuring the Intel 915 Chipset
1 GB Kingston Hyper X 4300 @ 3-4-4-8
1 80GB Hitachi SATA HDD
Antec NEOPower 480 PSU
All testing will be run at a FSB of 200 on a fresh install of Windows XP Professional with the newest drivers for each card. All tests were run twice, with the first score tossed out.
Far Cry Demo 1.3
Doom 3 Time Demo 1
3DMark05 build 110
AquaMark 3
3DMark05 Build 110
3DMark05 is a premium benchmark for evaluating the latest generation of gaming hardware. It is the first benchmark to require a DirectX9.0 compliant hardware with support for Pixel Shaders 2.0 or higher. Resolution was set to 1024×768.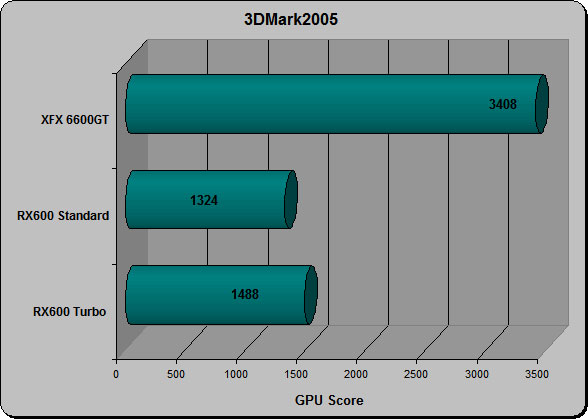 AquaMark 3
AquaMark3 is a powerful tool to determine reliable information about the gaming performance of a computer system. Again, resolution was set 1024×768.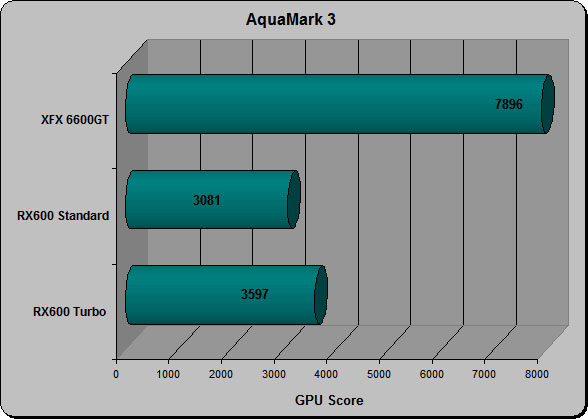 Doom 3
Doom 3 is one of the most system taxing games available. Its popularity also makes it a great choice for system benchmarking. I like to use Time Demo 1 with resolution set to 1024×768 with detail set to high.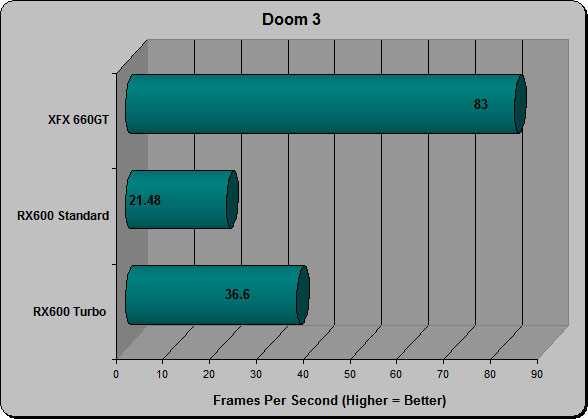 Far Cry
Far Cry is another super popular FPS title that seriously taxes your systems graphics. HardwareOC developed this specialized benchmarking utility that automatically runs the test twice and averages out the score. V 1.41 was used here, with a resolution of 1024×768 and detail levels set to high.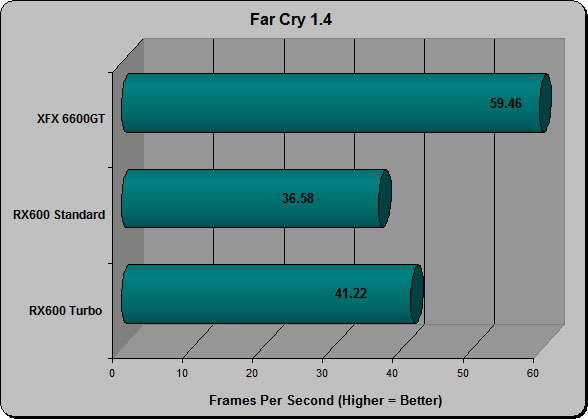 The XFX 6600GT smoked the X600 based card across the board. I was also seriously impressed with the 6600GT's performance and graphics while gaming, I can't wait until next week when I slap this card, with its twin, into DFI's new SLI based board for some serious torture. I have to say these are some great scores, especially when you consider this card retails for less than $200.
Overclocking
When it came to overclocking the 6600GT I had no issues at all. The highest core I was able to achieve was 542 MHz, while the highest memoryspeed was 545 (1.090 GHz effective). To me these are very nice numbers considering the price of this card. I ran the 6600GT at these speeds for a week straight while playing HL2 without any crashes or excessive heat. As always, I like to point out that everyones overclocking experience will be unique, though mine should be a good gauge as to what you can expect from your card.