The XFX 6600GT…..Performance on a budget
By
Specs and Impression
Performance

? Graphics Core: 256-bit @ 500MHz
? 8 Pixel pipelines

Memory Configuration

128MB DDR3 Samsung Memory

Memory Interface: 128-bit

? Memory Data Rate: 1000 MHz
? RAMDACs: 400 MHz
Support for the world?s fastest GDDR3 memory delivers fluid frame rates for even the most advanced games and applications. (GeForce 6800 Ultra, 6800 GT, 6800, and 6600 GT only)

Display support
? Dual DVI-Out for sharp LCD monitor output (DVI to VGA adapters included for use with analog CRT displays)
? Video out Module enabling big-screen gaming, digital timeshifting VCR, and video-editing applications
Revolutionary Superscalar Architecture
Delivers up to 8x the shading power of previous generation products for screaming gaming performance
CineFX 3.0 Engine
Powers the next generation of cinematic realism. Full support for Microsoft DirectX 9.0 Shader Model 3.0 enables stunning and complex special effects. Next-generation shader architecture delivers faster and smoother gameplay.
UltraShadow II Technology
Enhances the performance of bleeding-edge games, like id Software?s Doom III, that feature complex scenes with multiple light sources and objects. 2nd-generation technology delivers more than 4x the shadow processing power over the previous generation.
64-Bit Texture Filtering and Blending
Based on the OpenEXR technology from Industrial Light & Magic, NVIDIA?s 64-bit texture implementation sets new standards for image clarity and quality through floating point capabilities in shading, filtering, texturing, and blending.
Intellisample 3.0 Technology
The industry?s fastest antialiasing delivers ultra-realistic visuals, with no jagged edges, at lightning-fast speeds. Visual quality is taken to new heights through a new rotated grid sampling pattern.
Digital Vibrance Control 3.0
Allows the user to adjust color controls digitally to compensate for the lighting conditions of their workspace, in order to achieve accurate, bright colors in all conditions.
NVIDIA SLI Multi-GPU Ready
Dramatically scales performance by allowing two graphics cards to be run in parallel. (GeForce 6800 Ultra, 6800 GT, and 6600 GT only)
PCI Express Support
PCI Express is a new Intel bus architecture that doubles the bandwidth of the AGP 8X bus, delivering over 4 GB per second in both upstream and downstream data transfers. Only supported in some NVIDIA GPUs. Please check product details for bus information.
Dual 400MHz RAMDACs
Blazing-fast RAMDACs support dual QXGA displays with ultra-high, ergonomic refresh rates?up to 2048×

[email protected]

Integrated HDTV Encoder
Provides world-class HDTV-out functionality up to and including 1920x1080i resolutions.
System Requirements
? PCI Express Motherboard with available 16x PCI Express slot
? Installation software requires CD-ROM drive
? A minimum 300W system power supply
? DVD playback requires DVD drive
Impression
I have to say that XFX uses the most interesting packaging I have ever seen! The card I received came in a very unique ?X? shaped box, no doubt to reflect the ?X? in ?XFX??duh.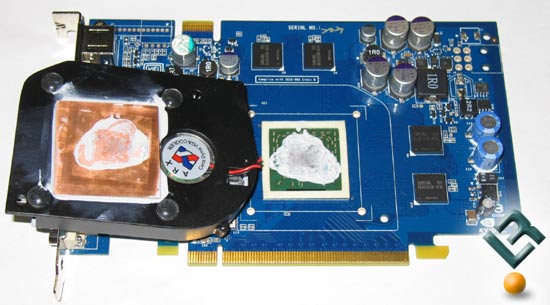 The card itself is built upon an attractive blue PCB and looks like your typical PCI-E video card. Something I noticed was how "clean" or uncluttered this card is, something that can only help its cooling. Above you'll see the GPU and the standard copper based cooling solution. The 6600GT core runs at 500MHz, so no special cooling is needed. You should also be able to make out the lack of a 4 pin power connector. Pretty sweet card with a very clean and simple layout.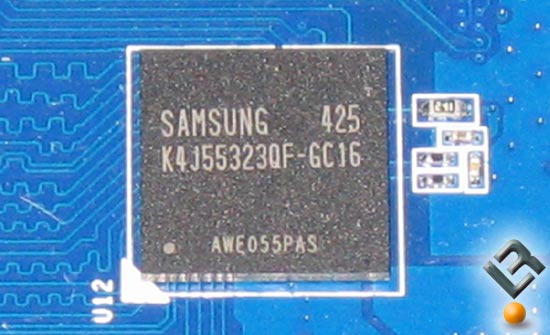 The Samsung K4J55323QF-GC16 GDDR 3 memory chips run at 500MHz (1000MHz effective), having only 128MB means that these are only found on the top of the card. Like a lot of the cards on the market, XFX did not include any cooling for the memory, something I wish everyone would implement. I don?t think a few RAM sinks would cost anyone very much, and could only help a cards performance. The XFX 6600Gt features a pair of DVI outputs instead of the DVI and VGA connectors found on most cards, although XFX did include a DVI to VGA adapter. The card also features an S-Video connector for TV-Out capability.