Tesoro GRAM Spectrum RGB Mechanical Gaming Keyboard Review
By
Final Thoughts and Conclusions

The Tesoro GRAM Spectrum RGB keyboard comes in Red and Blue Kailh AGILE switches, which if you are familiar with Cherry MX switches, then these should feel pretty similar. Which is better for you is a popular question, Blue is commonly desired by typists, while Red is desired more for gamers. Once again, Blue switches are the loudest, and Red are the "quietest" of the mechanical switches. Blue requires additional pressure to activate the switch, while Red requires less pressure. Add in the low profile keys, and the pressure needing to activate the key is very minimal. Whether Blue or Red switches are best, it really comes down to personal preference.
The Tesoro GRAM Spectrum RGB has some very interesting functions, with on-the-fly macro recording, and built-in per-key LED color options with up to 16.8 million color choices. The built-in LED I found to be pretty bright on full brightness (there are four brightness levels), making the keys easy to see in the dark, and the colors vibrant. Everything the Tesoro GRAM Spectrum does is designed with the user in mind. The software is easy to use, as is the on-the-fly macro recording.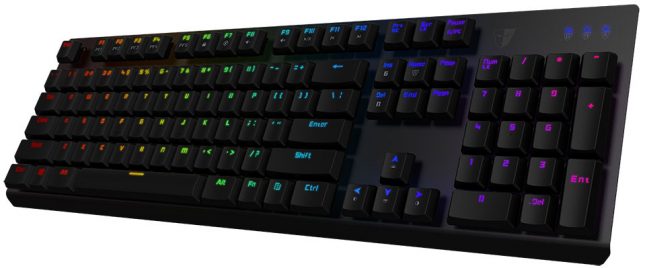 Speaking of the software, there are a few little quirks I found. First the issue of skipping letters when building macros, even if I re-organized the keys and verified the letters were within the macro it would skip letters, most commonly the T in my name for a signature block. The on-the-fly macro recording option didn't have that issue, but the software didn't show those on-the-fly macro's so if I forgot about it, I could over-write it within the software. There is a small missing function with the RGB capabilties, there are several built-in animated lighting options, but you can't program your own animated lighting function.
Over the course of the review, I kept going back between three different mechanical gaming keyboards, a Corsair, Logitech and the Tesoro. A Corsair mechanical keyboard has been my favorite for several years, and I have tried other keyboards throughout that time period, but always went back to the Corsair. After typing on the Tesoro GRAM Spectrum RGB, I have to say that I think it has become my favorite. While all the mechanical keyboards are very responsive and comfortable to type on, the low profile keys and the metal face plate of the Tesoro GRAM Spectrum really sold it for me. You can purchase the Tesoro GRAM Spectrum RGB Gaming Keyboard for $139.99 with free shipping on Amazon, which places it near the higher priced end of the RGB Gaming Keyboards.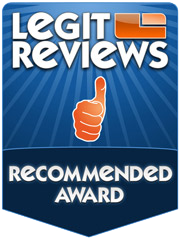 Legit Bottom Line: The Tesoro GRAM Spectrum RGB Mechanical Gaming Keyboard is a great keyboard for gamers and non-gamers. It is extremely well built and the RGB lights are bright and vibrant.