Tesoro GRAM Spectrum RGB Mechanical Gaming Keyboard Review
By
Tesoro GRAM Spectrum RGB Mechanical Gaming Keyboard

When it is time to replace a keyboard, everybody tends to have their favorite, and will find many excuses not to look at other models. If a keyboard has lasted for a while, you are probably used to how it feels, and responds, so your first instinct is to go with one that you know. Tesoro is a fairly new company that is building PC hardware, and so you might not be familiar with them; as such might overlook them for the more familiar manufacturers; I know that's what I did when I replaced my last gaming keyboard. So when Tesoro offered their latest keyboard, the GRAM Spectrum RGB Mechanical Gaming Keyboard, I was excited to try it out.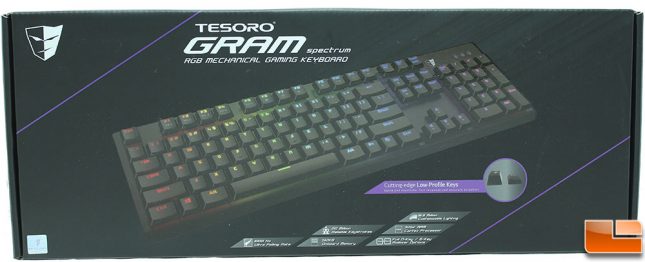 The Tesoro GRAM Spectrum RGB Mechanical Gaming Keyboard is available in a several models. The specific model that we have in for testing, is the black model, with Red Kailh AGILE switches, part number G11SFL, this particular model goes for $139.99 with free shipping; if you prefer the same keyboard is also available in white for slightly less $135.54 shipped. In addition to the physical color, the Tesoro Gram's Kailh AGILE Mechanical Switches are available in blue providing a different tactile and noise response; there is a slight difference in pricing between the Red and Blue switches as the black keyboard with blue switches are available for $133.84 with free shipping.
If you are unfamiliar with mechanical keyboards, there is some difference between Red and Blue switches. First, let's consider the sound of a mechanical keyboard, one of the reasons people like mechanical keyboards is the "click clack" sound they make when typing; some like this. Red switches are typically the quietest, but still give a satisfying audible response, while Blue switches are one of the loudest mechanical switches. Next, we should take into account the amount of pressure needed to activate the switch. Red typically requires the least amount of pressure to activate it, while Blue switches need a little extra pressure. The difference in the pressure necessary to activate the switch leads us to the typical use case; Red is geared towards gamers who typically do a lot of repeated taps, while Blue is geared towards typists who need more accuracy. This is just a quick overview of the Red and Blue switches, there are other switches that provide different responses. Which one is best for you, you really have to try them out to find out.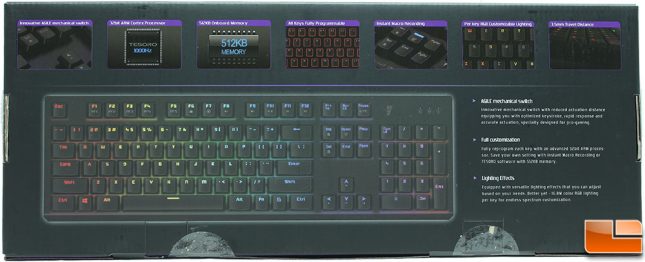 While many will probably purchase the Tesoro GRAM Spectrum RGB Keyboard online, should you find it in a retail store the package provides enough information for you to know the capabilities of the keyboard. For example, the GRAM Spectrum RGB Keyboard uses a 32-bit ARM Cortex processor to keep things running smooth, and 512KB of memory for macro's and color customization. In addition, they tell you that the keyboard uses the Kailh AGILE mechanical switches, which have a lifespan of over 60 million keystrokes. One of the leading features of the Tesoro GRAM Spectrum is that it uses low-profile keys which reduces the key travel distance to 3.5mm, which while isn't the shortest possible, but is still a very short travel distance. The combination of low profile keys and red AGILE switches equates to not needing to press on the keys very hard.
Features and Specifications:
Cutting-edge Low-Profile Keys
Cable Convenience – Detachable USB Cable
Lighting, Enhanced – 16.8 million color options
Individual Key Illumination – Each key can be individually customized
32-bit ARM Cortex Processor – Zero lag, 100% performance. GRAM Spectrum will keep pace no matter how chaotic the game gets.
512KB Onboard memory – Create and save the most extreme macros
The Kailh AGILE switch has a total travel distance of 3.5mm, an actuation of 1.5mm, and tactile level of 3, making it the fastest yet tactile low-profile key switch
GRAM Spectrum
Color
Black / White
Processor
32bit ARM Cortex Premium
Memory
512KB (4Mb) Onboard Memory
Switch
Gaming Grade – Tesoro Agile Switch
Key Lifespan
60 million keystrokes
Material
Plastic / Iron
Ultra-polling Rate
1000Hz
Connection
USB
Key Rollover
Full N-Key / 6 Key Rollover
Backlit
16.8M RGB Color
Lighting Effects
Yes
Special Keys
Keyboard Lock, Reset Hotkey, Instant Macro Recording, Instant Profile Switch
Multimedia Keys
6
Cable
1.8 meters, braided, detachable
Weight
Keyboard: 1.06kg
Dimensions
Keyboard: 445 x 136 x 24.5mm ( ?? x ?? x ?? in)
Warranty
1 Year

Almost everything you need to use the Tesoro GRAM Spectrum to it's fullest is included in the package. The only thing that is missing is the software, which in today's world isn't a big deal and is probably for the best. Requiring your to download the software helps to ensure you get the latest version, if you don't wish to use the software, the keyboard works out of the box with the default color settings built-in lighting options, and macro functions.