Tesoro Excalibur Mechanical Gaming Keyboard Review
By
Tesoro Excalibur Illuminated Mechanical Gaming Keyboard
The Northern California based peripheral company Tesoro Technology is a relative newcomer to PC hardware, but in a few years have built a robust portfolio of gaming keyboards, mice, and headsets. In particular, they've produced all sorts of mechanical keyboards including backlit keyboards, RGB backlit keyboards, aluminum keyboards, Cherry MX switch keyboards, and Kailh switch keyboards. The Excalibur keyboard we are reviewing is Tesoro's new blue LED backlit Kailh switch mechanical keyboard.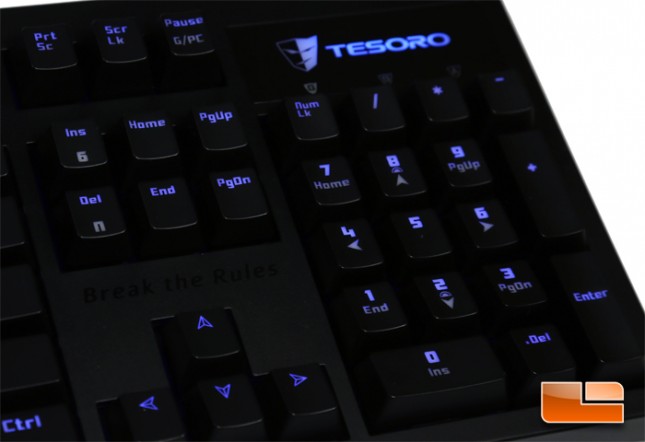 Tesoro likes to name its product after mythological weapons and objects with the Excalibur keyboard being named after King Arthur's sword in Arthurian legends. Though Tesoro is based in the United States, much of the company's efforts have been the international market and there has been some sloppiness preparing for the North American audience. One of the slogans on this keyboard's packaging "The Sword of King", is a mistranslation that's both silly and cringe worthy to see.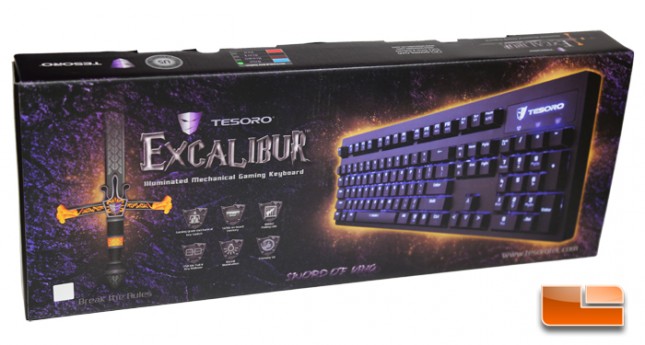 Tesoro didn't disappoint us before however, and the Excalibur looks solid. We haven't noticed any problems with Kailh Cherry MX clone switches and thus don't consider keyboards that use those switches to be truly substandard. If you aren't yet familiar with mechanical switches, this guide can make it easier to get an introduction to the technology and the color coding. The Excalibur features programmable keyboard keys, five profiles, onboard memory, individually backlit blue LED keys, and Fn media keys. The Excalibur comes with a 1-year warranty and normally costs $89.99 at the Tesoro web store and Newegg, but is currently priced at $69.99 for the Black Friday and Cyber Monday time period.
Tesoro Excalibur Illuminated Mechanical Gaming Keyboard Features:
Switchable USB & N-Key / Full N-Key Rollover
Gaming grade mechanical key switch with 50 million key actuations
Instant 5 profiles shift keys
Instant game mode function key for fast switching (Fn+Pause Break)
5 levels LED backlight brightness control with dimming mode
User friendly UI for easy function setup
512Kbit onboard memory
Full keys programmable
5 profiles over 300 macro keys
2000 macro presses per profile available
SYNC keyboard function
Firmware on line update
Embedded multimedia keys
Anti-slip design rubberized tilt feet
1000Hz polling rate
Compatible with Windows XP / Vista / 7 / 8 / 8.1
Tesoro Excalibur Illuminated Mechanical Gaming Keyboard Specifications:
450(W) x 145(L) x 24(H) mm
Memory: 512KB
Profiles: 5
Macro keys: all
LED levels: 4
Key lifespan: 50 million keystrokes
Multimedia keys: 6
Connection: USB
Cable length: 1,55m
USB ports: no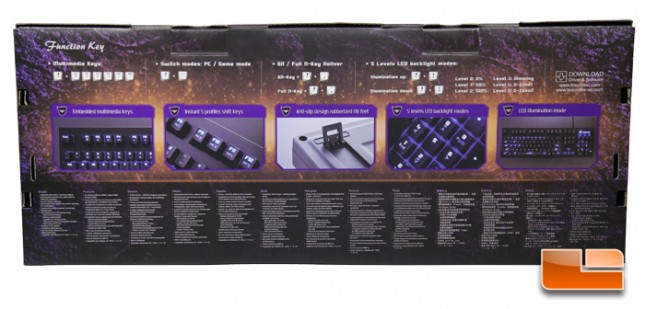 The Excalibur only comes with a Tesoro product catalog. The keyboard software for accessing advanced features must be downloaded. Detailed warranty information can be found at Tesoro's support web page.