Swiss Gear Pegasus Laptop Backpack by Wenger
By
Conclusion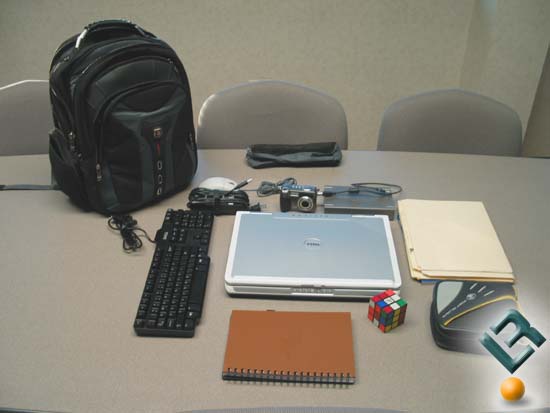 I chose the Pegasus due to the fact I did not want a run of the mill standard issue black shoulder bag, I have had plenty of those in the past, I was in the mood for something different. So in keeping that thought in the back of my mind while shopping for my laptop I ran across the Pegasus and it stood out from all the other plain Jane bags. I did some digging on the Wenger site and found nothing, thinking it was a discontinued item I hit up Google and started my search there. I found it was not discontinued and found many people posting up praise for the bag and raving on the quality. So I ordered one along with my new laptop, and glad that I did.
The Swiss Gear Pegasus is a very well built laptop pack designed for the road warrior on the move. Its rugged, has plenty of room to accommodate (securely) some of the largest laptops on the market today and the gear to go with it. I was able to put all the items in the above image into the Pegasus and still had room left. When loaded up with all the above the pack weighed in at 30 pounds, it handled the weight well and was surprisingly easy on the shoulders.
The Pegasus can be found for around $70, I think you would be hard pressed to find a better built sharper looking laptop backpack for the price. Now if the 15 laptop is closer to what youre hauling around these days do not feel left out, Swiss Gear has you covered there too, the Synergy may be more up your alley; a lot of the same features in a smaller package.
Bottom Line
Im very please with this pack, worth every penny spent on it. It is very well built, has room for all my stuff and looks great to top it off. Couple that with Wengers lifetime warranty (witch I doubt I will ever need to use) you cant beat it. My only suggestion to Wenger is to add this and their other laptop packs to their site. I just happened to find the Pegasus while shopping for my laptop and could only find info on the pack via shopping sites.