SteamOS on a Sub-$400 Gaming System
By
SteamOS Benchmark Performance
Heaven Benchmark with its current version 4.0 is a GPU-intensive benchmark that hammers graphics cards to the limits. This powerful tool can be effectively used to determine the stability of a GPU under extremely stressful conditions, as well as check the cooling system's potential under maximum heat output. It provides completely unbiased results and generates true in-game rendering workloads across all platforms, such as Windows, Linux and Mac OS X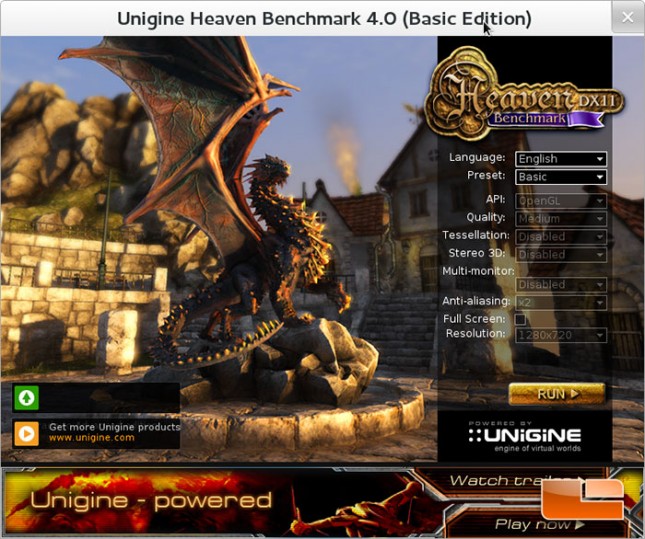 The Unigine Heaven Benchmark 4.0 has two different presets availble, basic and extreme. Since this is a whole new platform, I'm going to run of the presets. I will start with the basic preset. The basic preset has the quality set to medium, Tessellation is disabled, Anti-aliasing is set to x2, and the benchmark is running at a resolution of 1280×720.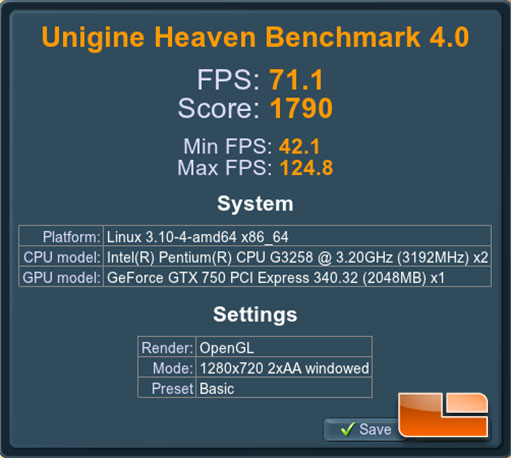 Once the Heaven 4.0 benchmark is complete it displays the average framerate and the overall score. The SteamOS machine was able to average 71.1 frames per second and was able to hit an overall score of 1790.
Taking the Heaven 4.0 benchmark to the extreme preset, a couple of the settings change. The Quality is set to extreme, Tessellation is now set to Extreme, Anti-Aliasing has been set to x8, and the resolution has been increased to 1600×900.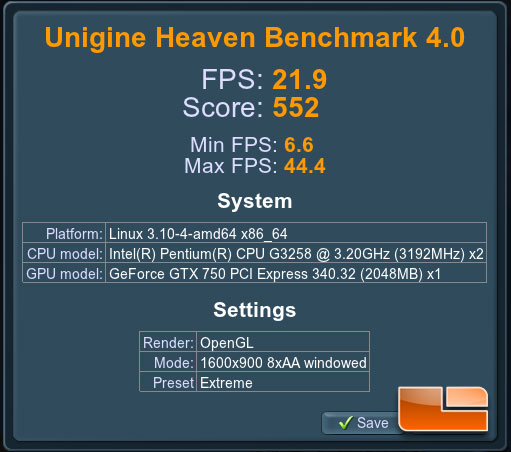 The extreme preset in Heaven 4.0 is just a touch more taxing on the system. The average framerate dropped from 71.1 down to 31.9 and the Overall score dropped to 552 points from 1790 points.