SK Hynix Gold S31 1TB SSD Review
By
SK Hynix Enters The Consumer SSD Market – Gold S31 SSD
Back in July 2019, SK Hynix, launched its first consumer Solid-State Drive (SSD), the SK Hynix Gold S31. For their first consumer drive the executives over at SK Hynix decided to first target mainstream users with 2.5-inch SATA III series. Enthusiasts might be disappointed that they didn't start with M.2 NVMe drives using the PCIe interface, but we have a feeling those are coming. The Korean company noted that the Gold S31 is part of the SuperCore series, so it is very likely that this is the first of many drives to come.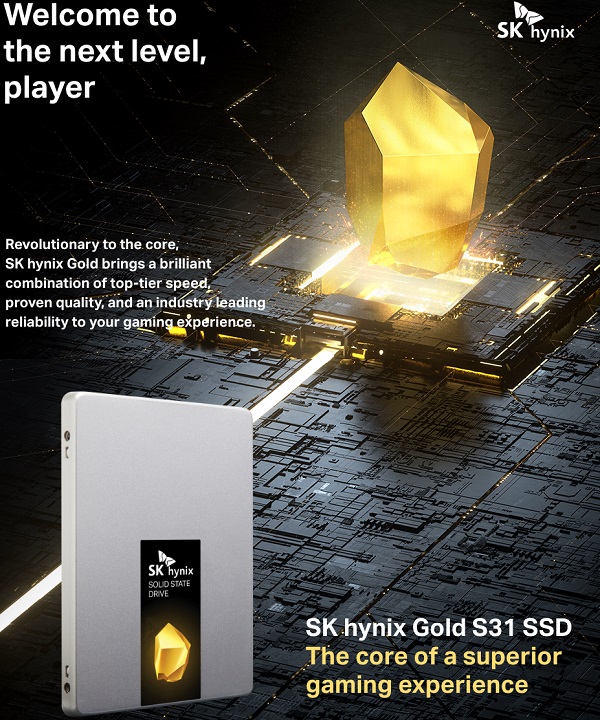 Since this is a SATA drive the specs won't shock anyone with sequential speeds of up to 560 MB/s read and 525 MB/s write. It is extremely hard to stand out from other brands in the SATA market since the SATA III interface became a bottleneck years ago, but SK Hynix is trying to by slapping superior reliability and stability claims on the Gold S31 series.
To stand out from other brands a bit they have placed a healthy 5-year warranty on the series with up to a 600 TBW (TeraBytes Written) rating on their largest capacity drive. The SK Hynix Gold S31 is available in capacities of 250GB, 500GB and 1TB. Pricing is $49.99, $69.99, and $118.99 with free shipping over at Amazon.com.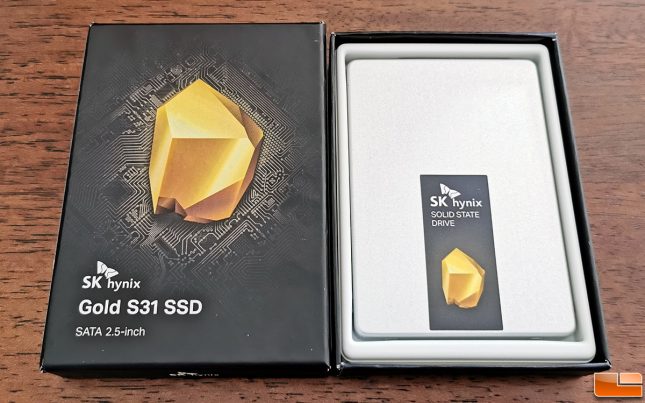 SK Hynix says that the Gold S31 is built entirely with in-house parts, so the controller, DRAM, 3D NAND Flash and firmware are all developed by SK Hynix. For those that want to know specifics, they are using a 4th generation "Quartz" Controller, 72-layer 3D TLC NAND Flash and LPDDR3-SDRAM inside this SSD.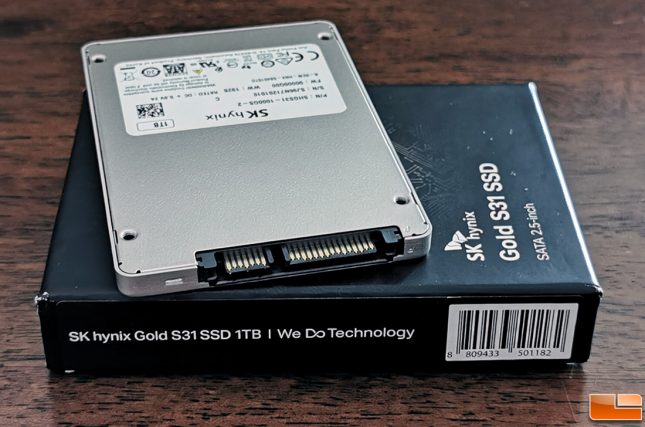 The drive that SK Hynix sent over for review is the Gold S31 1TB model that retails for $118.99 shipped. That puts it around $0.12 per GB, which makes it one of the more expensive 1TB SATA SSDs on the market today. This 1TB model has a 600 TBW rating, which means you can write 328.8GB of data to the drive per day over a 5-year period and still be covered under warranty. That is far more data that most consumers will write to a drive and it shows that SK Hynix believes this is a rock solid drive. The 500GB model has a 300 TBW rating and the smallest 250GB size is rated at 200 TBW.
Let's take a quick look at the test system and then see how this drive performs!