Seasonic G Series 550W SSR-550RM Power Supply Review
By
A look inside the Seasonic G-series 550W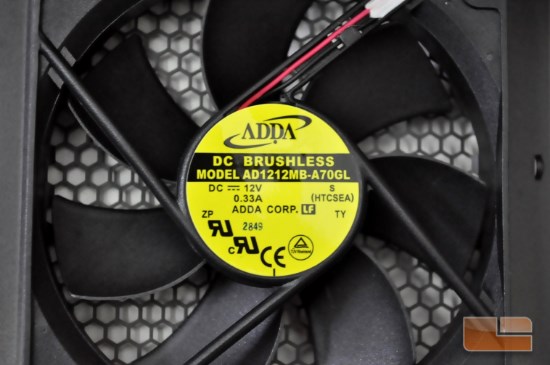 ADDA supplies the simple, black 120mm cooling fan found inside the G-Series 550W unit. The model number is AD1212MB-A70GL; a high speed ball bearing fan, capable of reaching up to 2050RPM.
As Seasonic is a company which designs and manufactures not only their own products but units for other brands as well, it is only natural that the G-Series 550W power supply is designed and built entirely by Seasonic alone. An expert can identify the presence of multiple solid polymer capacitors, an LLC resonance converter for increased efficiency and DC to DC conversion circuits. It would appear that Seasonic found a way of mass producing units making use of advanced electronic topologies at a lower cost, which can explain the competitive price of this power supply despite the very modern design.
A PCB behind the A/C receptacle holds several line filtering components, yet not all of them, with the filtering stage continuing onto the main PCB as well. The filtering stage is very strong, with the total number of components up to six Y capacitors, two X capacitors, three chokes, a MOV and a classic glass fuse.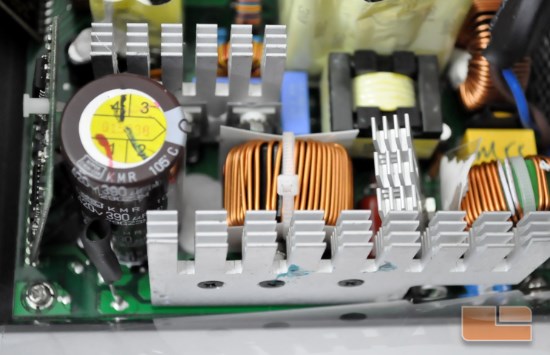 The single bridge rectifier can be seen on its own dedicated heatsink, right after the filtering stage. A single Nippon Chemi-Con KMR 420V/390uF capacitor and a medium sized coil are the primary passive components of the APFC circuit. The active components, two transistors and a diode, can be found attached to the large heatsink across the edge of the power supply. Two transistors form the primary stage inversion circuit, a half-bridge topology, which are mounted on a smaller heatsink right next to the main transformer.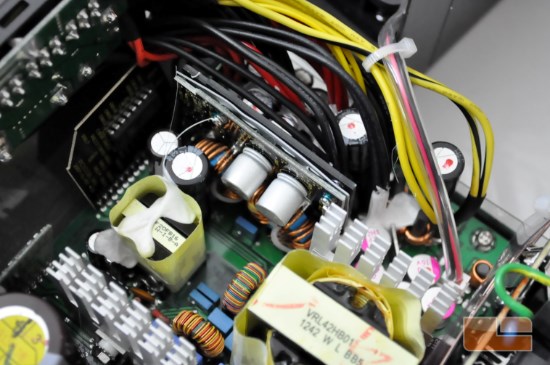 Two transistors and two diodes form the secondary side of this power supply but they are placed on the bottom side of the main PCB. This topology produces only a single 12V output and the 3.3V/5V lines are derived from the DC to DC circuits found on the vertical daughterboards. Most capacitors around the secondary side of this power supply are solid state polymer products from Enesol, yet there are a few classic electrolytic capacitors by Nippon Chemi-Con as well.