Seagate Momentus 7200.3 320GB Notebook Hard Drive
By
SiSoftware Sandra 2009 SP3
SiSoftware Sandra (the System Analyser, Diagnostic and Reporting Assistant) is an information & diagnostic utility. Sandra provides most of the information (including undocumented) you need to know about your hardware, software and other devices whether hardware or software. In order to test the hard drive SiSoftware Sandra 2009 SP3 was used as part of the test suite. The graphical results that Sandra gives you after the test is completed nicely shows how drives perform over time and where at on the drive the performance is seen.
READ Performance Testing: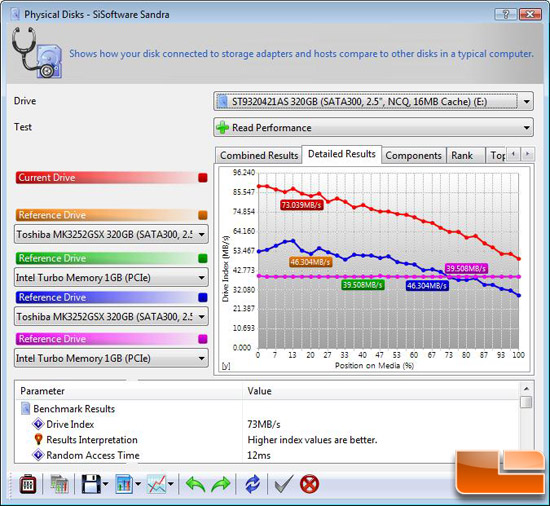 WRITE Performance Testing: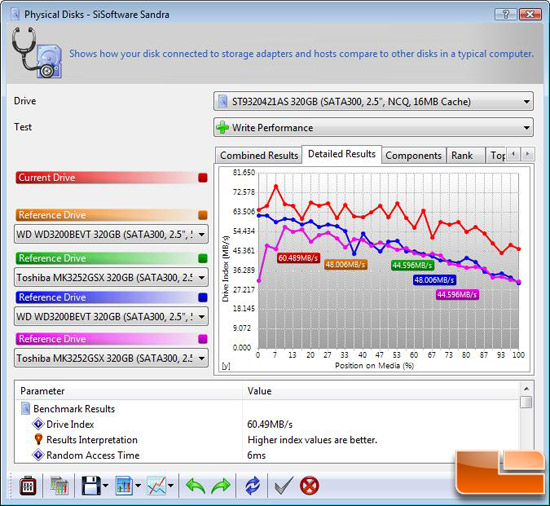 Benchmark Results: The Seagate Momentus 7200.3 320GB notebook hard drive easily outperformed the drive scores found in Sandra 2009 SP3.


Comparison Chart: When comparing the Seagate Momentus 7200.3 to other popular hard drives like the Western Digital Scorpio Blue 500GB and the Seagate Momentus 7200.2 200GB it does well, but the WD Scorpio Blue 500GB hard drive does better in the write test. When it comes to the read speed the Seagate 7200.3 320GB hard drive is the clear winner, though, as it was found to be 40% faster than the 7200.2!