Seagate Momentus 7200.3 320GB Notebook Hard Drive
By
Seagate Momentus 7200.3 Hard Drives
Seagates Momentus 7200.3 hard drive is a very popular 7,200 RPM, 320GB hard drive for performance and gaming notebooks. The drive can be found in everything from Dell XPS and Alienware laptops to retail store shelves around the world. This 2.5 inch form factor drive features the latest and greatest SATA 3.0 Gbit/second interface as well as a 16MB cache that enhances performance. This means that the Momentus 7200.3 hard drives are ideal for mainstream and performance-class laptops, small form factor PCs and even workstations. The Momentus 7200.3 is the third generation 7200 RPM hard drive from Seagate and features a number of improvements over the 7200.2 series of hard drives that we have reviewed in this past article.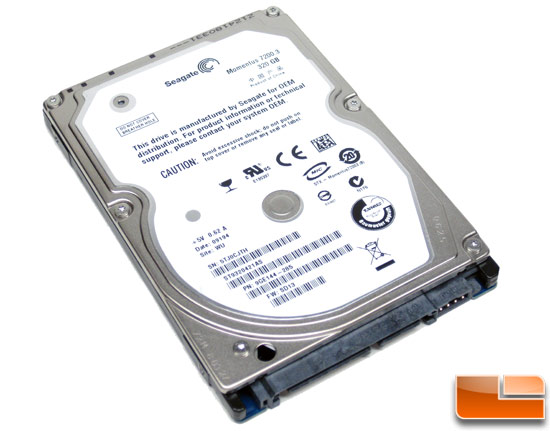 As previously mentioned, the Seagate 7200.3 is the third generation of 7200rpm Momentus series drives. The drive is able to store 320GB on two platters rather than just 200GB due to the fact that the data density is higher per platter. The Seagate Momentus 7200.3 laptop hard drive will still fit in any device that has a 2.5-inch drive space.
Hard Drive Features:
Form Factor: 2.5″ x 1/8H
Capacity: 320 GB
Interface Type: Serial ATA-300
Buffer Size: 16 MB
Features: Native Command Queuing (NCQ), Perpendicular Recording
Drive Transfer Rate: 300 MBps (external) / 80 MBps (internal)
Seek Time: 11 ms (average)
Average Latency: 4.17 ms
Spindle Speed: 7200 RPM
Shock Tolerance: 350 g @ 2ms (operating) / 1000 g @ 1ms (non-operating)
Manufacturer Warranty: 3 year limited warranty
The back of this 2.5″ notebook hard drive gives a better look at the SATA power connector and the SATA NCQ interface. There is a jumper just to the left of the SATA data connection that enables the drive's 3GB/s speeds. With the jumper in place the speed is limited at 1.5GB/s, and with it removed the full potential of the drive is unlocked. This OEM drive was shipped to us with no jumper installed.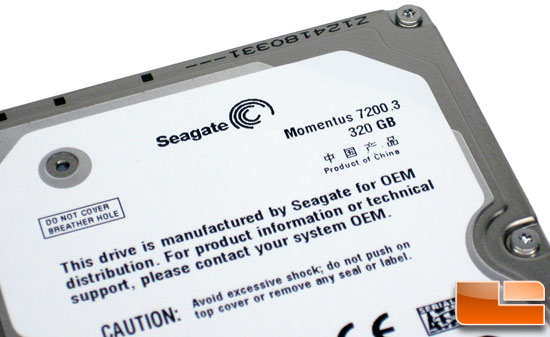 At
$74.99
this 320GB hard drive costs a little more than some of the other drives on the market, but does it perform better? That is what we are out to figure out and we'll compare it to the Western Digital Scorpio Blue 500GB hard drive (
read the review
) and Seagate Momentus 7200.2 200GB hard drive (
read the review
) to make sure it is as fast as people claim it is.
Now that we know the basics on the Seagate Momentus 7200.3 320B hard drive, let's move on to the benchmarks!