Seagate Desktop HDD.15 4TB vs WD Black 4TB Hard Drive Review
By
Which 4TB Hard Drive Should You Buy?
Desktop PC sales might be down, but our storage needs are increasing at a rather fast pace. When building a PC many experts often tell people to find out how much storage space they need now, then double that number for growth and then double that number again as you don't know what the future holds. Hard drive manufactures likely love that advice, but in all honesty it's not a bad way to ensure that you don't run out of space. So, if you have 1TB of data on your PC now, you might as well look at 3TB or 4TB hard drives for your next system build or secondary storage drive. The largest capacity 3.5″ desktop hard drive that money can buy is 4TB. A 4TB hard drive offers a ton of storage space and is rather affordable ($180-$300) despite the fact that only HGST, Seagate and Western Digital (WD) make 4TB drives. We managed to get our hands on 4TB drives from WD and Seagate and will be comparing them against each other to see which has the best bang for the buck. The WD Black and Seagate Desktop HDD.15 are both 4TB drives with 64MB of cache, but we are going to put them to the test to see which one is right for you.
The WD Black 4TB desktop hard drive that we are looking at today has part number WD4001FAEX, comes backed by a 5-year warranty and can be found for $290.63 shipped on Amazon. The Seagate Desktop HDD.15 4TB has part number ST4000DM000, a 2-year warranty and is $183.57 shipped on Amazon. Obviously, there is a pretty major price difference and warranty difference, but what about performance? Both 4TB internal 3.5″ desktop hard drives use the SATA III 6Gb/s interface and have 64MB of cache, but the WD Black spins at 7200RPM and the Seagate Desktop HDD.15 spins at just 5900RPM. Our goal today is to show you the performance differences of these two drives, so let's start off by looking closer at the two drives we'll be comparing and then we will dive right into performance.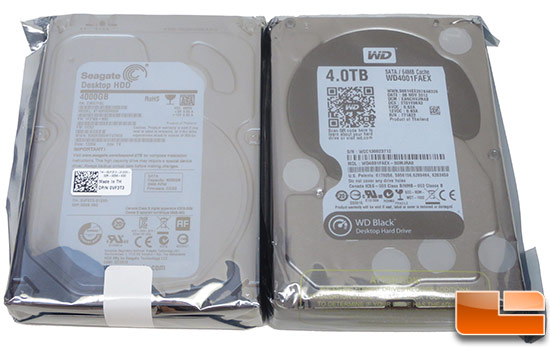 Both Seagate and WD sent over the OEM 'bare' versions of their 4TB offerings for the internal 3.5″ desktop storage devices. Currently just Hitachi, Seagate and Western Digital make 4TB 3.5″ drives, so you really don't have too many devices to pick from at this capacity. Since the drives are OEM versions they came in static bags with nothing else. Actually that isn't exactly correct… You can jump online and download Seagate DiscWizard to guide you through the processes of creating and formatting partitions on your disc drive, transferring data, and backing up your data. Not to be out done, WD allows you to download a similar software applications that can do that and more; Acronis True Image WD Edition, Data Lifeguard Diagnostic and WD Align Windows. You'll likely not need these programs, but if you do they are available to you for free after you register your drive online with each respective company.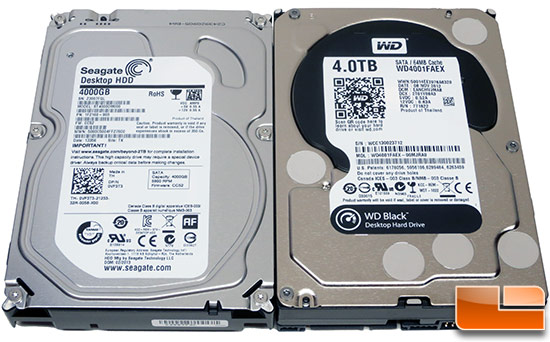 Both drives are 4TB, but they differ internally on how they reach this large capacity. WD uses five 800GB platters and Seagate uses four 1TB platters to reach 4TB. Seagate informed us that the new 1TB per platter design significantly increases the hard drive's performance over the competition. It also consumes 35 percent less power than comparable drives on the market with 4TB capacities, so this will be an interesting matchup. On paper the WD Black looks really good with the 7200RPM spindle speed, but it has more platters and that usually slows things down! Since both of these drives have different platter counts, you might be wondering about thickness. Both the WD Black 4TB and Seagate Desktop HDD 4TB are 26.11mm or 1.028″ thick.
Technical Specifications
| Manufacturer | Western Digital | Seagate |
| --- | --- | --- |
| Family | Black | Desktop HDD.15 |
| Model Number | WD4001FAEX | ST4000DM000 |
| Form Factor | 3.5″ | 3.5″ |
| Capacity | 4 TB | 4 TB |
| Platters | 5 @ 800 GB | 4 @ 1 TB |
| RPM | 7,200 | 5,900 |
| Cache | 64 MB | 64 MB |
| Interface | SATA 6Gb/s | SATA 6Gb/s |
| Operating Temperature | 0-55° C | 0-55° C |
| Power Consumption at Idle (Spec) | 8.1 W | 5.0 W |
| Power Consumption in Use (Spec) | 10.4 W | 7.5 W |
| Maximum Allowable Shock Level (2 ms, read) | 30 G | 80 G |
| Street Price | $290.63 | $183.57 |
| Price Per GB | $0.073 | $0.046 |
| Warranty | 5-Years | 2-Years |
As you can see from the specification table that we put together above there is also a power consumption difference. This is due to the slower spindle speed and fewer numbers of platters on the Seagate drive. This usually translates over to lower temperatures and reduces sound, so we'll be looking at that when we get into benchmarking and testing the drives.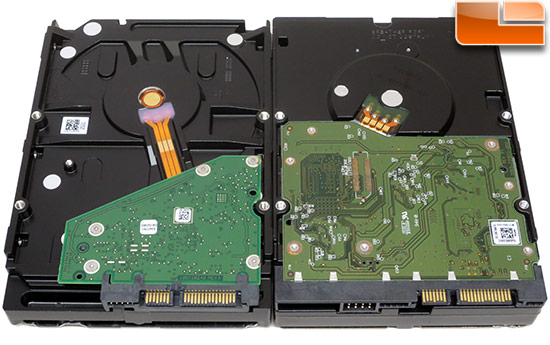 Both of these 3.5″ 4TB desktop hard drives use the SATA III 6Gbps data and power interface standards. Both drives have jumpers on them, but they don't come with any as they aren't needed on modern systems. The green circuit board designs are very different as you can see, but on the side that you can't see is 64MB of DDR memory for cache and a controller that makes sure everything works harmoniously.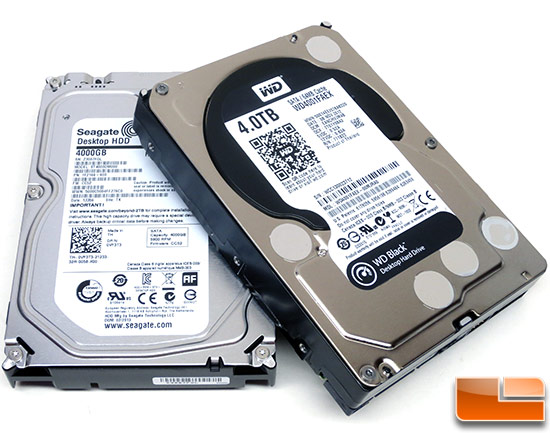 So, right off the bat you know the Seagate Desktop HDD 4TB costs less, has fewer platters and uses less power, which should make it quieter and cooler. The WD Black 4TB has a faster spindle speed that should translate to higher performance and a longer warranty. Hopefully you've learned quite a bit and are on the way to picking the right 4TB hard drive for your system. Now we can show you the good stuff, which is the performance number we found on our Intel Z77 powered test platform.