Scythe Ninja 4 CPU Cooler Review
By
Scythe Ninja 4 CPU Cooler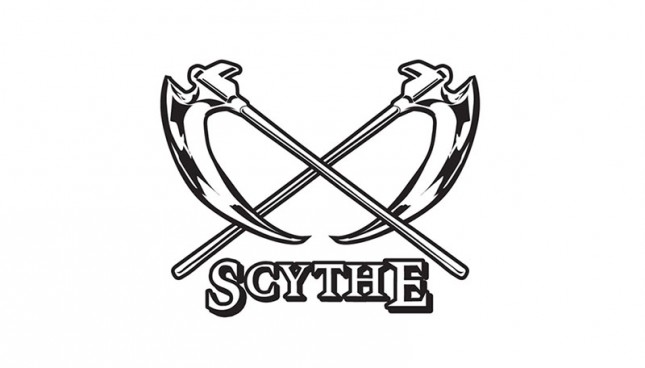 Founded in 2002 within the Akihibara district of Tokyo, Japan, Scythe is a global distributor and manufacturer of high quality computer parts. With offices in the USA and Germany, in addition to R&D facilities in Taiwan in China, Sycthe has grown from their humble beginnings and today are well known with PC enthusiasts around the world. While known for producing excellent heatsinks with an emphasis on quiet operation, Scythe perhaps is best known for their amazing Gentle Typhoon series of fans. With the Ninja 4 CPU cooler that we are reviewing today, Scythe is attempting to remind enthusiasts that they can provide excellent CPU cooling solutions at an amazing value.
While Intel continues to make strides in reducing the heat output of their CPU's, the popularity of aftermarket CPU cooling applications are at an all time high. Since Intel has never chosen to remedy the poor stock cooler included with their processor, any user who wants to overclock or run a stock CPU comfortably in high performance scenarios is going to be looking towards an aftermarket cooling solution. While AIO units have become popular, there is still an appreciable amount of users who refuse to liquid cool their CPU's, leaving a market for high performance air coolers.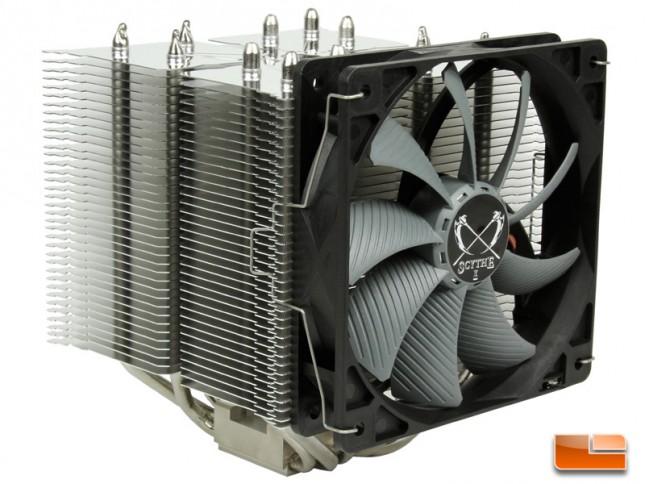 Today, we will be looking at the Scythe Ninja 4, a stylish and somewhat uniquely designed cooler with large aluminum cooling towers and a high quality Scythe GlideStream fan that reaches a maximum of 29.5 dBA at 1500 RPM. The Ninja 4 should be more than adequate for cooling overclocked I7 CPU's a respectable amount and we will be testing its capability on the Intel I7 4790K Let's take a look at the packaging for the Ninja 4 before we dig into the heatsink, though.
Scythe Ninja 4 CPU Cooler Specifications
Model Number
Scythe Ninja 4 (SCNJ-4000)
SOCKET SUPPORT:
Intel: LGA775, LGA1150, LGA1155, LGA1156, LGA1366, LGA2011, LGA2011v3 (square ILM)
AMD: AM2, AM2+, AM3, AM3+, FM1, FM2, FM2+
HEATSINK:
Material: Aluminum (Fins)
Copper (Heatpipes & Base)
Dimensions: 130 mm x 155 mm x 153 mm
Heatpipes: 6 mm – 6pcs
Weight: 900 g (w/fan)
FANS:
Model:

GlideStream 120 PWM (SY1225HB1212H-PS)
Dimensions: 120 x 120 x 25 mm

Noise Level:
L: 4,0 ~ 12,5 dBA
M: 4,0 ~ 23,5 dBA
H: 4,0 ~ 29,5 dBA

Air Flow:
L: 21,97 ~ 73,90 m/h | 12.93 ~ 43.50 CFM
M: 21,97 ~ 73,90 m/h | 12.93 ~ 63.73 CFM
H: 21,97 ~ 73,90 m/h | 12.93 ~ 84.64 CFM

Fan Speed:
L: 300 upm (300) ~ 800 upm (10%
M: 300 upm (300) ~ 1150 upm (10%)
H: 300 upm (300) ~ 1500 upm (10%)

FEATURES
Three-dimensional Multiple Airflow Pass-through Structure

Glide Stream 120 mm PWM Fan

Flexible Fan Mounting

User-friendly Installation System

WARRANTY:
Two Years
MSRP:
$55.99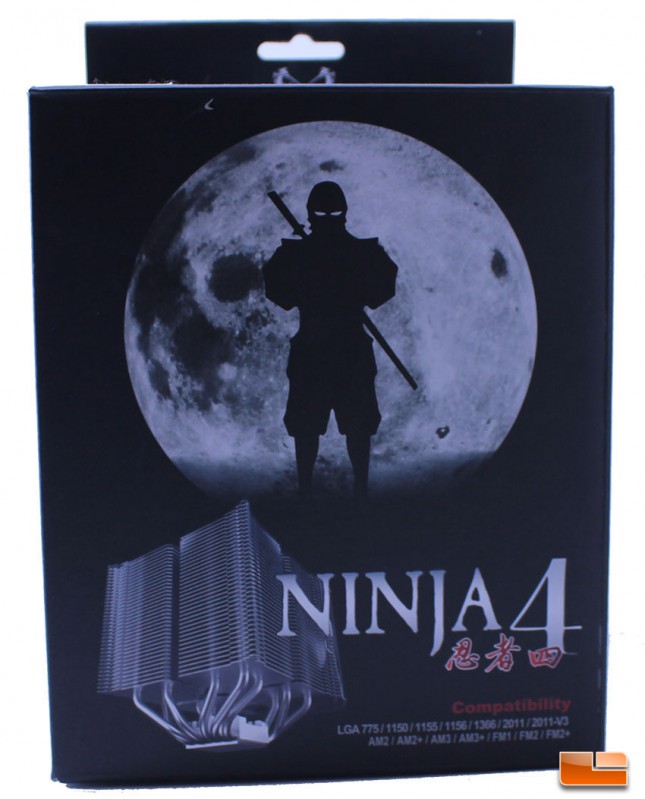 Scythe ships the Ninja 4 in an attractive, well-made black box that features a hooded ninja on the front, standing in front of the moon. The image of the ninja standing in front of the moon is more pronounced than the image of the heatsink itself, which is below the ninja moon imagery. The only technical information or text on the front of the Ninja 4 box besides the model name is a list of compatible CPU sockets. We are happy to see that support goes back to Intel LGA775 and AMD Socket AM2, both of which are a decade old at this point, while support for the latest sockets from Intel and AMD is also present. Scythe has done a great job of providing support for multiple generations of CPU with the Ninja 4. Unfortunately, recent news regarding Skylake CPU's being damaged when certain aftermarket heatsinks are used has caused concern from consumers.

Intel LGA1151 Skylake CPU's are subject to being damaged when heatsinks with aftermarket mounting mechanisms that provide too much pressure are used. Intel kept the mounting weight specification the same between Haswell/Devils Canyon and Skylake (50 Pounds of static load with a 500 Gram maximum for the heatsink unit), meaning that Haswell/Devils Canyon compatible heatsinks should have worked without issue, but a thinner substrate being used on the newer processors appears to not be able to handle the weight presented by the mounts used with certain aftermarket heatsinks. This issue does affect specific coolers from Scythe, notably the Mugen 4, Mugen 4 PCGH-Edition & Mugen Max, but the Ninja 4 doesn't seem to be on their list of affected products. Scythe released this official statement regarding the issue with Skylake CPU's being bent by their heatsinks:
Japanese cooling expert Scythe announces a change of the mounting system for Skylake / Socket 1151 on several coolers of its portfolio. All coolers are compatible with Skylake sockets in general, but bear the possibility of damage to CPU and motherboard in some cases where the PC is exposed to strong shocks (e.g. during shipping or relocation). This problem particularly involves only coolers which will mounted with the H.P.M.S. mounting system. To prevent this, the mounting pressure has been reduced by an adjustment of the screw set. Of course, Scythe is going to ship a the new set of screws to every customer completely free of charge!
It is good to see Scythe stand behind their products and I am sure if the Ninja 4 were to be found later to suffer from this issue, Scythe would be fast to remedy it. We did not have access to a Skylake-based system for this review to test functionality, but we've been assured that the Ninja 4 is compatible with Skylake with the existing mounting hardware shipped with the unit and that users who buy the cooler won't need to contact Scythe for replacement mounting hardware. Scythe backs the Ninja 4 with a two year warranty covering defects, though there is very little that I could foresee happening to this unit that would cause a user to warranty it, it's nice to have peace of mind and know you can get support for your products, should you need it.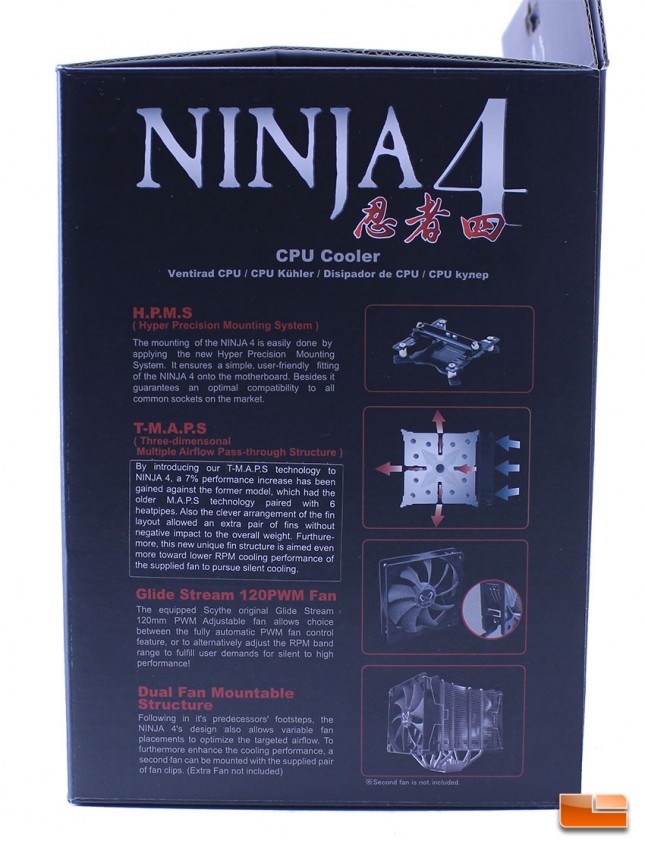 The right side of the box provides specifications and descriptions of the various features of the Ninja 4, including their latest evolution, the awkwardly-named Three-dimensional Multiple Airflow Pass-through Structure, or the much easier to remember T.M.A.P.S. Simply put, T.M.A.P.S. is a feature on the Ninja 4 that allows airflow to move through the heatsinks channels and escape from each side of the heatsinks, which Scythe says helps improve performance.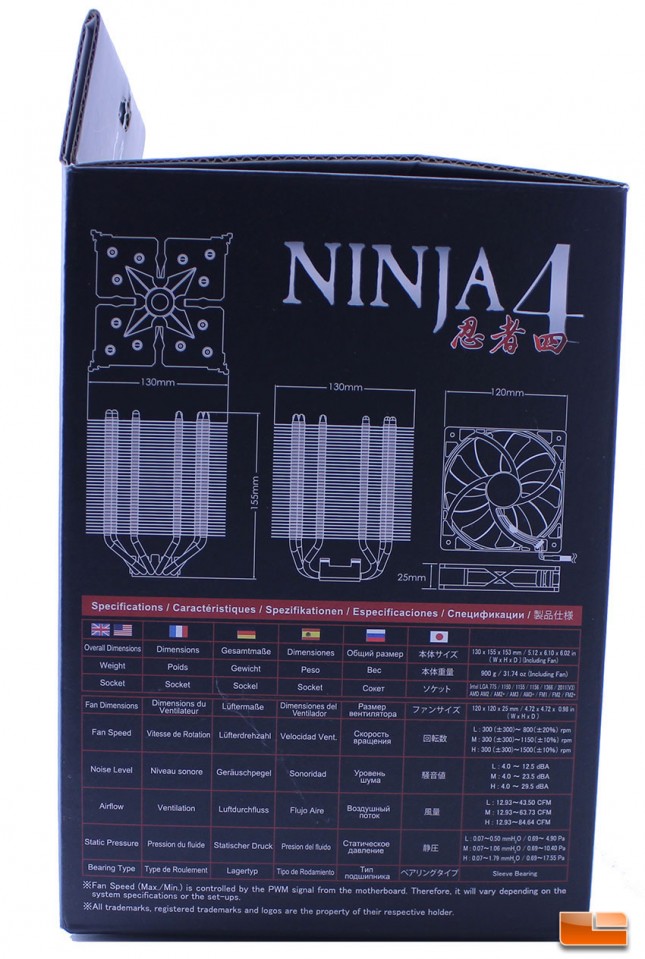 Scythe chose to use the opposite side of the box in order to provide illustrations of the unit itself, including full dimension information, which can come in very handy when planning system builds out. In addition, Scythe includes the specifications for the 120mm Glide Stream fan that is included with the Scythe 4 in various languages.
On the rear of the box, we have warranty information for the Ninja 4. Scythe has two different URL's printed on the rear of the box that end users can visit for support, one for customers in Japan and one for customers here in the states and other non-Japan regions.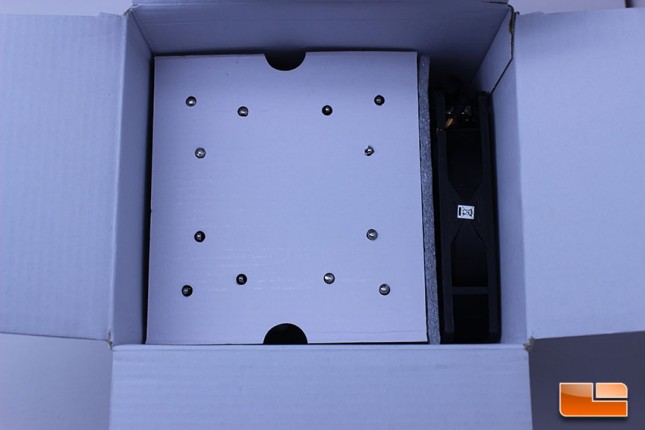 The Ninja 4 packaging does leave a bit to be desired, as the only protection for the heatsink is the box and Styrofoam insert that the heatsink sits in, along with a thin piece of cardboard on top of the heatsink. The included documentation has full, well-written, illustrative instructions on how to install the Ninja 4 on your motherboard, so there's no problems there. I do have worries that the unit could be damaged in transit, which would be a shame, as the Ninja 4 is truly a great looking heatsink and I am a bit bothered that Scythe didn't take just a bit more pride in the packaging materials on this product.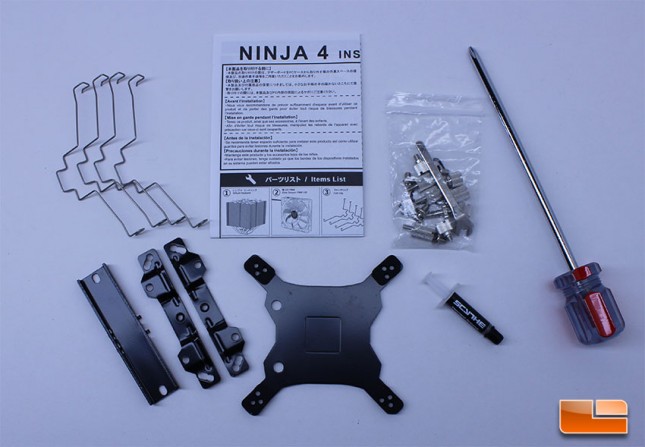 The Ninja 4 comes with all of the necessary mounting hardware and the tools needed to mount the heatsink to your motherboard. Thermal compound is also included with the Ninja 4, though it is a basic Scythe-branded thermal paste that we aren't sure of the quality of. For our testing, we will be using our own thermal paste, for consistency purposes. The inclusion of tools was really nice, as they are standard tools that can be reused for other purposes. The long Phillips head screwdriver included is especially handy for system builds, so I definitely appreciate that being included. The included mounting hardware is really solid and Scythe has even included an extra set of clips to mount an additional fan on the Ninja 4, though the performance benefit of these types of setups is typically very negligible vs. the single fan setup.
Overall, the packaging and included accessories for the Ninja 4 are solid, though I did mention the concern about the box not providing enough protection for the unit. The mounting hardware, clips, tools and screw kit were all high quality pieces that look like they will last through multiple installations, should you decide to go that route. Now, we'll take a closer look at the Scythe Ninja 4 and the included Glide Stream 120mm fan.