SanDisk Connect 64GB Wireless Flash Drive Review
By
SanDisk Connect Wireless Flash Drive 64GB
As more mobile devices come online, there needs to be alternative ways to get data on and off the various tablets, computers and smartphones. Putting data online in a cloud is one way, however that uses precious mobile data plans. If you are traveling with several people each with their own device using cellular data plans can get costly. Several options exist to taking data with you and allowing it to be shared across devices. SanDisk has recently introduced their SanDisk Connect line. Currently, there are two models available, the Wireless Media Drive, and Wireless Flash Drive.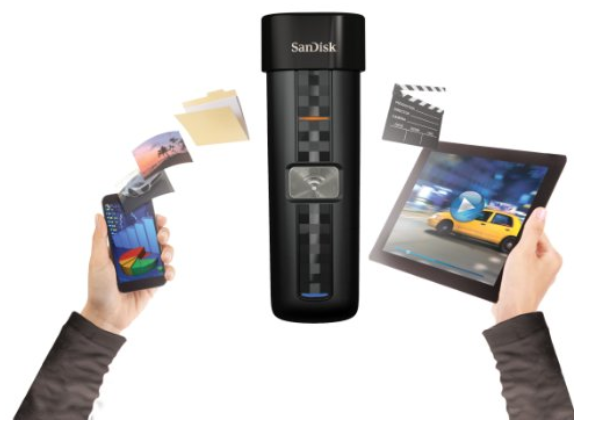 On the surface, the Wireless Flash Drive looks like a standard large USB Flash Drive. While it can be used as a standard USB Flash Drive, it has the wireless component to make it unique. It is available in three sizes, 16GB, 32GB and 64GB; all three sizes are available now. All three models carry a one year warranty and have the same features (other than the size).
Each of the three models is capable of wireless sharing or streaming movies, music, documents and pictures to 8 different devices, however streaming is limited to 3 at a time. These devices can include iOS 5 or higher, Android 2.3 or higher, or virtually any wireless device with a web browser. SanDisk states that the Wireless Flash Drive can stream for up to 4 hours on a full charge.
SanDisk sent over the 64GB model (SDWS2-064G) for us to take a look at.

SanDisk Connect Features and Specifications:
Connect up to 8 Devices and Stream Video to up to 3 Devices Simultaneously
The SanDisk Connect Wireless Flash Drive can wirelessly connect to as many as 8 devices. It also lets you stream media to up to 3 devices at the same time**Some DRM protected content cannot be streamed. Check with the content provider for playback restrictions. You can listen to your favorite songs while the kids watch two different movies on moms iPhone and dads iPad.
SanDisk Wireless Flash Drive App
Download the SanDisk Wireless Flash Drive Mobile App**SanDisk App available for download on the App Store, Google Play and Amazon App store for Android. to your devices to help organize all your media files for easy storing, sharing, and streaming.
Form Factor: USB flash drive
Charging: USB port
System Requirements:

USB 2.0 connection interface or higher
For mobile device: iOS version 5.0 or higher, Android version 2.3 or higher
For other Wi-Fi enabled devices: a web browser
PC or Mac computer: Windows 8, Windows 7, Windows Vista, Windows XP or Mac OS 10.6 or higher

Available capacities: 16 GB, 32 GB, and 64 GB**1 GB=1,000,000,000 bytes. Actual user storage less.
Security: Optional Wi-Fi password protection**See compatibility and system requirements section and the Specifications tab.
Dimensions: 2.79 x 0.84 x 0.45 in. (mm x mm x mm)
Operating temperature: 32 – 113 F (0 45 C)
Storage temperature: -4 – 158 F (-20 70 C)
Support: One-year limited warranty
The 64GB Wireless Flash drive is now supported. Wireless Flash drives that ship with 16GB or 32GB do not support the exFAT file system
[youtube width="640″ height="480″]http://www.youtube.com/watch?v=JFb5uvtHCcU[/youtube]
Before taking a look at how the Wireless Flash Drive works, let's take a quick look at the retail packaging and theFlash drive itself on the next page.