Samsung SSD 750 EVO 120GB and 250GB Review
By
750 EVO SSD – 2D Planar TLC NAND
The Samsung SSD 750 EVO has been shipping since 2015 in Asia, but it was only released in North America in 2016. This SATA III SSD drive represents a new budget line of drives from Samsung that is directly aimed at white box system builders or anyone in the DIY market that is looking for a solid performing low cost storage solution. Samsung rates the sequential read and write speeds up to 540/520 MB/s and 4K QD32 random read and write speeds up to 97,000/88,000 IOPS, thanks to the companys TurboWrite technology. TurboWrite technology accelerates sequential write speeds by creating a write buffer inside the SSD that simulates more expensive SLC flash memory technology.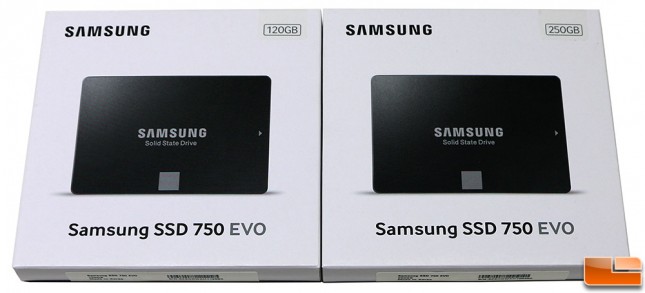 Due to the target audience, the Samsung SSD 750 EVO series features just two capacities to pick from; 128GB and 250GB. Suggested retail pricing on the drives is $54.99 for the 120GB ($0.45 per GB) and $74.99 for the 250GB ($0.30 per GB). We looked around and found that the Samsung SSD 750 EVO 120GB SSD can be purchased this very second on Amazon for $59.90 with free shipping. Not bad considering the Samsung SSD 850 EVO 120GB is $67.99 shipped ($0.57 per GB) and the 850 EVO 250GB is $86.98 shipped ($0.35 per GB). System builders around the world are looking to have the best price points available and a $10 cost savings is a big deal when you are making a large number of systems.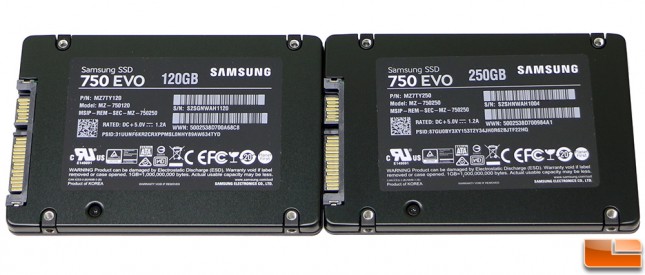 How did Samsung keep the costs down even further on this series? Rather than using 3D NAND 3-bit MLC NAND Flash and a triple-core MGX controller like the Samsung SSD 850 EVO series features, the new SSD 750 EVO series uses 2D planar NAND and has one processor core in the controller disabled. To be exact, Samsung is using 128Gb 16nm TLC NAND Flash memory chips and a dual-core version of the MGX controller.
Samsung also moved to a shorter 3-year warranty or the TBW rating. Samsung has placed a 35TBW (Terabytes Written) endurance rating on the 750 EVO 120GB and 70TBW on the 750 EVO 250GB. The Samsung SSD 850 Series features a 5-year warranty or 75 TBW on the comparable 120GB and 250GB drives. So, for roughly $10 you are getting different NAND, the Samsung MGX controller with some things disabled and a shorter warranty period & endurance rating. The Samsung SSD 850 EVO 250GB drive also has 512MB of DDR3 cache, which is double the amount on the 750 EVO 250GB. Enthusiasts and prosumers likely just turned their nose up, but that again, they aren't the market for this drive.
750 EVO 120GB MZ-750120
750 EVO 250GB MZ-750250
General Feature
Application
Client PCs
Capacity
120 GB
250 GB
Form Factor
2.5 inch
Interface
SATA 6Gb/s Interface, compatible with SATA 3Gb/s & SATA 1.5Gb/s interface
Dimension (WxHxD)
100 X 69.85 X 6.8 (mm)
Weight
Max 45.0g
NAND Type
Samsung NAND Flash Memory
Controller
Samsung MGX controller
Cache Memory
Samsung 256MB DDR3 DRAM
Special Feature
TRIM Support
TRIM Supported
S.M.A.R.T Support
S.M.A.R.T Supported
GC (Garbage Collection)
Auto Garbage Collection Algorithm
Encryption Support
AES 256-bit Full Disk Encryption
WWN Support
Yes
Device Sleep Mode Support
Yes
Performance
Sequential Read
Up to 540 MB/sec
Sequential Write
Up to 520 MB/sec
Random Read
(4 KB, QD 32)
Up to 94,000 IOPS
Up to 97,000 IOPS
Random Write
(4 KB, QD 32)
Up to 88,000 IOPS
Random Read
(4 KB, QD 1)
Up to 10,000 IOPS
Random Write
(4 KB, QD 1)
Up to 35,000 IOPS
Environment
Power Consumption
Active Read/Write (Average): 2.1W / 2.4W,
Idle: 50mW,
Device Sleep: 6mW
Active Read/Write (Average): 2.4W / 2.8W,
Idle: 50mW,
Device Sleep: 6mW
Reliability (MTBF)
1.5 Million Hours Reliability (MTBF)
Operating Temperature
0 C to 70 C (Measured by SMART Temperature. Proper airflow recommended)
Shock
1500G, duration 0.5m sec, 3 axis
Software
Management SW
Magician Software for SSD management
Installation Kit
Not Available
Warranty
3 Year Limited Warranty or TBW Limited Warranty (Whichever comes first)
TBW Endurance
35 TBW
70 TBW
When it comes to the technical specifications of the Samsung SSD 750 EVO series the 120GB and 250GB drives are basically identical other than capacity with the exception of Ramdom Read performance, active power and their endurance rating.
Let's take a look at the test system and then our performance numbers!