Rosewill Viper Z Mid-Tower ATX Case Review
By
Rosewill Viper Z Mid-Tower ATX Case Review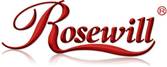 Rosewill, which is owned by online computer parts reseller Newegg, was established in 2004 as a manufacturer of computer components such as power supply units, cases and cables. Rosewill boasts that they currently manufacture over 1,400 different products in various categories. One perceived issue by enthusiasts is that due to the wide scope of their product offerings, Rosewill doesn't have focus on just enthusiast products and isn't catering to or relying purely on support from the enthusiast community. While Rosewill products are not typically a first choice among enthusiasts, the company has been making pushes towards the enthusiast market by producing relevant products, such as their RK-9000V2 keyboard, which offers Cherry MX switches, in addition to sponsoring various e-sports competitions.
I haven't had any personal experience with Rosewill products to draw from, so I am looking forward to reviewing the Viper Z, a modern styled mid-tower ATX case with a pretty extensive feature set for $51.99 shipped after rebate and a promotional discount. The ATX case market is extremely competitive right now, so Rosewill will have to truly make an impression with their Viper Z for it to be considered a viable contender. With Rosewill tagging the Viper Z as a "ferocious warfare machine" and then including a windowed side panel and blue LED fans, this is obviously a case targeted towards PC gaming enthusiasts. Let's take a look at the specifications for the Viper Z and see if there's anything of note.
Rosewill Viper Z Mid-Tower ATX Case Specifications
CASE TYPE:
Mid-Tower
MATERIAL:
SECC (Steel) & Plastic
WEIGHT:
22.4 Lbs
PCI-E SLOTS:
8 + 1
DRIVE BAYS:
3x 5.25″, 7x 3.5/2.5″, 1x 2.5″ (One external 5.25″ has a 3.5″ cut out and there is a dedicated HDD/SSD install cage here)
MOTHERBOARD
FORM FACTORS:
Mini-ITX, Micro-ATX, ATX
DIMENSIONS (W x H x D):
20.91″ x 8.14″ x 20.67″ (bezel included)
AVAILABLE MODELS
One Standard Model Available Currently, VIPER Z
FRONT FANS:
Supports 120mm x 2 (Ships w/2x 120mm Rosewill Blue LED Fans)
REAR FANS:
Supports 120mm x 1 (Ships with 120mm Rosewill OEM Fan)
TOP FANS:
Supports 140mm/120mm x 2 (Ships with 140mm Rosewill Blue LED Fan) 240MM Radiator Supported
BOTTOM FANS:
Supports 140mm x 1
SIDE FANS:
N/A, windowed side panel without fan provisions
I/O:
2x USB 3.0, 2x USB 2.0, 1x Fan Speed Controller, 1x Card Reader, 1x Headphone, 1x Microphone
Warranty
1 Year
Compatibility:
CPU Cooler: Exact Specification Not Listed
GPU: 423 mm without HDD cage
PSU: Exact Specification Not Listed
I was unable to find some key information when going over the specification sheet for the Viper Z, such as the maximum supported CPU cooler height and the maximum PSU length supported. I researched further and found that using extended PSU's and taller CPU coolers such as the Noctua NH-D15 are supported, but I feel that this information should be readily available, as it can affect buying decisions and most case manufacturers provide this information in their specifications. Unlike most Mid-Tower ATX cases which offer just seven, the Viper Z offers eight PCI-E expansion slots, with a supplemental slot that sits above the other slots also available. Overall, the specified component support offered by the Viper Z is more than adequate for a Mid-Tower ATX case and I definitely liked seeing that an integrated card reader and fan controller are included, as these are typically premium options seen on more expensive cases.
Rosewill currently offers one model of the Viper Z. The Viper Z is currently available at Newegg for $51.99 shipped, putting it in very competitive territory. Since Newegg is the primary distributor and reseller of Rosewill components, I'd expect to consistently find the best price on the case here, though it won't hurt to check other marketplaces before your purchase to find the best possible deal.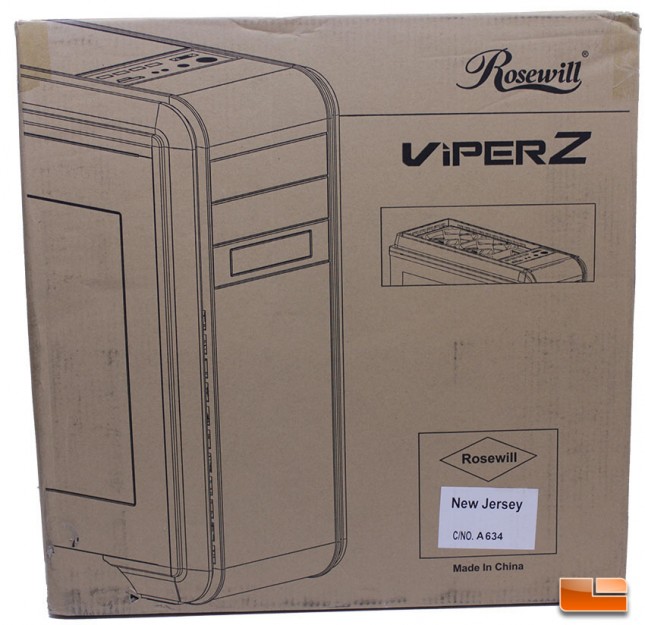 Rosewill's packaging for the Viper Z is basic and doesn't offer any information beyond the weight specifications and model information, which is fine given that this case will mostly end up being purchased from online resellers and not in a brick and mortar environment. There is a line drawn graphic of the case front side profile and another smaller drawing illustrating the top fan area. The box arrived to us unscathed from Rosewill's City of Industry, California location after being shipped there from their New Jersey warehouse.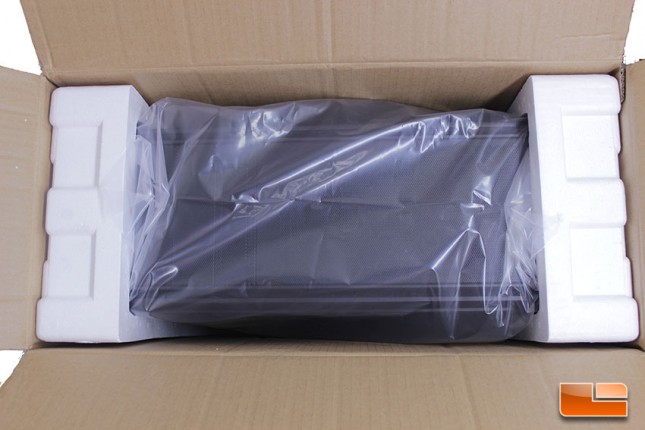 Opening the box reveals the case packed in a plastic bag and sandwiched between white Styrofoam inserts. This is very typical case packaging and proved more than adequate, as our case arrived to us unscathed.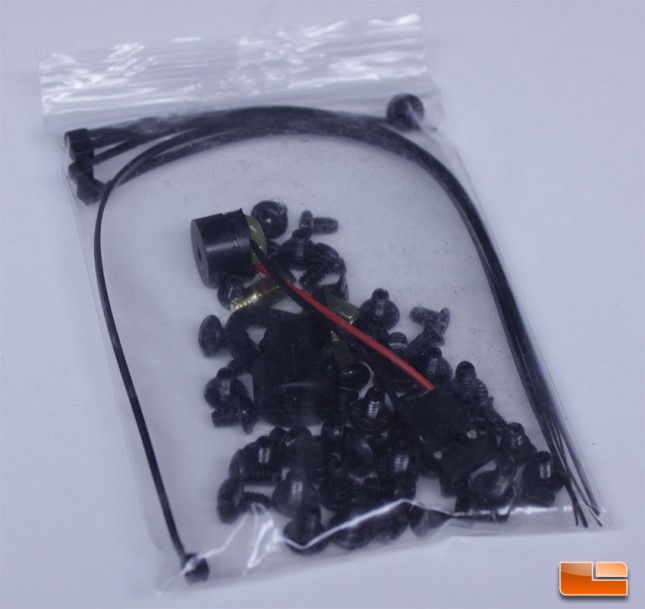 The accessory bundle included with the Viper Z is barely adequate and a bit sparse. There are five zip ties, which is adequate, though more are always appreciated. The screws are all packaged in one bag, which is a practice I simply don't approve of. For experienced builders, including all of the screws in one bag isn't an issue, but for a first timer it would prove extremely helpful to have individually labeled bags. The manual included with the Viper Z is basic and has information on how to remove the panels to install fans and other installation guides.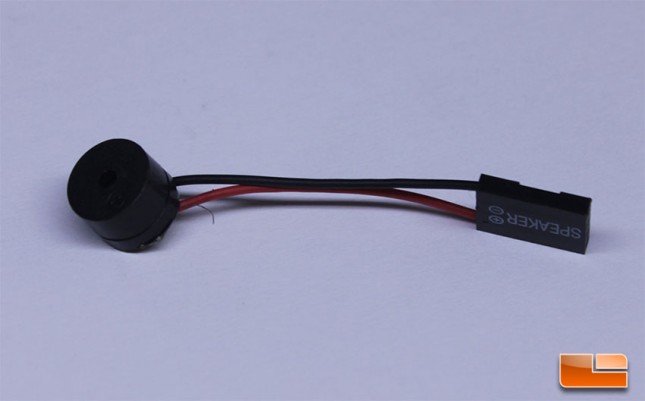 Rosewill included a case speaker with the Viper Z. A lot of motherboards don't even include a provision to attach this speaker anymore, but it certainly is a welcome addition. I'm reminded of my old 286 and 386 systems that played all of their sound through the speaker integrated into the case.
The Rosewill Viper Z carries a one year warranty against defects in workmanship. In case you're wondering, case warranties typically get applied towards faulty IO panels or ports and can come in very handy should you have a USB port fail, or if the integrated card reader should stop working. A one year warranty is pretty weak, considering most case manufacturers offer multi-year warranties on cases. Also, based on my experience, cases end up being an item that doesn't end up getting shipped back for warranty support, so case manufacturers can typically afford 3-Year warranties, since they'll just be replacing small, modular parts, if anything. I haven't had any experience with Rosewill support to draw from, so I can't comment on how their service works or how warranty repairs or part requests are handled. If anybody has experience with Rosewill support, please let us know in the comments.