ROCCAT Skeltr RGB Gaming Keyboard Review
By
ROCCAT Skeltr Gaming Keyboard Review
It can be difficult having to frequently drop what you're doing on the PC and pick up your phone to respond to a text, tweet, or snap only to have to drop the phone when you realized the enemy mid has nearly made it to your top lane and your screen full of warning pings. There are other ways to avoid that gank while still trying to maintain your social media presence or simply type out messages on your phone. ROCCAT has produced a keyboard that can do just that and more.
ROCCAT is a company from Hamburg, Germany that produces gaming keyboards, mice, headsets, and software. Players can now choose the ROCCAT Skeltr when in the market for a new, multi-functional, membrane gaming keyboard for sale on Amazon for $159.99 USD. The keyboard allows players to connect to their phone or tablet through Bluetooth as well as switch headsets or speakers between playing audio from the PC or phone.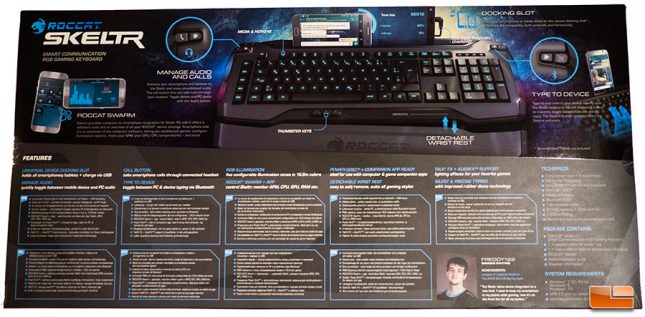 Understandably, $159.99 USD sounds like quite the hefty price to pay since the ROCCAT Skeltr is a membrane keyboard but before we jump to conclusions let's take a look at the features that makes this keyboard special.
ROCCAT Skeltr Key Features:
Universal Device Docking Slot – holds all smartphones/tablets + charge via USB
Manage Audio – quickly toggle between mobile device and PC audio
Call Button – take smartphone calls through connected headset
Type to Device – Toggle between PC & device typing via Bluetooth
RGB Illumination – five configurable illumination zones in 16.8m colors
ROCCAT SWARM + APP – control Skeltr, monitor AMP, CPU, GPU, RAM etc.
Power-Grid + Companion App – ideal for use with you computer & game companion apps
Detachable Wrist Rest – easy to add/remove, suits all gaming styles
Talk FX + ALIENFX Support – lighting effects for your favorite games
Silent & Precise Typing – with improved rubber dome technology
20-Key Easy-Shift [+] Zone – for easy key duplication
TechSpecs
3 thumbster keys + 5 macro keys
Macro live! Recording
ROCCAT Talk
Media & Hotkeys
Bluetooth V3.0
1.8m Braided Cable
512kB memory + 32-bit Arm IC
1000Hz Polling
Membrane keys (anti-ghosting optimized)
System Requirements
Windows 7 32/64 bit
Windows 8
Windows 10
USB 2.0 port (or better)
Internet Connection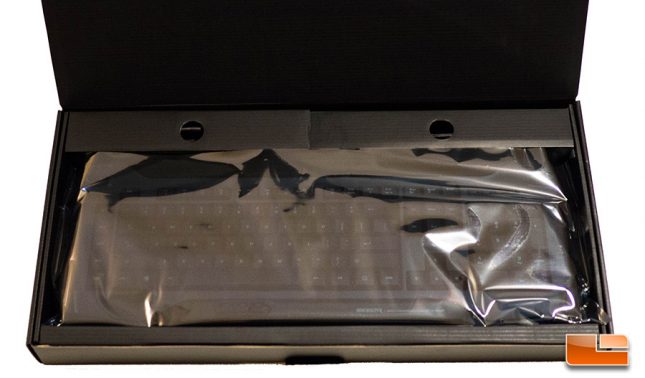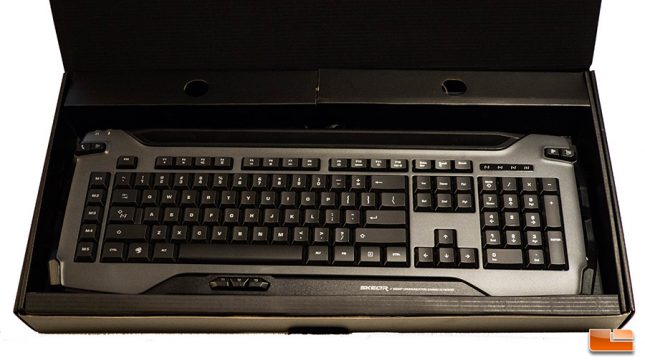 They weight of the package was heavy for a keyboard but upon opening it the quality of the packaging answered why. The product is held in a heavy duty cardboard clamshell that was held by a cardboard sleeve that the information (pictures, features, logo, etc.) were printed on. The keyboard itself was supported on its sides with the cardboard and protected with anti-static plastic.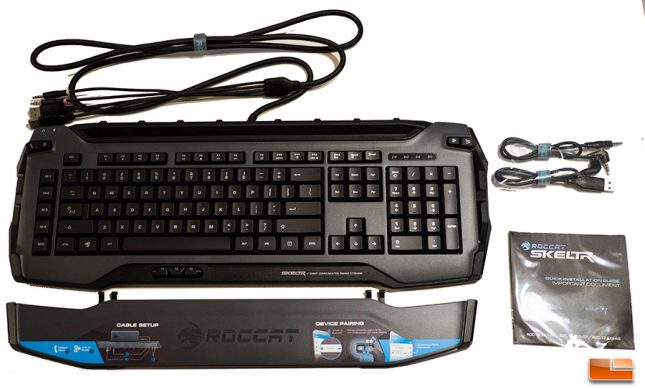 The ROCCAT Skeltr comes along with a wrist support rest, Quick-Installation Guide, auxiliary cable, as well as a USB cable that is compatible with most Android devices.
We have just finished with introducing the ROCCAT Skeltr Gaming Keyboard to you. Some notable mentions would be the price of $159.99 USD, we touched on the keyboard's key features, and finished with the packaging and contents of the ROCCAT Skeltr. On the following pages we will go a little more in depth with showing you what this keyboard has to offer, a short look at the ROCCAT Swarm software used to manage the RGB lighting, and finish on the final page with our conclusion and bottom line.