Qstik EVOQ Bluetooth DSP Headset Review
By
Introducing the Qstik EVOQ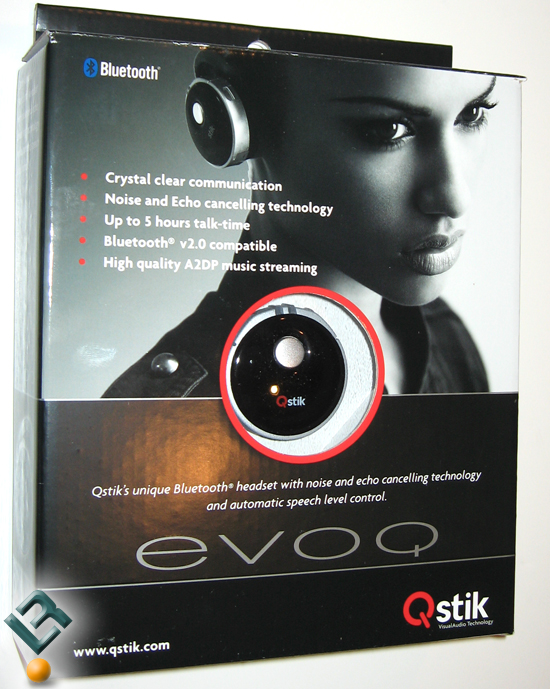 When two of our readers told me about this device I was pretty puzzled. They had owned their device for a short time, but was raving about a Bluetooth device that connected seamlessly to their cellular phone and had incredible sound and voice transmission. It had even won awards for innovation and style. Style?? Since when had Bluetooth devices become stylish? Sure Bluetooth devices look okay, but no one will every win a beauty contest wearing a wrap-around earpiece with mic boom. A necessity? Maybe. But stylish? The device is called EVOQhmmkinda cool, but I hadnt even heard of the company that produced this so-called marvel. Qstik a company based near London, England. We had to try and get our hands on this thing to check it out for ourselves.
The stats on the mighty marvel are quite impressive: It features incoming and outgoing noise cancellation, as well as the versatility to use the Bluetooth Advanced Audio Distribution Profile (A2DP) for stereo listening. I also has automatic volume control and echo cancellation. The EVOQ actually does have a pretty bold look at least the models who are wearing the headset look quite nice. With all of these stats and a unique look, the EVOQ looks like a headset that we should take seriously. But where did this headset come from, and can it really perform as well as its press release and our readers claimed?
Qsticks parent company, Clement Clarke Communication, based outside of London in Harlow, UK, has been in the headset and telephony business for more than 50 years. Primarily providing communications devices for large corporations, military, air traffic control and emergency services. Their military headsets feature an adaptive noise cancellation technology that the company developed. The speech enhancement, automatic volume control and the acoustic shock protection were originally developed for call centers and emergency services organizations. Qstik adapted and integrated these technologies into a package that features a cutting-edge 200 MIPS ultra-low power Digital Signal Processor (originally developed for the hearing aid industry) and small package. Qstik announced the availability the EVOQ to the UK and Europe in January.
With all of that expertise and a product dripping with cutting-edge technology, their entry into the Bluetooth headset market is sure to shake up the competition. The headset is available directly from Qstick for 59.99 (about $120). At this price point, it puts the EVOQ priced on the high-side of all the different Bluetooth offerings on the market even the ones that have active noise cancellation. Lets look at some of its key features.
Key Features:
Talk Time: Up to 5 hours
Standby Time: 150+ hours
Recharge Time: 2.5 hours
Music Listening Time: 4.5+ hours
Microphone Type: Omni-Directional
Battery: Lithium Ion
Bluetooth Technology: v2.0, Class 2
Supported Profiles: Headset, Hands-free, A2DP, AVRCP, GAVDP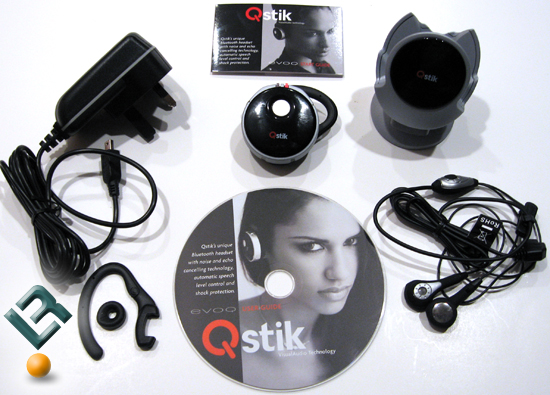 Whats in the box:
Qstik Bluetooth headset
2 ear hooks
2 ear tips
Stereo ear buds
AC wall charger (European)
Charging cradle
Magnetic holder/stand with vehicle adapter
Quick Reference Card