Prolimatech Genesis CPU Cooler Review – The Super Cooler
By
Prolimatech Red Vortex 14 LED Fan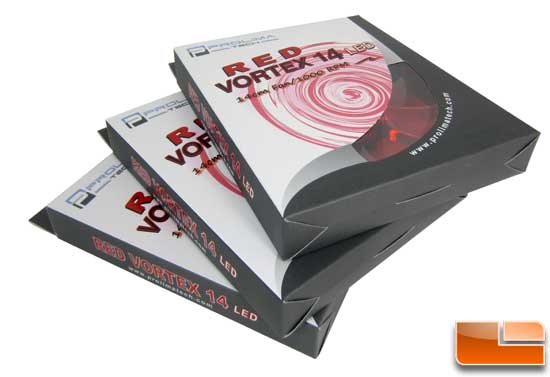 Prolimatech sent along 3 of their Red Vortex 14 LED fans for us to use for testing the Genesis CPU cooler. Prolimatech Red Vortex 14 LED are 140x25x25mm in size and have four Ruby-Red LEDs for some added aesthetics. These fans each cost $14.99 plus $1.99 shipping at Newegg.com. These three fans cost $50.94, which adds a fair amount to the cost of using this CPU cooler. Remember, the Prolimatech Genesis is $74.99 shipped. This means we are $125.93 for this cooler with the three 140mm fans!
Specifications of Prolimatech Red Vortex 14 LED fan
Dimension: (L)140mm X (W)140mmX (H)25mm
Bearing Type: Sleeve bearing
Rated Voltage: 12 VDC
Operating Voltage Range: 7~13.8 VDC
Rated Current: 0.2 Max. Amp
Rated Power: 2.4 Max. Watt
Rated Speed: 1000 +/- 100RPM
Airflow: 87 Max. CFM
Noise Level: 18.1 dBA
Net Weight: 162 Gram
Connector: Terminal Connector (3-pin plus 4-pin molex)
LED: Red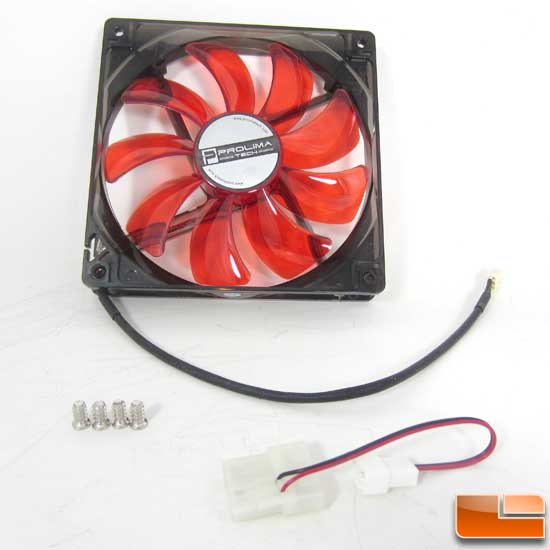 The nine blade fan comes with silver screws for attaching to a case, as well as a 4-pin Molex to 3-pin fan power adapter. The fan body is transparent smoke color plastic, and the fan blades are transparent ruby red plastic. Prolimatech places a 1-year limited warranty on these fans.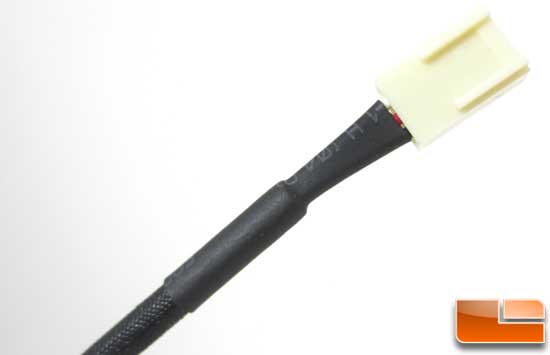 The 3-pin power cable is rubber sleeved (not nylon) and is finished off with heat shrink wrap at the very end. Note that these are not PWM fan, so if you plan on running three of these you might want to invest in a nice fan controller for your system.