Prolimatech Genesis CPU Cooler Review – The Super Cooler
By
Prolimatech Genesis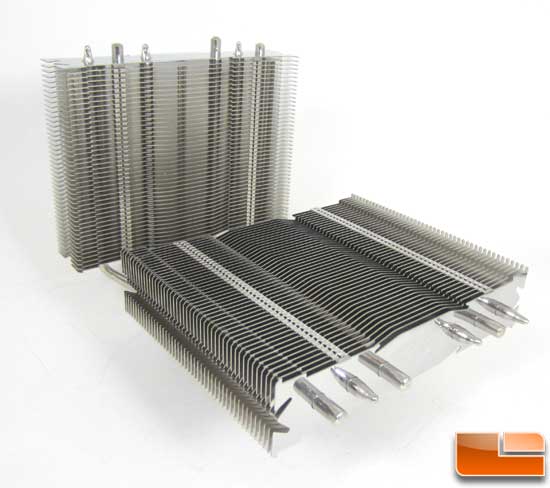 Today we are looking at the Genesis CPU cooler from Prolimatech. The Genesis could very well have the largest foot print for a CPU cooler that we have tested here at Legit Reviews. The only CPU cooler that we have ever used that could rival this one would be the Cooler Master V10. It doesn't look that big in the picture above, but take a look at it mounted on the Intel DX79SI motherboard.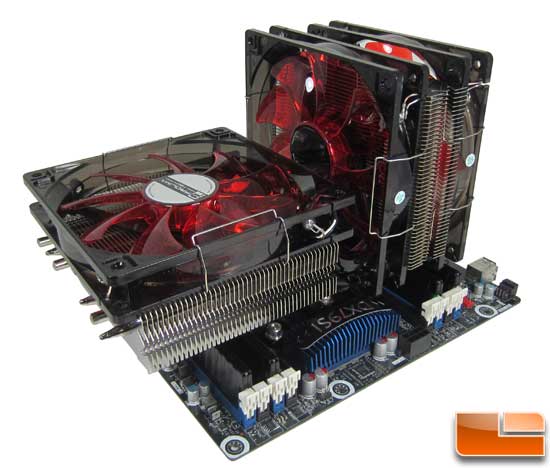 Yes, there is a standard ATX form factor motherboard underneath that CPU cooler!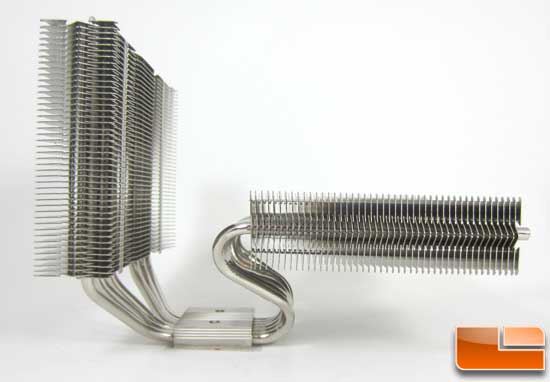 The large coverage area is mainly due to the configuration of the Prolimatech Genesis. The Genesis is not your typical twin tower cooler as there is one vertical tower, and one horizontal tower. The hybrid lay out allows the fans on the horizontal tower to act as a downdraft cooler and cool the RAM and motherboard components around the CPU. The vertical cooling tower looks like it should cool well as there are not many bends in the heatpipes, but the horizontal heatpipes have an 'S' bend in them. Usually the fewer bends you have the better, so we can't wait to test this monster out!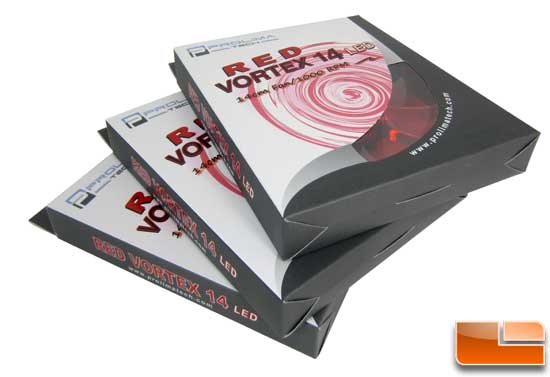 The Prolimatech Genesis is available for $74.99 shipped and it does not come with any fans. You have to supply your own cooling fans, so be ready to factor that in the cost. Prolimatech suggests using up to three 120 or 140mm fans that have a speed rating of 800 to 1600 RPM. The Genesis is setup to accept up to a maximum of 3 fans. With the sheer number of performance 120mm fans available today, finding one to fit the style of your build shouldnt be an issue. With 140mm fans becoming more and more popular, good quality 140mm fans are getting easier to find as well. Prolimatech sent 3 of their Red Vortex 14 LED fans along with the Genesis for us to use today. These fans each cost $14.99 plus $1.99 shipping at Newegg.com. The Prolimatech Genesis
is $74.99 shipped and these fans are $50.94, which puts us at $125.93 for this setup!
Features of the Prolimatech Genesis
High clearance for better motherboard compatibility.
Massive cooling range; cools not only CPU but also MOSFET and RAM.
Cooler surrounding temperature allowing more stable environment for higher overclock.
Takes both 12 and 14cm fans for a maximum installation of 3 fans.
Six high quality heatpipes for effective heat transfer.
Light weight at 800 kgs (without fans) in the high-end class.
Intel and AMD platform supported. All mounting hardware is are included.
Specifications of the Prolimatech Genesis:
Heatsink Dimension: (L)146mm X (W)216.5mm X (H)160mm
Heatsink Weight: 800 g(without fan)
Heatpipe: 6mm X 6pcs
Suggest Fan: 120mm X 120mm X 25mm,140mm X 140mm X 25mm
Suggest Fan Speed: 800~1600 rpm
CPU Platform:
Intel Socket LGA 775/1366/1156/1155/2011
AMD Socket AM2/2+/3/3+(FM2)