Overclocking The Intel Pentium D Processor 805
By
Intel's Entry Level Dual-Core Processor: Pentium D 805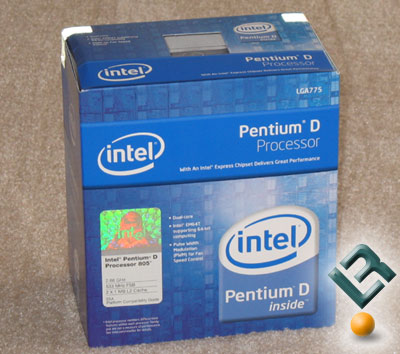 On April 7th, 2006, Intel silently launched the Intel Pentium D 805 processor. That makes the Pentium D 805 processor the entry level dual-core CPU for any Intel platform. Running at 2.66GHz the Pentium D 805 utilizes a Front Side Bus (FSB) of 533MHz and a clock multiplier of 20. To make this an entry level processor Intel gave it a 533MHz FSB, which is a slower than the other dual-core processors that all run on a 800MHz FSB and it does not have Enhanced Intel SpeedStep technology for better thermal regulation.
What does this mean to you? It means that Intel has released a dual-core processor priced at under $130. We couldn't ignore this budget dual-core processor and ordered one from chiefvalue.com this past week and it has been on the test bench since it arrived!
The Intel Pentium D Processor 805 runs at 2.66GHz with a 533MHz FSB and shares two seperate 1MB L2 caches that are located on the procesor. The 805 is a Smithfield dual-core processor and does fully support 64-bit computing via the Intel EM64T technology.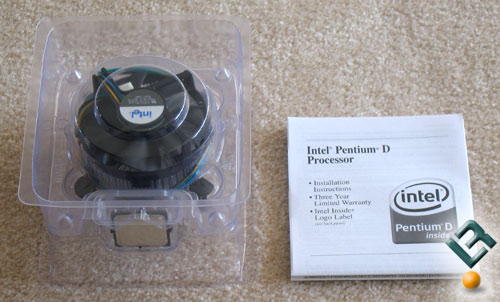 Inside the retail packaging you get the processor, an Intel heat sink fan cooling unit, and the owners manual with the Pentium D sticker on the back. Now that you know what you get for ~$130 US let's take a closer look at our processor and start the overclocking.