OCZ Throttle 32GB eSATA Flash Drive Review
By
Real World File Transfer
The last test that I did on the 32GB OCZ Throttle eSATA Flash drive was to compare it to the 32GB OCZ ATV USB 2.0 Flash drive doing some file transfer tests on Windows Vista Ultimate 64-bit. For this I loaded up both drives with the some movies and pictures and just did drag and drop tests to and from the desktop.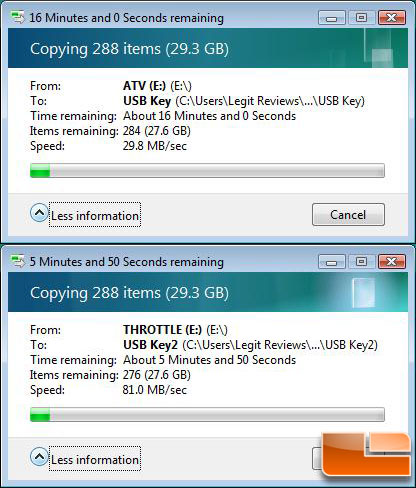 Benchmark Results: Moving files from the Flash drives to the desktop showed that the Throttle was transferring the files at 81.0 MB/Sec and the ATV was transferring the same files at 29.8 MB/Sec. There is no denying that moving files from an eSATA drive to the desktop is significantly faster than using a USB 2.0 drive.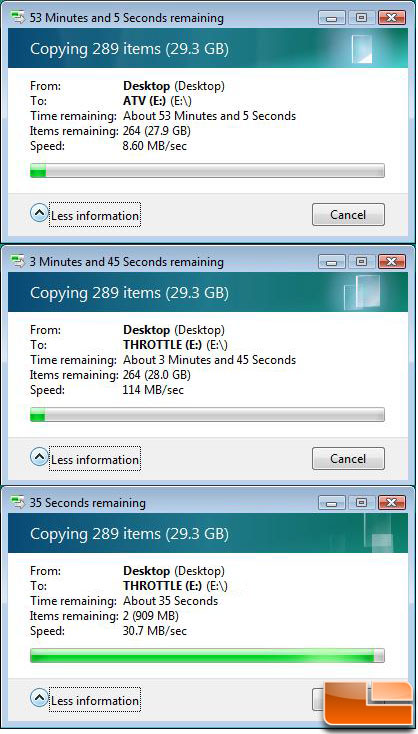 Benchmark Results: Writing files from the desktop to the ATV and Throttle Flash drives showed that the ATV leveled off around 8.60MB/Sec, but the Throttle started off really fast and slowed down to the write speeds showed in many of the benchmarks. Ranging from 114MB/Sec to 30.7MB/Sec is a bit strange, but those are impressive write speeds that blew away the 8.6MB/sec seen on the ATV drive.
Basically, the OCZ Throttle was able to transfer over 30GB of files in roughly 15 minutes while the OCZ ATV took close to an hour to do the same task with the same exact files.