OCZ Throttle 32GB eSATA Flash Drive Review
By
The OCZ Throttle eSATA Drive Makes USB Flash Look Old School
I've been using and reviewing USB Flash drives since 2002 and there really isn't too much exciting or new about them in all honesty. Every article or review you read about Flash drives is that they are now available in larger capacities and lower prices. This is all fine and dandy, but it gets pretty boring to read, let alone write about year after year. When I heard some engineers whispering that eSATA (External Serial ATA) Flash drives would be coming on the market at the end of 2008 about a year ago, I was highly interested and couldn't wait for the drives to come out.
To give a little history lesson here when USB flash drives, or thumb drives as many refer to them, came out the group of people buying them was limited to enthusiasts with cutting edge systems as back in 2001 and 2002 not many systems had USB ports or the need for these 8MB and 16MB drive. The vast majority of people were still using Windows 98 and to use a USB Flash drive you had to install drivers on the system first and it was a complete pain in the butt to use. When Windows XP came out the need to install drivers vanished and over the years having close to a dozen USB 2.0 ports on a computer is pretty much standard these days. Flash memory prices have also become so cheap that it is now often cheaper to put a presentation on a 1GB USB key and give them away than to print full color pint copies to be handed out. You can officially say that USB Flash drives have matured when my parents who are both in their sixties carry one with them and many schools list USB Flash drives as something required on the first day of elementary school. Having a USB key on your key chain is now about as cool as having an Apple iPod, it is not. Enthusiasts and gamers are always the early adopters of new technology and today we enthusiasts have eSATA Flash drives!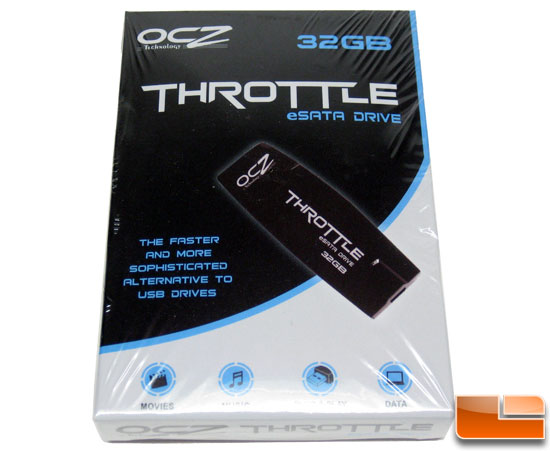 Very few desktops and even fewer laptops have eSATA ports, but for those lucky enough to have a system with one you can embrace the OCZ Throttle eSATA drive. The OCZ Throttle eSATA drive is one of the very first eSATA Flash drives available. The OCZ Throttles eSATA interface offers an incredible performance speeds of up to 90MB/second read and 30MB/sec write. Current higher end USB Flash drives offer performance up to 35MB/s (read), 30MB/s (write), so the only real benefit of a eSATA drive would be read performance. The OCZ Throttle eSATA drive is available in 8GB, 16GB, and 32GB capacities to ensure all your storage needs are met.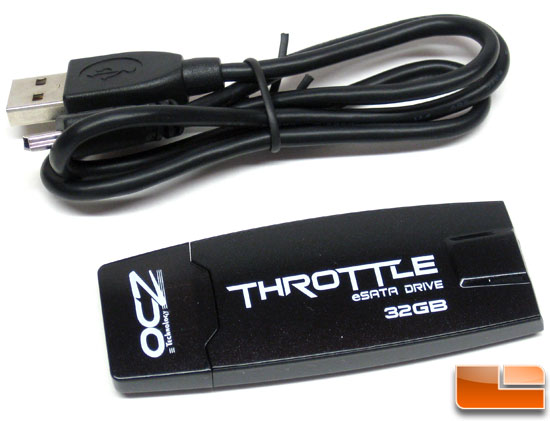 The good news about these initial eSATA drives drives is that they are true plug and play, which means no extra drivers or power cables are required if you have a powered eSATA port, which is officially known as Power Over eSATA. Since I'm not aware of a motherboard that features Power Over eSATA that means you have to use the USB adapter to power the eSATA drive. If you don't have an eSATA port you can use the drive in USB mode with the included USB cable. To run in USB mode you just need to leave the cap on the eSATA drive and plug in the USB cable and it will work like a good old fashioned USB 2.0 Flash drive.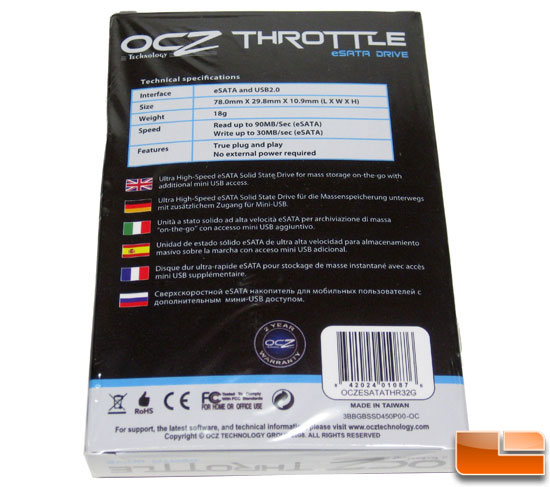 The front and back of the OCZ Throttle retail packaging give you the basic gist of the product in several languages on the back and the technical specifications. The OCZ throttle is 78.0mm x 29.8mm x 10.9mm in size and weighs in at just 18 grams.