OCZ Throttle 32GB eSATA Flash Drive Review
By
A Closer Look At The Throttle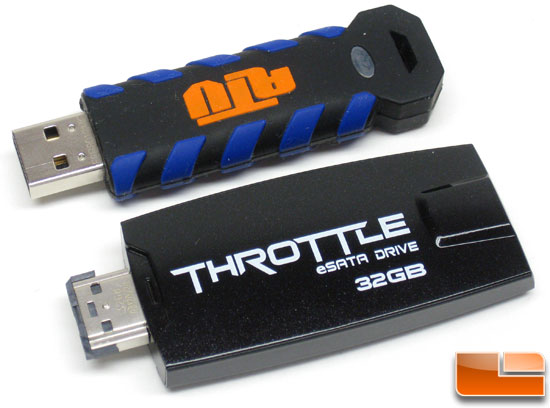 The 32GB OCZ Throttle eSATA drive is thicker than the 32GB OCZ ATV USB drive as seen in the picture above, but still looks like a normal USB key. Since the drive needs both USB and eSATA drives don't expect any smaller form factor to come till the USB port is no longer needed. Since the powered eSATA ports are not too common, it is likely that it will be some time before they are and by then USB 3.0 will have come out. For those that are curious, USB 2.0 has a maximum transfer speed of 60MB/sec and eSATA tops out at 300MB/Sec. The upcoming USB 3.0 standard is coming out during the middle of this year and will feature up to 625MB/Sec transfer speeds.

To get a better idea of what the USB 2.0 and eSATA connectors look like I took a picture of each sitting next to each other. You won't be able to mix the two connectors up as the you can't force one into the other. Not all systems will have an eSATA port, so if you are wanting an eSATA drive be sure your system supports it!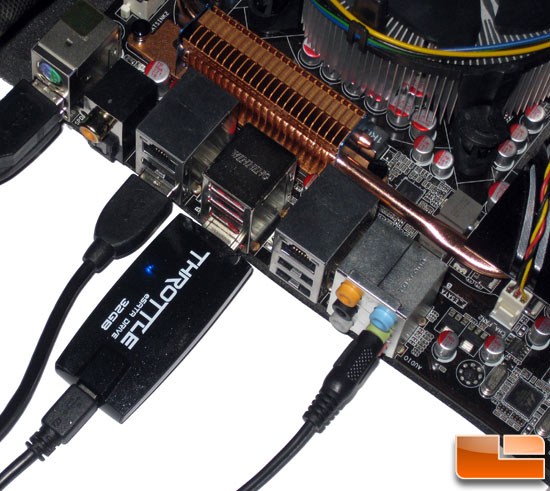 The motherboard I tested the OCZ Throttle on was the ASUS P6T Deluxe. This Intel X58 Express based motherboard is an enthusiast motherboard for certain as it retails for $309.99 plus shipping and supports all Intel Core i7 processors. Even this top of the line $300+ motherboard doesn't offer Power Over eSATA, so the USB cable must be used to power the OCZ Throttle eSATA drive as shown in the picture above.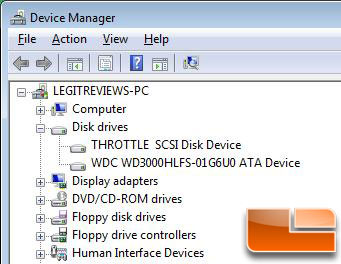 Since I've never used an eSATA Flash drive I fired up Device Manager on Windows Vista Ultimate 64-bit and discovered that the device was listed as a SCSI disk device.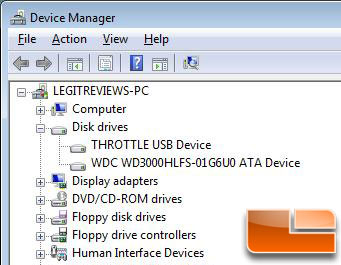 Unplugging the eSATA drive and connecting just the USB cable the device was listed under disk drives as a USB device.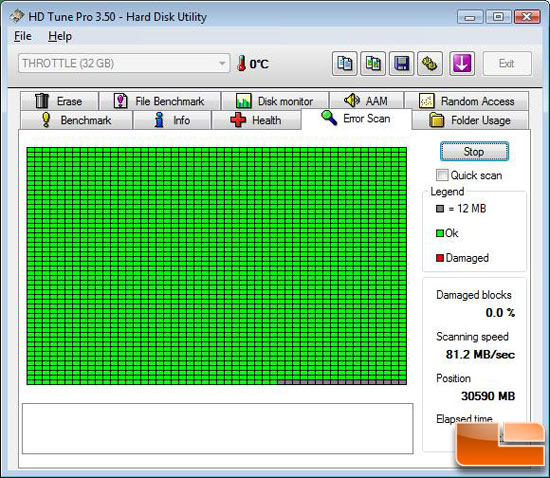 A full error scan on HD Tune Pro 3.50 detected no errors and took 6 minutes 24 seconds to complete at roughly 81MB/sec scanning speed. No errors were detected on the 32GB drive that really has just 30.5GB of available space. Now that the drive is known to be error free we can move on to benchmarking the drive.