OCZ Throttle 32GB eSATA Flash Drive Review
By
Sandra 2009 SP2 Benchmark Results
To test the speed on the 32GB OCZ Throttle eSATA drive we ran benchmarks on our Intel Core i7 test system that was running the ASUS P6T Deluxe motherboard. ATV Both of the drives were then formatted and benchmarked with SiSoftware Sandra 2009 SP2. All of the drives were plugged into the same eSATA/USB port and the system was restarted before each set of tests.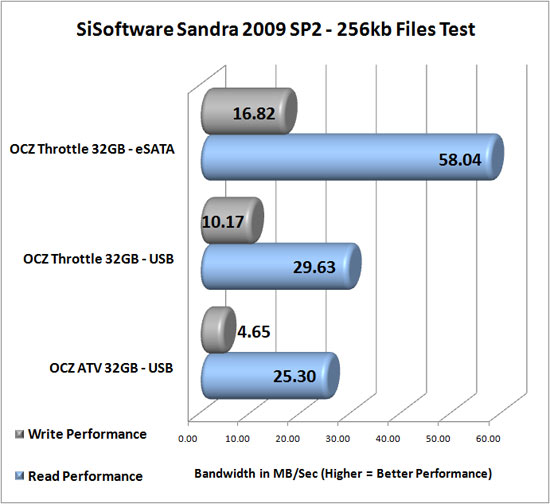 The removable storage benchmark in Sandra 2009 SP2 showed the OCZ Throttle eSATA drive is insanely quick when compared to USB 2.0 flash drives. The OCZ ATV 32GB USB Flash drive was one of the fastest drives we have ever benchmarked, but it looked slow when comparing it to the OCZ Throttle. With 'Write' speeds that were 4.65MB/Sec and 'Read' speeds of 25.30MB/Sec the old ATV series drive is still fast, but new technology has finally surpassed what we would once consider one of the fasted drives on the market. The new OCZ Throttle eSATA drive had an impressive 'Write' speed of 58.04MB/Sec when used with a eSATA port and 29.63MB/Sec when used with a USB 2.0 port. With a 256kb file size our testing shows that you get double the 'Read' performance by using eSATA over USB on the same device. The 'Write' performance results showed a 65% performance gain by using eSATA over USB, so hands down eSATA is the way to go if you are moving a large number of files.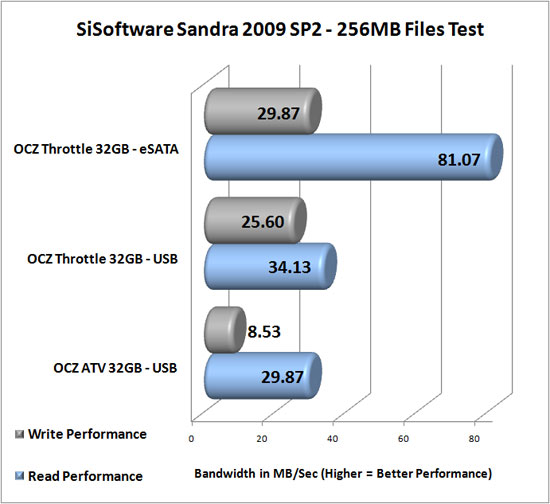 The 256MB file test recorded more impressive performance numbers with the OCZ Throttle eSATA drive with a Read performance score of 81.07MB/Sec and a Write performance score of 29.87MB/Sec! The OCZ Throttle eSATA drive has wicked fast read speeds that make nearly all Flash storage devices look slow. The 32GB OCZ Throttle eSATA drive is hands down the fastest thumb drive we have ever used!
I also used the Physical Disks Benchmark in SiSoftware Sandra 2009 SP2 to see how the drive does.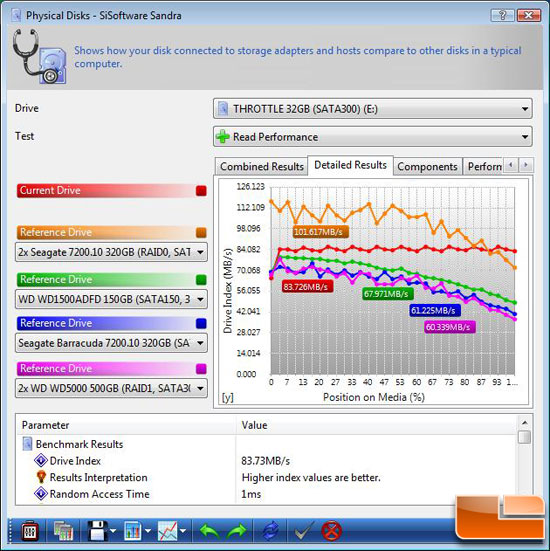 The read performance test showed that the 32GB OCZ Throttle had an average read score of 83.73MB/Sec with a random access time of 1ms.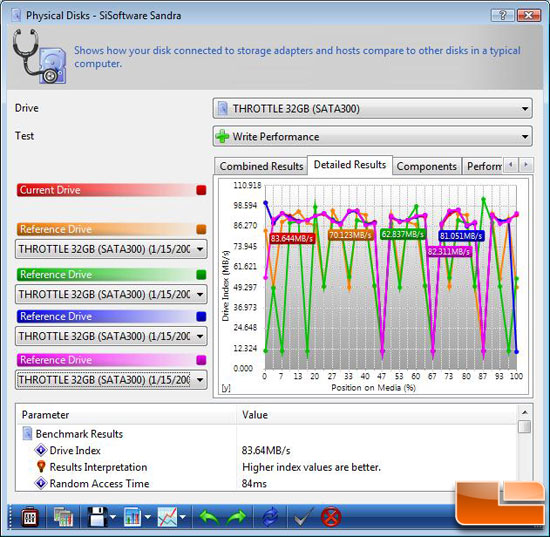 The write performance test on the 32GB OCZ Throttle was all over the place as you can see in each of the five runs that I did on the Throttle shown in the screen shot taken above. The write speeds averaged from 62.3MB/Sec to 83.6MB/sec and the random access time ranged from 12ms to 214ms. Very strange results and with so much variation between runs I really put no weight with these numbers.