OCZ PowerStream 520W PSU
By
Specifications and Features
Specifications and Features
I admit, I?m a geek, dork, well what ever you want to call me. I get giddy and fixate on new hardware like a stoner to Twinkies. I like to think I have good reason, but most of the time it's nothing more than my obsession with electrons. This time around OCZ has provided me something worth my fanaticism. For your erotic ? geek pleasure I present the OCZ PowerStream 520. OCZ made a name for themselves in the memory market by creating top quality products. It looks like they aim to do the same in the power supply market. OCZ has been releasing products that help modders, overclockers, and (flinch) ?enthusiasts? tweak their computers for absolute performance. While their memory built the OCZ name its products like the DDR Booster that gave the electron crazed (me) something to drool over. The PowerStream 520 makes it to my short list of power supplies I would recommend to friends, but I do not want to spoil the ending so we will save final judgment until, well, the end duh. On to what makes this power supply stand out.
Features:
OCZ PowerWhisper? Technology
OCZ PowerFlex? individually adjustable power rails with LED indicators
OCZ ConnectAll? universal connector. (ATX, BTX, SATA, P4 and EPS12V)
ATX12V 2.01 (600w only)
OCZ PowerShield? power leads
ActivePFC (International version only)
5 year warranty backed by OCZ's exclusive PowerSwap? replacement program.
Specifications:
Frequency input 47-63Hz
Voltage Range 95-132VAC or 190-264VAC
Current Range 12A @ 115VAC or 6A @ 230VAC
Efficiency 63% max load
Noise <32dB
BTX, ATX, P4, AMD, SATA
Mean Time Between Failure 140,000 hours
Most of the features and specifications will be talked about in subsequent paragraphs. What I want to look at here is the simplest to understand part of a power supply, its power. When people buy new cases they often get a cheap power supply included with the case, these end up lasting a few months to a year before they die. The other thing that often happens is the buyer, thinking that they got a really good deal on their 450w power supply, neglected to read the fine print where it says that it's 450w peak power and they never notice that the combined power from the 3.3v and 5v rails is less than 200w. There are a few key items that help a person select a quality power supply: first, the weight; second, the combined 3.3v and 5v power rails; and third, the warranty (if they don?t think it will last five years why should you?).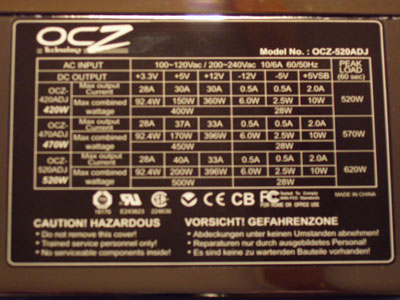 Output

+5v

+3.3v

+12v

-5v

-12v

+5v SB

Max. Load

40A

28A

33A

0.5A

0.5A

2.0A

Load Reg.

1%

1%

1%

1%

2%

5%

Ripple

<1%

<1%

<1%

<1%

<1%

<1%

Wattage

200w

92.4w

396

2.5w

6w

10w

292.4w

688.4w (500w shown on PSU)

18.5w (28w shown on PSU)
So how does the OCZ stack up against theses simple tests? Well until I get my hands on a quality digital scale you will have to trust me, it?s heavy and feels solid, more so than my Antec or Sparkel. As for its combined wattage, at close to 300w I think it passes that test, when 3/5 of its power is divided between those important voltages it?s a good sign. Finally, the warranty: OCZ has a 5 year warranty on it — that?s right the PowerStream is warranted for almost as long as it's going to take me to get my bachelors degree. To give you an idea of how it stacks up to the competition the Thermaltake PurePower Fanless power supply I reviewed packed combined wattage of 168w between the 3.3v and 5v. Granted this is not a fair comparison as the Thermaltake is only 350w peak, but I tested it on the same test bed so I will be using its results as a baseline for comparison.