OCZ NIA – Will Gaming With Brain Waves Take Off?
By
NIA Gaming Profiles
OCZ's NIA software allows you to setup and configure profiles that allow you to map keystrokes to a particular biosignal. This means the possibilities of the NIA are virtually endless. You could setup various profiles to give you the best performance based on a particular mood you are in that day!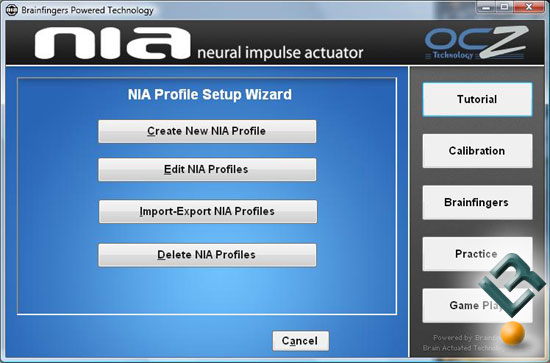 Here you can create your own profile or edit existing profiles including the default, standard OCZ profiles. You can even import your friend's profile, or likewise, export your favorite profiles and take them with you. So if you end up wanting to show off your latest, futuristic NIA to your friends, you can pack the NIA and your profiles and not worry about needing your own computer to be on top of your game!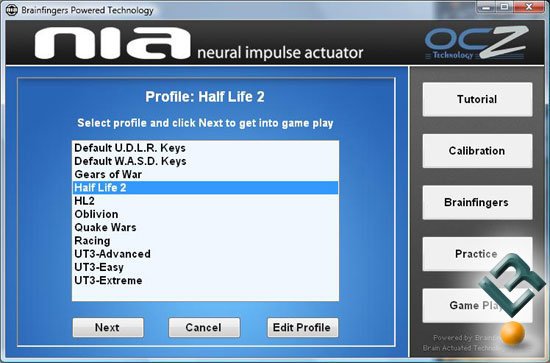 Here is the list of default NIA profiles that OCZ is currently packaging with their latest drivers and software install. The HL2 profile is and exception as that is just our custom profile we created while testing the NIA in Half Life 2.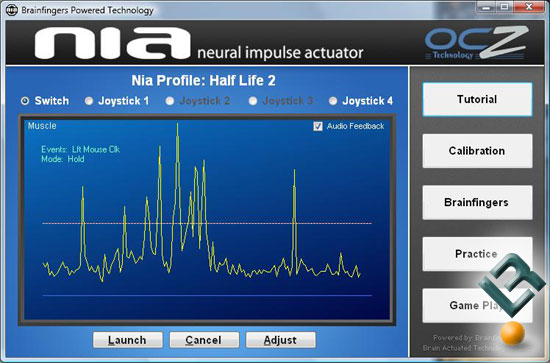 Once you select a profile you intend to use in a game, the NIA software is setup to allow you to practice each of your primary bindings. Here you can practice the signal that will fire your gun in HL2. Each time the signal line goes above the dotted-line threashold, you would be shooting your targets.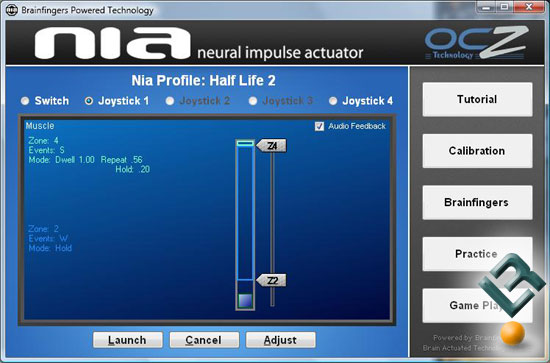 In the default Half Life 2 profile, your Muscle signal is bound to moving forwards or backwards. So you would flex your forehead slightly to move forward ("W"), and flex hard to move the signal bar above the Z4 threashold to move backwards ("S").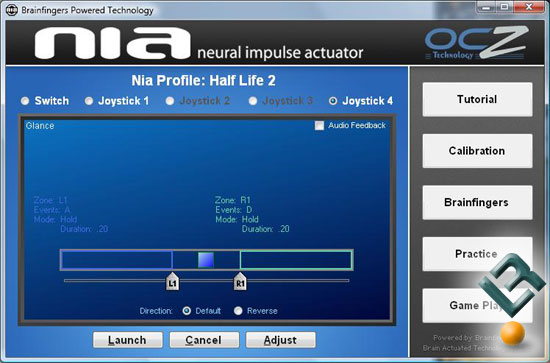 Your glance signal is bound to strafing left and right by simply moving your eyes left or right. So as you can see, there are enormous possibilities to allow you to make many complex or simple bindings and executing your favorite move given the proper biosignals.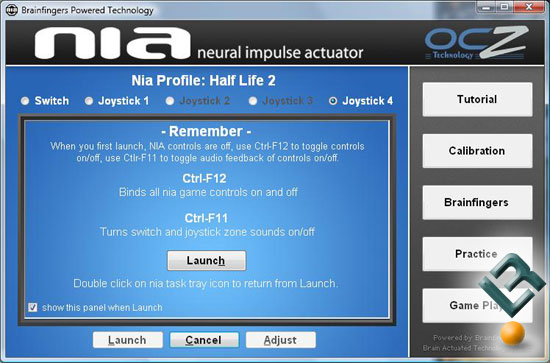 Once you have your biosignals honed and are ready to play, the NIA software will remind you that you need to press Ctrl-F12 in order to activate or deactivate the NIA use in the game. Clicking the Launch button minimizes the OCZ software to the system tray and then you simply startup your favorite game as ususal.
All of the functionality and potential of the OCZ Neural Impulse Actuator sounds great, but does it really work?