OCZ Gold 3700 DDR
By
Performance
Before we actually get to the benchmarks, I should let you know that this ram was bought retail, so this is just like you would get it. Now, let's look and see what it can do.
We decided to skip the performance benches at 200 fsb with our 2.8c. This memory is built for overclocking, and though we could have run at 200fsb with a 4:5 or 3:4 divider, that is not where this ram shines, so we started right out at 233fsb, which gives us 466ddr using 2-3-6-3 timings, the rated speed for this memory. We also used the "Turbo" setting in the Game Accelerator on our IC7-G. Then, we went right to 245fsb using settings of 2.5-3-3-7 and turbo, which was the max stable that we got our 9800 pro. We were able to get it stable with a 9700 pro at 250 fsb, but for some reason, the 9800 would not do that. Let's look and see what she can do:
Our Test System:
Retail Intel Pentium 4 2.8C 800FSB CPU
Swiftech MCX4000
2 x 256mb OCZ Gold 3700DDR
ATI Radeon 9800 Pro
2 x 36GB Western Digital Raptors (Intel SATA Controller)
Vantec 520 Power Supply
Coolermaster ATC 201-SXK Case
3DMark 2001 SE & 2003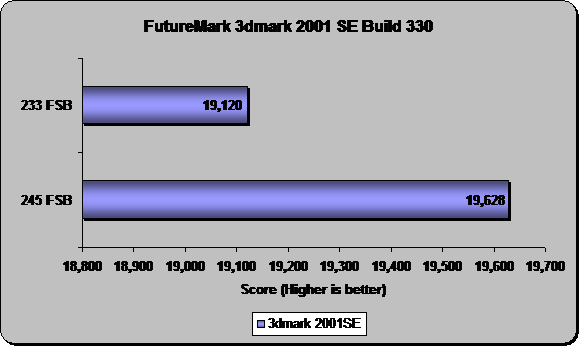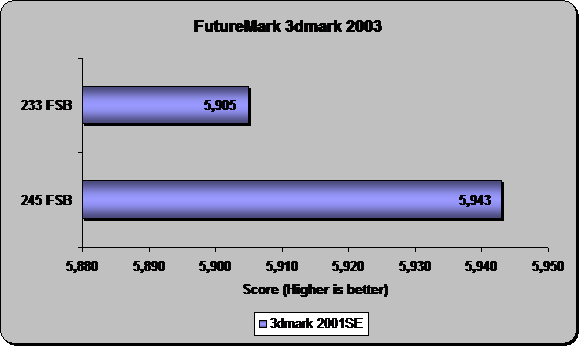 We see some pretty good gains here. It is amazing to me that we can see ram running at fsb speeds of 480+ and running 1:1! We have definitely entered a new era of memory speed.
UT 2003 Demo Benchmark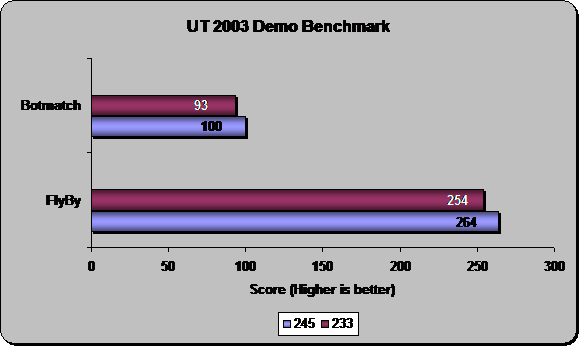 These are respectable scores. But are they related to the memory being used? It sure does not hurt to be able to run at 245fsb and use a 1:1 timing, but the scores we see in these 3d apps are more affected by the overclocking of the processor than the memory speed and ratio being used. Let's get more memory specific now!