OCZ Gold 3700 DDR
By
Features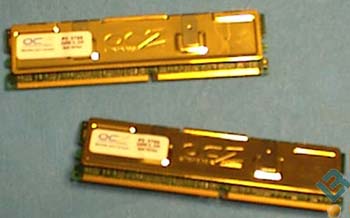 ULN Technology: (U)ltra (L)ow (N)oise shielded PCB
Lifetime Warranty
256MB modules based on OCZ brand EL DDR IC
Gold Heatspreader
Featuring OCZ HyperSpeed technology for outrageous top end speeds*
Optimized for High Speed applications on Intel i865/i875 chipsets
466Mhz CL 2-3-3-7*
2.75 volts
EVP(Extended Voltage Protection) Technology allowing up to 2.9 volts DDR while maintaining full warranty **
184 Pin Dimm
Unbuffered
The OCZ memory carries a lifetime warranty, just like every other brand of top brand memory. I have had reasons in the past to use their RMA process, and I can say that it was nothing short of stellar. They treated me fantastic, and sent my replacement out quickly. In fact, they actually upgraded the bad memory to their newest release at the time. OCZ has taken a lot of heat in the past, but they are working very hard to make customers happy and satisfied. They should be commended for that.
The following blurb from their website should also be noted:
"OCZ Gold modules have been designed and optimized for use with the Intel i865/i875 chipsets and work best on these platforms. If you are using a non-i875 based mainboard, we suggest purchasing either OCZ Platinum Edition or OCZ EL DDR modules."
In other words, OCZ has specifically produced this memory for the 875 and 865 chipsets.