NZXT Beta Mid Tower PC Case Review
By
NZXT Beta – Unboxing and Specifications
NZXT has been putting out quite a few cases since 2003, and from budget to higher end models they likely have a case to suit just about anybody. Their mid-tower Beta case is aimed more for the budget-minded enthusiast with a retail price of just south of $50.00. When NZXT offered to send us the Beta case to evaluate, we were more than happy to accommodate them.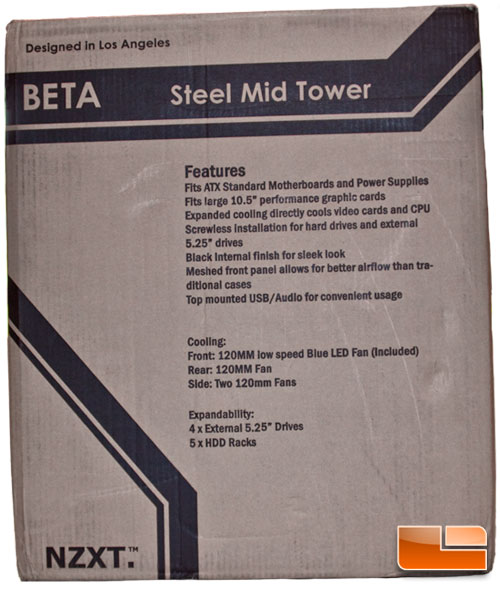 After pulling the NZXT Beta out of the box I noticed right away how light it is at just a hair over 16 lbs (7.28kg) which was a little unexpected with this being a steel case. This made me wonder about the build quality which I will speak more about later.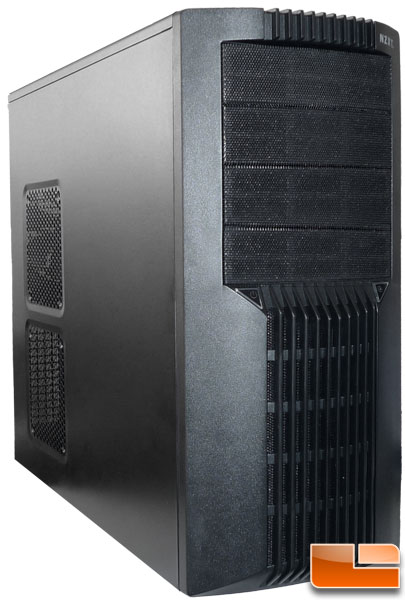 NZXT has listed the features and specifications for the Beta are as follows:
FEATURES:
Fits ATX standard motherboards and power supplies
Fits large 10.5″ performance graphics cards
Expanded cooling directly cools video cards and CPU
Screwless installation for hard drives and external 5.25″ drives
Black internal finish for sleek look
Meshed front panel allows for better airflow than traditional cases
Top mounted Dual USB/Audio/ESATA for convenient usage
SPECIFICATIONS
Case Type: Mid Tower
Front Panel Material: Plastic
Dimensions (W x H x D): 200 X 430 X 501 mm / 7.87″ x 16.9″ x 19.7″
Cooling System:
Front, 1 X 120mm Blue LED (included)
Rear: 1 X 120mm
Side: 2 x 120mm
Drive Bays: 9 Drive Bays
(4) External 5.25″ Drive Bays
(5) Internal 3.5″ Drive Bays
Screwless Rail Design
Material: Steel with black finish
Expansion Slots: 7
Power Supply: 500 Watt PS2 ATX 12V 2.0 (optional)
Weight: 7.28 KGS (W/O Power)
Motherboard Support: ATX, MICRO-ATX, BABY AT
What you'll find in the box besides the case is an accessory box packed neatly within the case itself.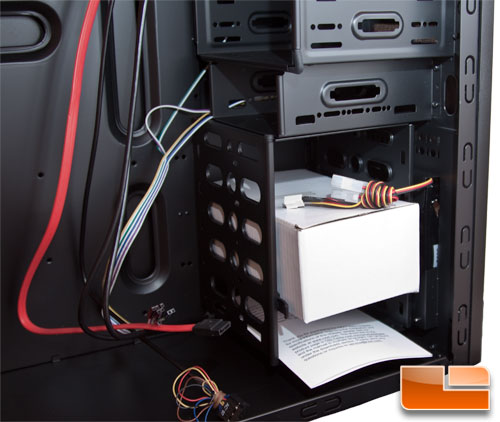 Opening it up reveals the contents comprised of HDD drive mount rails, 5.25″ & 3.5″ bay screwless plastic locks, a small bag of screws and a case speaker.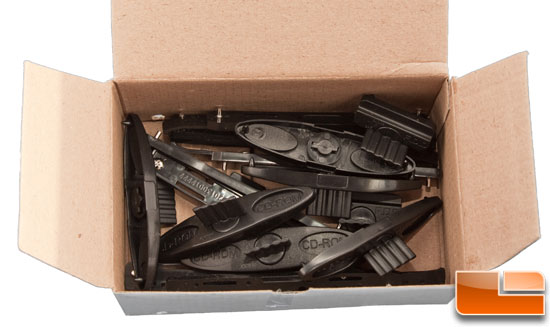 What you won't find in the box is a manual because it isn't included. However, a nice multilingual thank you note in the box directs you to the web for the manual via PDF download. This is pretty common now, especially with budget products and I personally don't mind NZXT and others keeping their costs low by skipping the hard copy print. Most people toss it after installation anyway. It's always a good idea to grab a copy of the manual if for nothing else than to confirm the polarity of the chassis wires for the power, reset buttons and others.