NVIDIA GF100 Fermi Architecture and Performance Preview
By
Demo Time: 3D Vision Surround & PhysX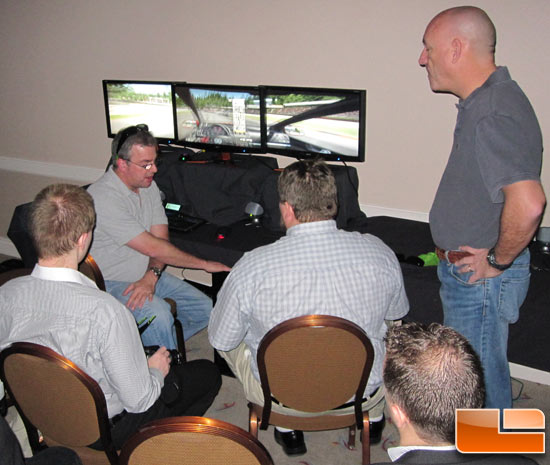 NVIDIA 3D Vision is a combination of high-tech wireless glasses and advanced software that automatically transforms games (400+ and counting) into full stereoscopic 3D.
Powered by GF100 GPUs in NVIDIA SLI configuration, the upcoming NVIDIA 3D Vision Surround
technology takes 3D gaming to an entirely new level by delivering fully immersive IMAX 3D-like gaming across three monitors in full stereoscopic 3D.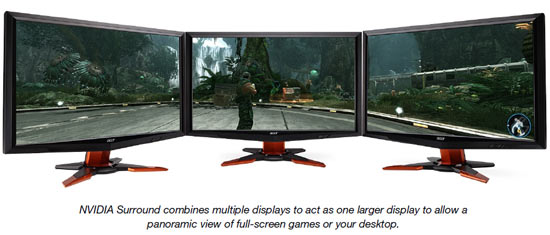 NVIDIA 3D Vision Surround uses up to 746 million pixels per second of rendering horsepower, or 3x greater than last generations extreme gaming setup. With tessellation, compute shaders, and PhysX enabled, the demand on the GPU is tremendous. GF100 is architected to enable the highest performance on NVIDIA 3D Vision Surround. GF100s new ROP subsystem has twice as many ROP units per partition, allowing multiple displays to be fed concurrently. Its parallel tessellation and raster engines enable sustained performance in heavily tessellated scenes. And its powerful compute architecture with fast context switching makes compute operations as lightweight as possible.
GF100 supports 3D Vision Surround when two or more GPUs are paired in a SLI configuration. 3D Vision Surround will be supported across three of the same 3D Vision capable LCDs and projectors at resolutions up to 1920×1080. For those not ready to jump into stereoscopic gaming, NVIDIA Surround will also be supported in non-stereoscopic 3D at resolutions up to 2560 x 1600 across displays that share a common resolution.
Bezel Correction
NVIDIA 3D Vision Surround includes controls that allow for the adjustment of the displays to compensate for monitor bezel gaps, allowing for a more realistic viewing of full-screen games. With bezel correction, part of the game view is hidden behind the display bezel so that the bezel appears to be part of the game. This produces a more continuous image across the displays and provides a more realistic experience. It is similar to looking through a cockpit window where the window frames block your view.
PhysX
Dark Void is an upcoming video game being developed by Airtight Games and published by Capcom. NVIDIA spent a year working with the developers to place killer PhysX effects into the game and this video highlights what those elements look like using an upcoming GF100 Fermi Video Card. Sorry for the bad video and lighting as this was taken at a conference from a point and shoot camera.