NVIDIA Announces G-Sync, GameStream, Twitch Streaming, GeForce GTX 780 TI
By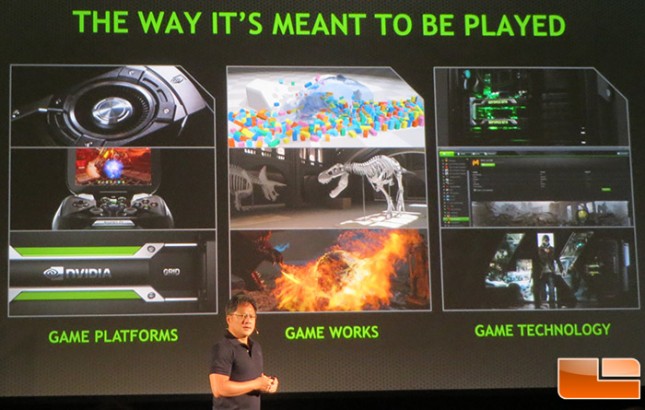 Jen-Hsun Huang, co-founder, president, and CEO of NVIDIA kicked off the second day of the NVIDIA press day in Montreal with an overview of the first day and then went straight to talking about gaming. Jen-Hsun said that NVIDIA SLI technology is still the best multi-GPU solution on the market for PCs. He referred to SLI as being a time machine as it shows the performance that once could expect from future video cards. He mentioned that NVIDIA 3D Vision brought a new level of immersion and it also helped NVIDIA learn about gaming monitors. One of Huang's favorite new gaming technologies is the GeForce Experience as it takes a normally complex PC and makes setting up and playing a game simple. When installed the GeForce Experience will keep your drivers updated and set your image quality setup your system.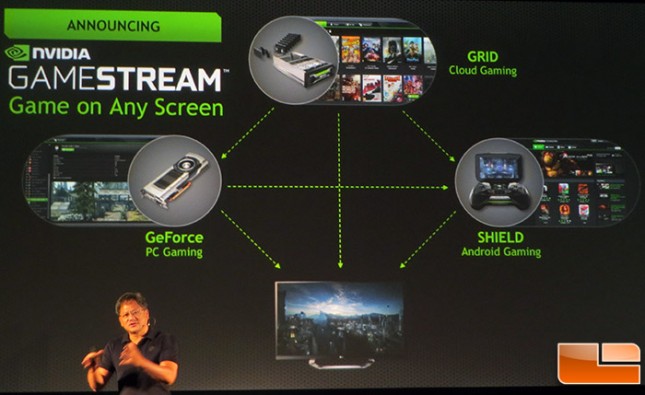 NVIDIA today announced GameStream. NVIDIA already has a PC game streaming feature on SHIELD and this has basically come as a direct result of that program. NVIDIA GameStream will allow you to 'stream' your content to other devices. Jen-Hsun said it is NVIDIA's belief that you should be able to enjoy video games on any of your devices.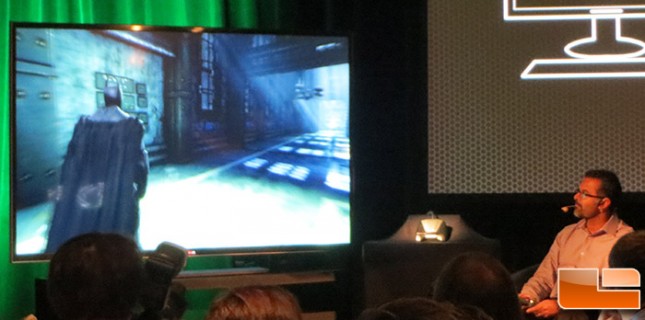 NVIDIA showed a demo of GameStream using a SHIELD, 4K TV and the Batman Arkham Origins PC Game. This means that you can now connect your SHIELD to your TV with the Game Console mode and use your PC to power the games on your TV. For the demo they connected the SHIELD to a large HDTV via HDMI and paired it with a Nyko PlayPad Pro Bluetooth controller and played PC games on the couch!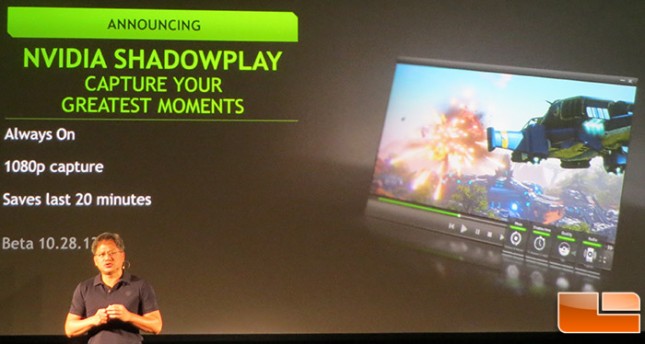 The second technology annoucnement today is NVIDIA ShadowPlay. Shadowplay uses the Kepler GPU and records your greatest gaming moments in 1080P. It records the last 20 minutes in automatic mode and in manual mode you can record up to 4GB in Windows 7 or an unlimited file size in Windows 8. Jen-Hsun said what is really amazing is what happens when you combine both NVIDIA GameStream and ShadowPlay.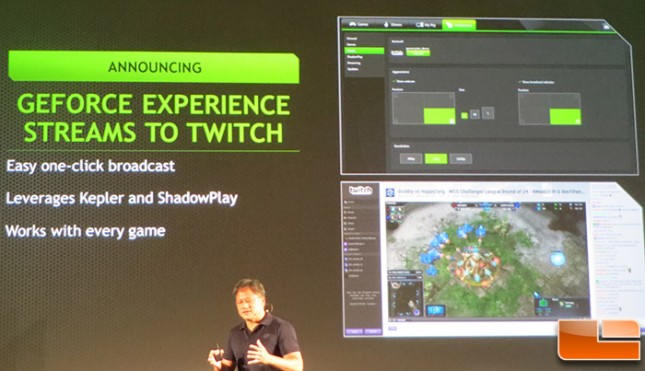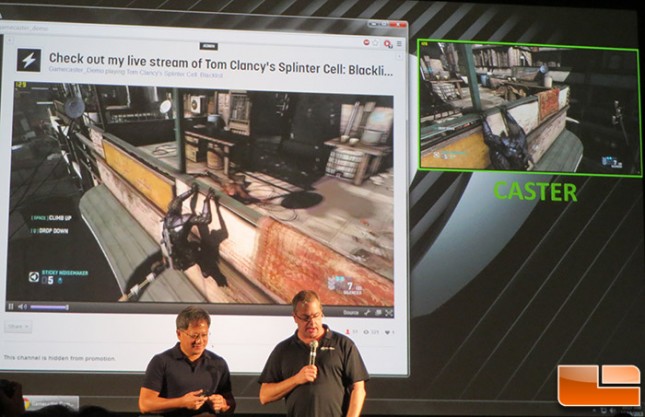 You can now do one-click broadcasting and stream straight to twitch! NVIDIA is making it super easy for gamers to connect with the Twitch community and it works with every game.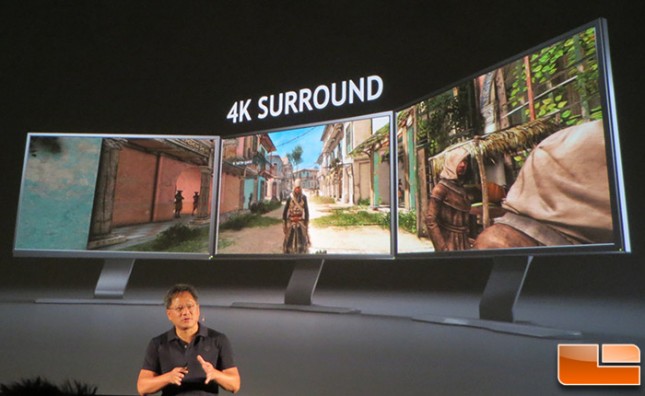 Jen-Hsun then talked about 4K by showing off a 4K Surround setup that would be on display at the press event. This setup has over 24.9 million pixels and you can read much more about it on LR here.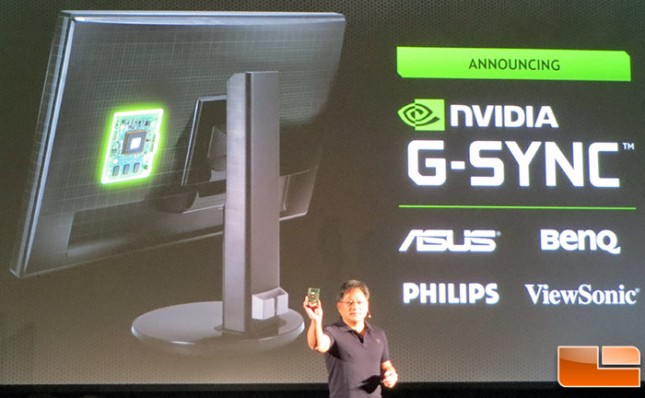 The huge announcement at the event was NVIDIA G-Sync. NVIDIA G-Sync means that NVIDIA hardware is going inside your monitor and is said to solve screen tearing, input lag, and stuttering. In order to eliminate these issues you'll need an NVIDIA G-SYNC enabled monitor and an NVIDIA GeForce GTX 650 Ti Boost or better GPU. The NVIDIA G-SYNC enabled monitors are coming in Q1 2013 and big name companies like ASUS, BenQ, Philips and ViewSonic will be releasing NVIDIA G-Sync monitors. The monitors will range from the 'standard' 1080P flavor all the way up 3840×2160 (4K), so there will be a good variety coming to market.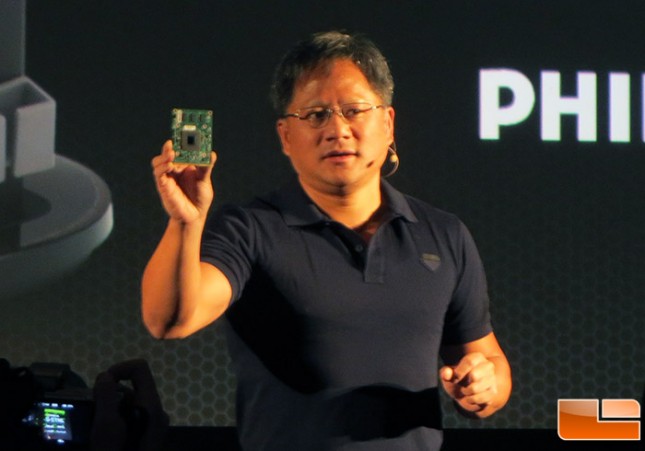 ASUS VG248QE monitors are here on display at the event and ASUS has a new version of this monitor coming out with G-SYNC modules installed inside.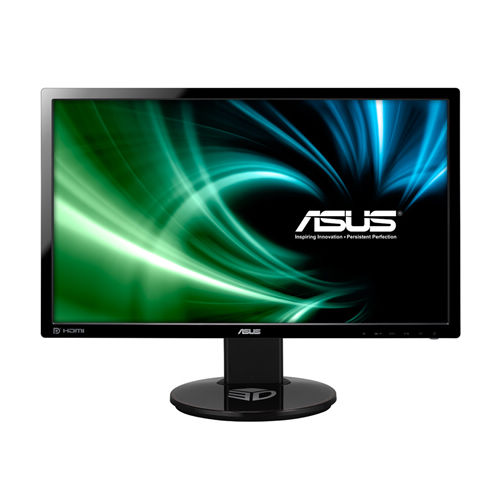 Last year ASUS launched its VG248QE 24-inch 144 Hz TN-based monitor and made many re-think what is considered a gaming display.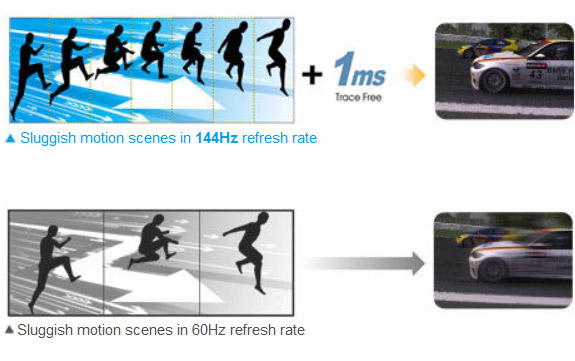 The vast majority of gamers are playing at 1080P on an LCD monitor limited to 60 Hz, so moving up to 144 Hz helps smooth gameplay and boosts productivity with lower eye strain. ASUS plans to release their G-SYNC-enhanced VG248QE gaming monitor in the first half of 2014 with pricing set at $399 USD in North America. The non G-Sync version is currently available for $279.99, so the price delta between the non-G-SYNC models and G-SYNC model appears to be about $129.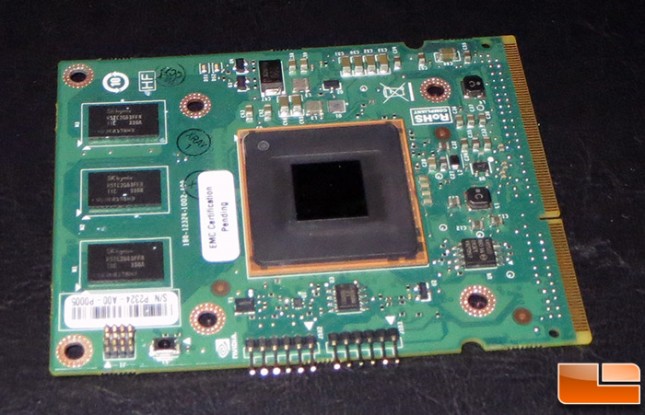 Here is a close-up shot of the NVIDIA G-Sync module that is used inside of the display. We don't know any of the specs of the card, but you can clearly see the scalar and three SKHynix memory chips on the board. This module is needed to synchronize the monitor to the output of the GPU, instead of the GPU to the monitor, resulting in a tear-free, faster, smoother experience that redefines gaming.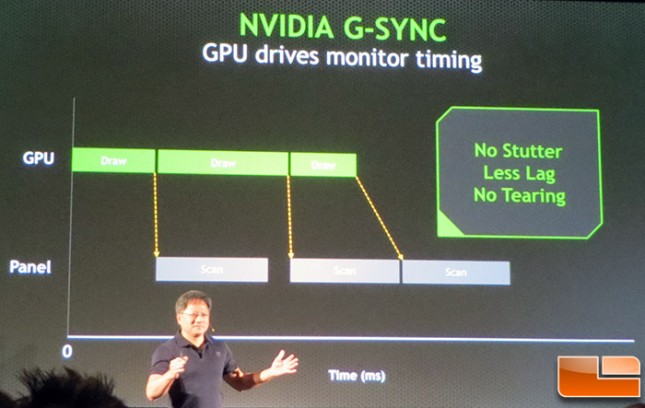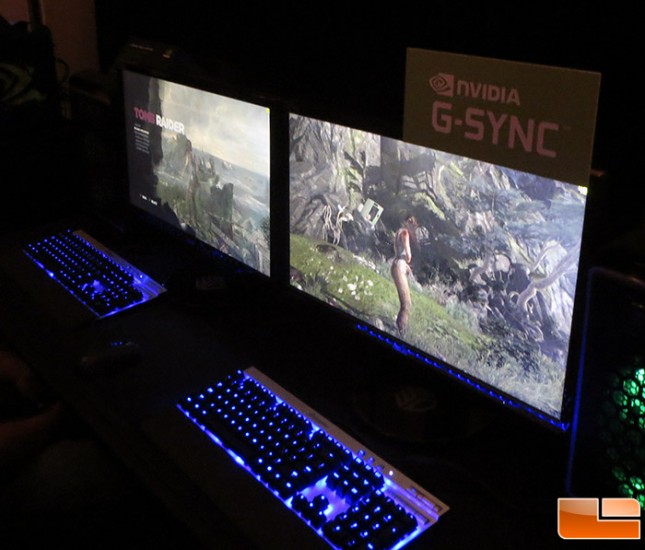 We were shown some demos on an NVIDIA GeForce GTX760 powered system and the differences with and without G-Sync were very obvious. It appears that having the GPU and Monitor running asynchronous is a thing of the past! NVIDIA showed some serious advantages today with them running synchronously!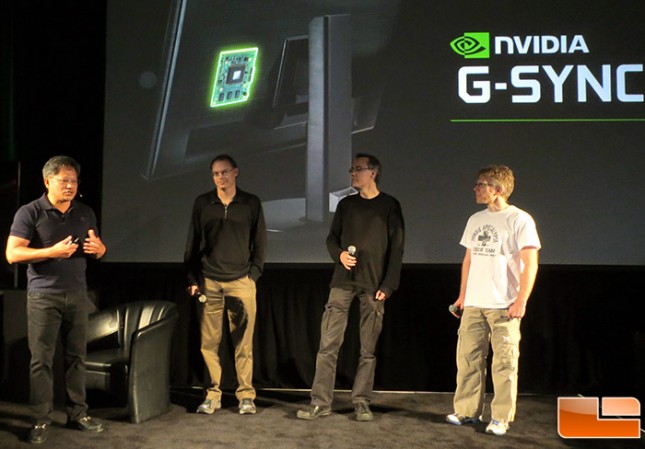 NVIDIA then brought several 'industry luminaries' to stage to talk about NVIDIA G-Sync and what it means for them and gamers. Those legends are John Carmack, Johan Andersson, Tim Sweeney, and Mark Rein (not pictured above).
Here is a video clip of them being introduced by Jen-Hsun and talking about NVIDIA G-Sync!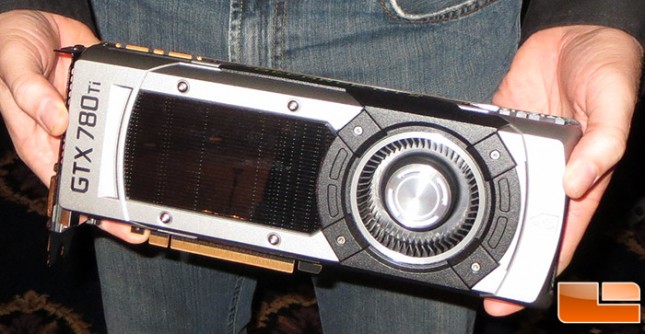 NVIDIA then announced the GeForce GTX 780 TI, which will become the new flagship GPU when it is released in November. No details were given today, but the card is real and going to fill the performance gap between the GeForce GTX 780 and the GeForce GTX Titan!
As you can see NVIDIA announced numerous new technologies today, so stay tuned for more information.