MyDigitalSSD Super Cache 2 128GB SATA III M.2 Drive Review
By
Our First MyDigitalSSD Drive Review
MyDigitalSSD is not a company I had heard of before so when they sent us over their 128GB Super Cache 2 M.2 SSD I had to look them up. What I found is they a company that was started in 2007 with a goal of bringing "the performance and reliability of other bigger name brands without their big name price tags". They specialize in solid state storage in the form of SSDs and memory cards of the compact flash and secure digital varieties. Now that we've had that introduction, we can look a little closer at the drive itself.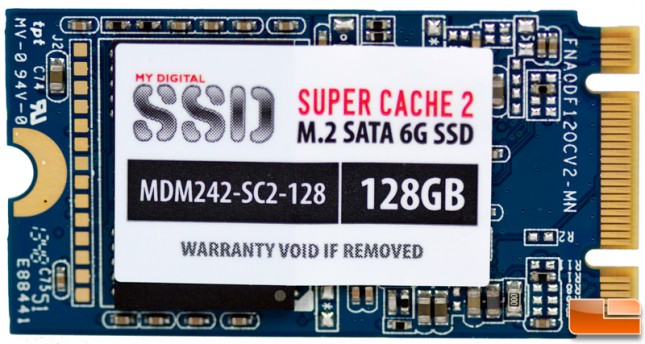 This is the smallest of the M.2 drive varieties with dimensions of only 42mm x 22mm x 1mm which is roughly the size of an SD memory card. This makes is a great candidate for the smallest of devices although it does put a limitation on overall capacity and as we'll see, performance. The 128GB version retails online for about $78.99 shipped and is also available in smaller capacities of 24GB, 32GB and 64GB. These will likely only be of real use as a cache drive due to their lack of capacity for most users. MyDigitalSSD offers up FNet HybriDisk software for setting up the drive to be used as a cache and can be downloaded from their product page. Max performance numbers are rated at 545MB/s reads and 410MB/s writes which superficially, are indicative of a pretty fast drive although we hit some rough spots in performance during our testing that we'll get into more later.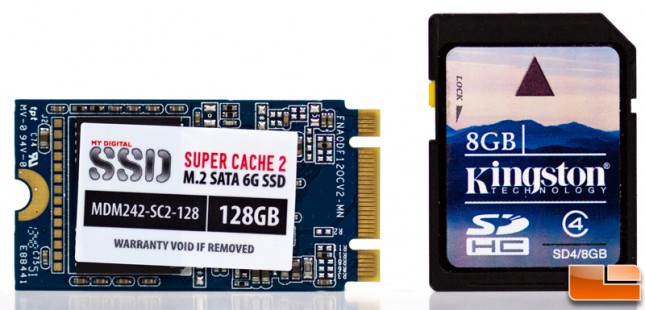 MyDigitalSSD Super Cache 2 M.2 Drive Specifications and Features:
Capacity : SKU : Pricing:
Interface: SATA III (6G)
Form Factor: M.2 NGFF
Controller: Phison S9 Series (PS3109)
NAND Flash: Toshiba A19nm MLC Toggle NAND Flash
Performance:

Max Read Rate: 545MB/sec (ATTO)
Max Write Rate: 410MB/sec (ATTO)
Access Time: 0.1 ms

Operation Temperature: 0 to 70C
Storage Temperature: -40 to 85C
Dimensions: 42 x 22 x 1mm
Weight: < 5g
Power Usage:

Input Voltage: 3.3V
Idle: < 0.5W (50 mA)
Active: < 0.9W (230 mA Write, 170 mA Read)

RAID Support: Yes
TRIM Support: Yes
NCQ: Up to 32 commands
MTBF: >1,000,000 hours
Features:

Sudden power-off recovery
Battery backup function
High and Reliable ECC capability up to 24bits/sector
S.M.A.R.T features optimized for SSD
Bit error monitoring and management
Dynamic and static wear-leveling
Dynamic bad block management
SMART commands and additional SSD monitoring

Warranty: 3 Year
The diminutive drive can only hold so many components before all of the the PCB real estate is utilized.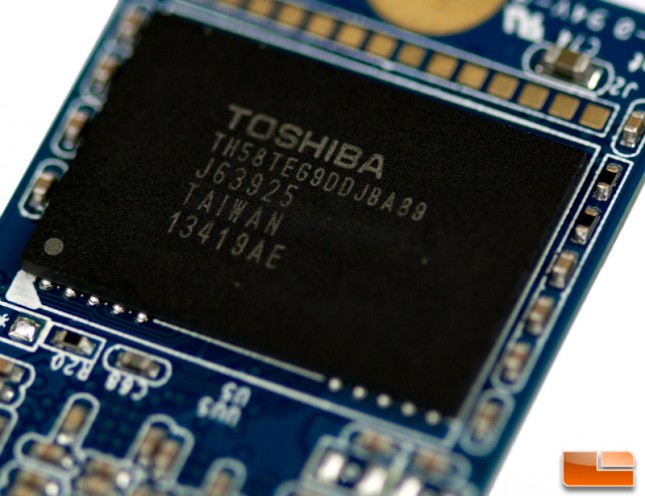 We find two of the Toshiba branded A19nm MLC toggle NAND flash chips on board with each being 64GB in density for a total of 128GB of storage on board. The part number is TH58TEG9DDJBA89.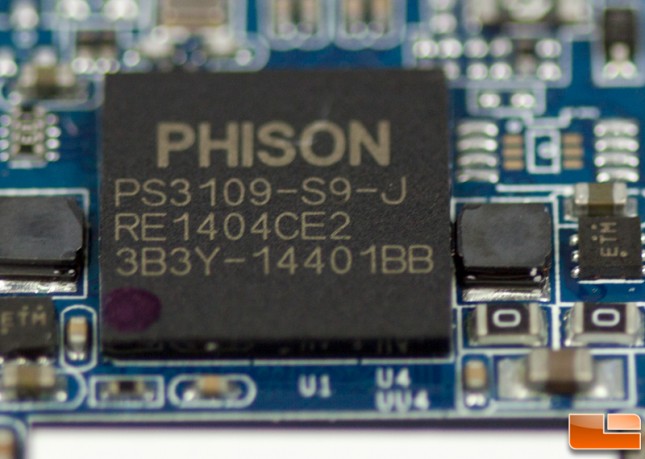 Other than the NAND, the only other chip is the Phison PS3109 controller. Curiously, there is no cache on board (not that we could discern anyway) which we typically see with controllers outside of the SandForce realm. This four channel controller supports the usual duties we see from all modern controllers w static and dynamic Wear leveling, bad block management, TRIM, S.M.A.R.T., garbage collection, over-provisioning, and firmware updates are possible.