Mushkin 1GB PC4000 Dual Pack
By
Features:
The Mushkin Modules came static wrapped with nothing else! Directions and specifications can be found on the Mushkin site if you get stuck or need any help down the road with your modules. One of the most important factors in buying memory is the warranty. Muskin memory modules carry a lifetime warranty, but keep in mind that tampering with the heat spreader will instantly void the warranty. Other than that Mushkin products are guaranteed to operate, as specified by their datasheet and in the operating environment for which they were intended, for the life of the product.
The memory we are testing today are matched memory pairs that have been specifically designed for motherboards using chipsets with dual memory channels. Mushkin has tested the DDR500 modules on motherboards with the KT400, P4X400, NForce2 and Intel 865, 875 chipsets most of which are officially supporting the PC3200 (DDR 400) spec. They also make it clear that overclockability of your system is dependent on all other components including but not limited to Motherboard, CPU, graphics and PCI cards and other peripheral devices. Also remember that there is no official standard yet for DDR500, but all of the manufacturers seem to be using the 875/865 chipset motherboards to verify their high-speed performance.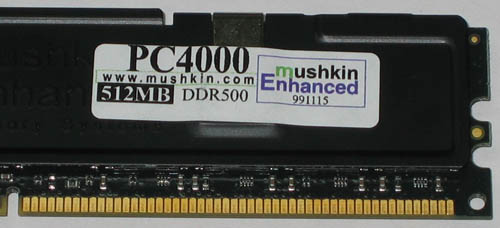 Key Features:
Memory amount: 2x 512MB
Access time: 4.0ns Hynix IC's
500MHz (PC4000) Unbuffered DDR Modules
CAS latency: 3 clock cycles
RAS precharge: 4 cycles
RAS active to precharge: 8 cycles
Command rate: 1T (1 cycle)
Aluminum heat spreader for thermal diffusion (Flat Black)
Latency: 3-8-4-4-1T
Jet Black 6-Layer PCB
2.75V
Moving on to the benchmarks, let's see how this ram performs!